Last weekend I went to San Diego for the BlogHer 2011 conference.  Attended by about 3,600 Women Who Blog (and me), it was quite different, and much larger, than the fantastic BlogHer Food conferences I've attended (and spoken at). I realized about halfway through the conference that it's focused on a demographic rather than an interest group, which made for a rather disjointed array of sponsors. Even so, it was a well-run conference with many opportunities to learn, strengthen friendships, and have fun — and for all of that I am grateful.
One highlight was the lunchtime keynote interview with Indra Nooyi, the CEO of Pepsico, the world's second largest food and beverage business.  Not surprisingly, she's quite impressive. It's immediately apparent she's outrageously intelligent, engaging, endearing, and a true leader in business and her own industry.
At the outset of the session, they invited us to send our questions to her via twitter.  I lept at the chance, of course, and sent this tweet: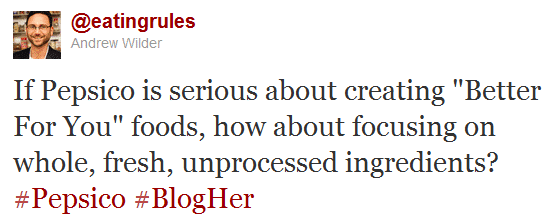 A short while later (and much to my surprise), they actually asked Ms. Nooyi my question. Her answer? "We do."  She then named three of their brands: Quaker, Naked Juice, and Tropicana.
Quaker
Ms. Nooyi claimed that Quaker Oats are "whole, fresh ingredients."  Sure, plain oats are a fantastic ingredient!  But that cardboard cylinder of plain, unsweetened oats are usually tucked away on a bottom shelf. The rest of the Quaker product lineup consists of highly-sweetened and highly-processed items.
Here are the ingredients in the Quaker Chewy Chocolate Chip Granola Bars — which I'm guessing is one of this brand's best-sellers. I've bolded the sugars, added flavorings, and preservatives.
GRANOLA (WHOLE GRAIN ROLLED OATS, BROWN SUGAR, CRISP RICE [RICE FLOUR, SUGAR, SALT, MALTED BARLEY EXTRACT],WHOLE GRAIN ROLLED WHEAT, SOYBEAN OIL, DRIED COCONUT, WHOLE WHEAT FLOUR, SODIUM BICARBONATE, SOY LECITHIN, CARAMEL COLOR, NONFAT DRY MILK), SEMISWEET CHOCOLATE CHIPS (SUGAR, CHOCOLATE LIQUOR, COCOA BUTTER, SOY LECITHIN, VANILLA EXTRACT), CORN SYRUP, BROWN RICE CRISP(WHOLE GRAIN BROWN RICE, SUGAR, MALTED BARLEY FLOUR, SALT), INVERT SUGAR, SUGAR, CORN SYRUP SOLIDS, GLYCERIN, SOYBEAN OIL. CONTAINS 2% OR LESS OF SORBITOL,CALCIUM CARBONATE, SALT, WATER, SOY LECITHIN, MOLASSES, NATURAL AND ARTIFICIAL FLAVOR, BHT (PRESERVATIVE), CITRIC ACID.
(But don't worry, at least they're quick to point out that these are made without high fructose corn syrup…)
I also came across this product on their website: Quaker Chocolate Chip Breakfast Cookies. Beyond the obvious fact that we shouldn't be encouraging cookies for breakfast, these are anything but "fresh." I've again bolded the sugars, added flavorings, and preservatives.
WHOLE GRAIN ROLLED OATS, HIGH FRUCTOSE CORN SYRUP, WHOLE WHEAT FLOUR, SEMISWEET CHOCOLATE CHIPS (SUGAR, CHOCOLATE LIQUOR, COCOA BUTTER, DEXTROSE, MILKFAT, SOY LECITHIN, NATURAL FLAVORS, VANILLIN [AN ARTIFICIAL FLAVOR]), SUGAR, CORN SYRUP, PARTIALLY HYDROGENATED SOYBEAN AND COTTONSEED OILS** WITH TBHQ AND CITRIC ACID ADDED TO PRESERVE FRESHNESS, MODIFIED WHEAT STARCH, WATER, MALTODEXTRIN, GLYCERIN, DRIED APPLE PUREE, CONTAINS 2% OR LESS OF CALCIUM CARBONATE, MONO AND DIGLYCERIDES, NONFAT DRY MILK, NATURAL AND ARTIFICIAL FLAVORS, EGG WHITES, SODIUM BICARBONATE, DRIED WHOLE EGGS, SALT, MODIFIED FOOD STARCH, CORN FLOUR, MALIC ACID, SODIUM ALGINATE, CALCIUM PHOSPHATE, VITAMIN E ACETATE, REDUCED IRON, NIACINAMIDE*, PYRIDOXINE HYDROCHLORIDE*, THIAMIN MONONITRATE*, POTASSIUM SORBATE (A PRESERVATIVE), SODIUM PHOSPHATE, RIBOFLAVIN*, VITAMIN A PALMITATE*, CYANOCOBALAMIN*.
So please tell me, Ms. Nooyi: What's whole, fresh, or unprocessed about these products?
Naked Juice
The second product line she mentioned was Naked Juice.  Here, I'm in less disagreement: I suppose this is probably nearly as well as a "big food" company can ever hope to do. The ingredient lists are short, and contain mostly fruit, fruit juice, or fruit purée.
I say mostly, because they add "natural flavors," which are not actually natural.  I also want to take a moment to point out that apple juice, which is the first ingredient listed in many Naked Juice beverages, has little or no nutritional value. It's basically sugar water.
Take Naked Juice Berry Blast (which is in the "Well Being" lineup), for example:
APPLE JUICE, BANANA PURÉE, STRAWBERRY PURÉE, BLACKBERRY PURÉE, NATURAL FLAVORS.
One bottle contains two servings, though it's highly likely that a person will consume the entire bottle. There's no fiber at all, which whole fruit would have.  Worst of all, each serving contains 26 grams of sugar.  Drink the whole bottle (again, that's likely), and that's 52 grams of sugar — almost exactly the same amount of sugar per ounce as  Pepsi (which has 54 grams per 16 ounces).
Said another way: If someone drinks an entire 16-ounces Naked Juice, they're getting about three teaspoons more sugar than what they'd get in a 12-ounce can of Pepsi.
Tropicana
Ms. Nooyi's last example was Tropicana.  She pointed out that "it" is 100% juice, not from concentrate, "not boiled and not reconsituted," and is "fresh from the grove" (whatever that means).  Presumably, the "it" in her sentence referred to their flagship, 100% Orange Juice product.  It may not be boiled, but it is pasteurized, which immediately makes it completely different than true, fresh-squeezed orange juice.
I take issue with orange juice in general (it's really just sugar water with vitamin C, something most folks are not lacking) — but let's look beyond that for a moment.
Shortly after her speech, I was downstairs in the conference lobby. Pepsico had a large Tropicana booth there. They weren't showcasing 100% Orange Juice. Instead, they were introducing their new Trop 50 product. After being offered a sample (which I declined), I picked up a bottle and looked at the ingredients:
FILTERED WATER, NOT FROM CONCENTRATE PASTEURIZED ORANGE JUICE, MALIC ACID, CITRIC ACID, NATURAL FLAVORS AND REB A (PUREVIA™ BRAND).
VITAMINS AND MINERALS: POTASSIUM CITRATE, ASCORBIC ACID (VITAMIN C), BETA-CAROTENE, TOCOPHEROL (VITAMIN E), MAGNESIUM PHOSOPHATE, NIACINAMID (VITAMIN B3), THIAMIN HYDROCHLORIDE (VITAMIN B1), RIBOFLAVIN (VITAMIN B2), AND PYRIDOXINE HYDROCHLORIDE (VITAMIN B6).
(By the way, even if added vitamins and minerals were a good thing, they don't add up to much per 8 ounce serving: Most are only 4% to 6% of your day's recommended intake, and the highest is 10%.)
Once again: Not fresh. Not whole. Not unprocessed.
Gatorade
Although Ms. Nooyi didn't mention Gatorade in her answer to my question, she did bring it up at another point in the conversation. She referred to it as performance drinks "for athletes."  Yes, Gatorade has been proven to be beneficial to high-endurance and high-performance athletes.  We're talking marathoners, professional sports players, and Olympic Champions.  Those kinds of folks.
So why did Pepsico have a Gatorade booth at the BlogHer conference? Remember, this is a conference targeting Women Who Blog (the vast majority of whom are "mommy bloggers").  It's not a conference for athletes, it's not about physical fitness, and it's not about sports.
Even worse:  They were showcasing their recently-launched "G Series" line of products.  These are three separate products designed to be consumed "before, during, and after practice, training, or competition."
G 01 Prime: "Pre-Game Fuel."  One four ounce pouch = 100 calories.
G 02 Perform: "Performance Hydration."  One 32 ounce bottle = 200 calories.
G 03 Recover: "Post-Game Protein Recover." One 16.9 ounce bottle = 120 calories.
Drink all of that and you're getting 420 calories of mostly sugar.  It takes about 40 minutes of running (nonstop) to burn that many calories. So if you're a professional athlete, yes, this make sense. But if you're a mom who's trying to help your kid perform well and stay in great shape while playing a soccer game?  It's overkill — and probably won't help your kid lose any of those extra pounds she's gained from eating Pepsico's other products.
Obesity
Early in her interview, Ms. Nooyi said the Obesity epidemic is caused by inactivity: "There's no question that sedentary lifestyles have caused the obesity crisis to get out of control."
Here's where I cry foul! It's significantly easier to eat 500 fewer calories than to burn the same number of calories through activity.  Doesn't matter if it's running, walking, yardwork, or shoveling snow, it's a simple fact.  You can eat 500 calories in two minutes.  It takes about 45 minutes to an hour of strenuous activity to burn the same number of calories.
Later, she did correctly says that obesity is caused by "a mismatch of the calories in and out," but again blamed inactivity, not over consumption of calories.
Yes, inactivity is a significant contributing factor to the obesity epidemic. But for her to flat out say it is the primary cause is inaccurate, misleading, and dangerous.
"Capitalism With A Conscience"
One of the cornerstones of Ms. Nooyi's message was that we need to have "Capitalism with a Conscience."  Wow, that sure sounds great.
If Pepsico truly has a conscience, and should therefore be careful to determine right from wrong, what are they truly doing — not just saying?  Take a careful look at Pepsico's U.S. Brands Shopping List (PDF). Skip the marketing language, the corporate spin, and the pretty colors and characters. Turn the package over, read the ingredients and consider what's actually in these products.
Are the examples Ms. Nooyi gave us to support her case enough to help her sleep at night?  I bet they are.  But they sure wouldn't be if I were in charge.

—
For more on this topic:
Snacks for a Fat Planet by John Seabrook, an excellent discussion of Pepsico's "Better For You" focus in the May 16, 2011 issue of The New Yorker.
Yoni Freedhoff's Weighty Matter: Are We Obese 'Cause We Sit All Day Long? 
Transcript of the Indra Nooyi BlogHer Keynote Speech.