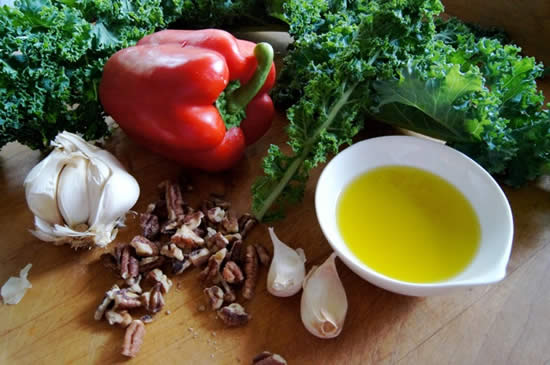 While I think I'm a pretty healthy eater, I'm sometimes shocked to realize I'm eating things with an ingredient list a mile long. Something's wrong if the list is that long — especially when you're reading words you've never heard of!
It's quite easy to move away from processed spreads and condiments by making your own. It's lovely making your own foods with whole unprocessed ingredients — you know exactly what you're eating. So let's skip mayonnaise and jarred pasta sauces and throw a few healthy ingredients in our food processors to come up with our own tasty creations. It's easy and fun — and can be an incredibly flavorful treat!
Pesto is a wonderful way to add rich flavors to foods. Traditional pesto is made with basil, but why not use kale? This pesto is like eating your vitamins — it is a nutritional stand-out!
In this recipe I love roasting some of the ingredients before adding them. It enhances their flavors, and will often eliminate the need to add sugar or too much sodium.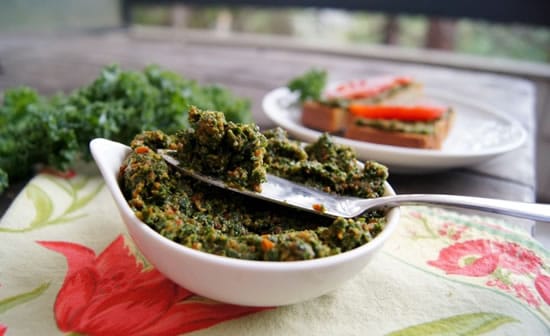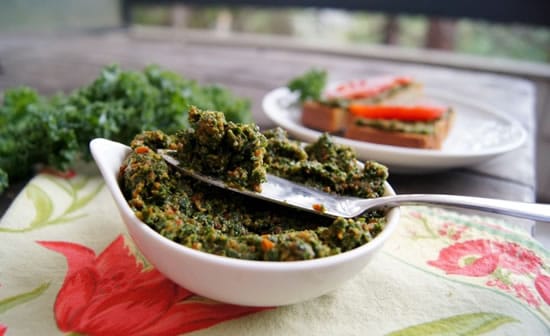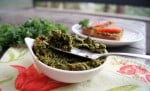 Kale & Red Pepper Pesto
This unique take on pesto is great as a topping or in several different dishes whenever you feel like adding a flare to your meal.
Makes 1-1/4 cups.
Ingredients
1/2

cup

Pecans

roasted

1

medium

Red Bell Pepper

roasted

1/3

cup

Extra Virgin Olive Oil

2 to 4

large

Garlic Cloves

roasted (here's how to roast garlic)

4

cups

packed green Kale Leaves

about 1/2 bunch

Sea Salt and freshly ground Black Pepper

to taste
Instructions
To roast the pecans: Preheat the oven to 375 degrees F and spread the nuts evenly on a baking sheet. When the oven is preheated, put the baking sheet in and roast until the nuts look a bit oily and are very aromatic, about 4 minutes. Set aside to cool.

To roast the pepper: Place it directly on top of a high flame on the stove and let it cook for a few minutes. You'll hear it crackle as the skin begins to char. Use metal kitchen tongs to turn the pepper as each side chars. It should be mostly, but not completely black. Then place the pepper in a bowl and cover it tightly with plastic wrap and let steam for about 5 minutes. Remove the plastic and let the pepper become cool enough to handle. Gently peel the skin off the pepper. Break or cut the pepper into a few pieces and then use a paring knife on the inside to remove the white membranes and seeds. Set aside.

Wash, dry, and remove any tough stems from the kale.

In a food processor, make the pesto by blending the kale with the roasted pecans, roasted pepper, and roasted garlic. Once it's smooth, gradually pour in the olive oil and blend until it's fully incorporated. Season to taste with sea salt and freshly ground black pepper.
About the Author
Valentina K. Wein is a recipe developer, food photographer and owner of the popular food blog, Cooking On The Weekends. Her focus is working with whole foods to create beautiful, comforting recipes for casual entertaining. Outside the worlds of food and photography, Valentina's other passion is her family (including her two young boys, her husband and her dog, Maple.)
You can also keep up with Valentina's recipes on Facebook, Instagram, Pinterest, and Twitter.