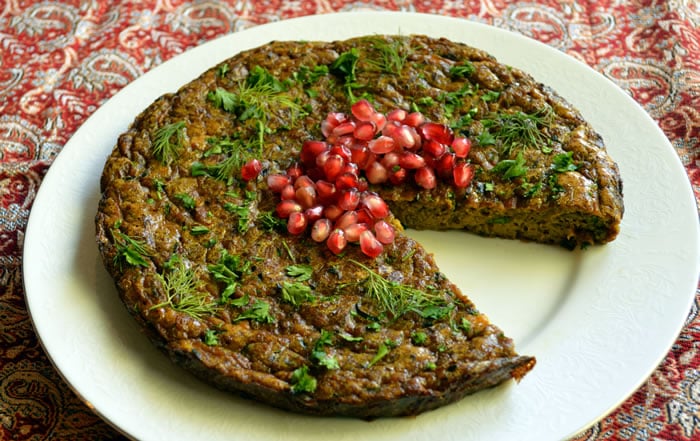 I still vividly remember the moment I first pledged to October Unprocessed. It was back in 2012 and I was in the midst of a Googling frenzy about eating healthier.
Now I didn't have a terrible diet by any means, but I knew it wouldn't win any prizes for the healthiest. I could feel it. Too often would I feel sluggish or miss a workout, especially after a take-out meal or a junk food binge. I didn't like it. So hey, what the heck, October Unprocessed was at least worth a shot. I vowed to go unprocessed the whole month.
Honestly, only the first day was really difficult for me, and it was all in my mind. I dreaded the prospect of changing my diet altogether and "reinventing" what I ate. I thought that a successful October Unprocessed would require a drastic dietary change from me. But as luck would have it, I wouldn't have to at all.
I'd just have to eat more Persian food.
Granted, I'm half-Persian and grew up in a large Persian family, so it was under my nose (literally!) the entire time. It just never dawned on me that Persian food could be such a perfect fit for my new, unprocessed journey.
Yet it's just that. Even in many restaurants, Persian (or Iranian) meals are always prepared with ingredients that'll pass every Kitchen Test with flying colors.
Iranian cuisine is also pretty healthy and a well-balanced diet. Rice is the staple of most every meal, but each meal must also contain vegetables, nuts, herbs, fruits, and a protein in some fashion. Then, on the side, there's the requisite plate of fresh green herbs–sabzi khordan–for additional healthful side snacking.
But what really sets Persian cuisine apart is the amazing spices and other flavorings. Ingredients like saffron, dried limes, and rosewater are what really uplift Persian dishes into an entirely different, super-flavorful stratosphere. And so it was – my first October Unprocessed was full of Persian food. What a glamorous time it was.
Little would I know how impactful this deepened indulgence in Persian food would really be. As a cooking enthusiast, albeit a total amateur, I devoted all my cooking attention that October learning every type of Persian dish. And make no mistake… there are a lot out there.
It was that October of "Persian recipe study," for which I'm grateful at how very patient and cooperative my girlfriend Heather was, that the floodgates really opened. We had so much fun learning and diving deep into the nuances of the Iranian cuisine that we challenged ourselves to do it again. And so we spent November tackling another entirely different cuisine altogether: Vietnamese.
Now, Heather and I have a blog devoted to this sort of deep-diving and cuisine learning. And we have October Unprocessed 2012 to thank for the genesis of the idea.
And since that first October Unprocessed, I've successfully shed all other bad food habits and have been eating right. It's been two years since we last ordered take-out, and the only pizzas we eat now are homemade.
I'd like to challenge all October Unprocessed pledgers to use this time to break old food habits and to freely discover new ones. Let this month be the catalyst that brings you your new perfect meal or a cleaner, healthier way to prepare an old favorite.
To help you on your journey and to introduce Persian cooking, I've got here for you an exquisite (and super-simple!) recipe for Kuku Kadoo, an Iranian-style frittata with zucchini.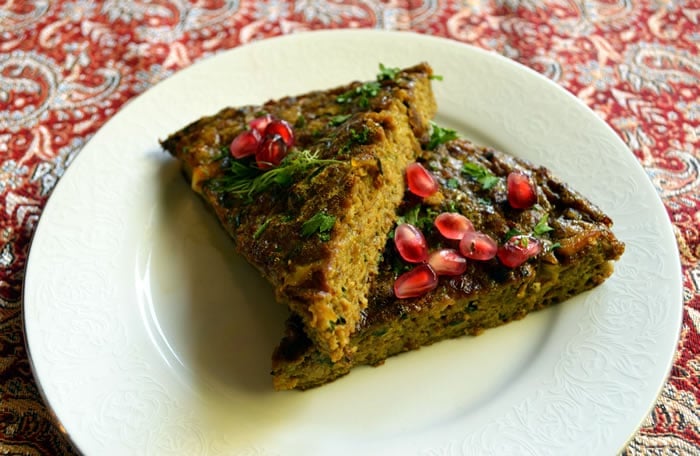 Kuku Kadoo
Kuku Kadoo is an exquisite Iranian-style frittata with zucchini and piaz dagh (caramelized onions - a staple in every Persian recipe). If you have saffron available, it will elevate this recipe even more.
Ingredients
5

eggs

beaten

3

tablespoon

olive oil

¼

teaspoon

minced fresh ginger

2

large

onions

chopped

3

cloves

garlic

minced (we personally love garlic and put more, but that's just us)

4

small

zucchini

grated

1

teaspoon

ground turmeric

1/2

teaspoon

baking soda

Kosher salt and freshly ground black pepper

to taste
Optional, but Highly Recommended
2

threads saffron

pinch

of sea salt or any ground spice

2

tablespoon

boiling water
Possible Garnishes
5

tablespoon

chopped parsley

Pomegranate seeds
Instructions
Prep Work
Pre-heat oven to 400°

Crack eggs into mixing bowl and whisk thoroughly
Phase 1
Place onions into skillet over high heat. Let onions begin to sweat (with or without a tablespoon of oil is at your discretion)

As onions sweat and cook, gradually add oil over a course of 5-8 minutes

As onions start to brown and piaz dagh is made, add ginger and garlic and turmeric. Cook on high heat for another minute

Add grated zucchini and lower to medium-high heat. Cook until tender roughly 10-12 minutes

Optional: With 2-3 minutes remaining on the zucchini, add the saffron water (instruction below)
Phase 2
Take zucchini and onion mixture off heat and add to beaten eggs. Mix thoroughly

Add baking soda, salt, and pepper to egg mixture

Pour mixture into casserole dish and place into oven. The kuku will be done in 25-30 minutes or until you see a solid golden brown top on the kuku

Remove from oven and garnish with pomegranate seeds and parsley
Saffron water
Place strands of saffron into mortar and pestle with the pinch of salt or spices. Grind down.

Place ground mixture into small bowl or ramekin with boiling water

Let mixture sit for at least 5 minutes as saffron flavor opens up
Recipe Notes
1) Piaz dagh is a staple in any Persian dish... In fact I don't know any recipe that doesn't have piaz dagh. At its core, it's caramelized and browned onions using oil. We prefer olive oil but also being judicious in how much oil is used. For a healthier approach, start by letting the onions cook alone before adding oil.
2) You will get a much more attractive outer crust if you preheat your casserole dish prior to pouring in the egg mixture. Before pouring the mixture in, put the dish in the preheated oven for ~5 minutes to warm it up. Lining the dish with olive oil also is very helpful.
About the Author
Arousing Appetites is a food blog run by Cyrus Roepers and Heather Rodgers on their quest to create an anthology of the world's recipes. Each week, they learn about new a new cuisine, eating lifestyle, and cooking technique from some faraway place around the world. Of course, they make the needed adjustments to keep recipes healthy and clean eating where needed! You can also find them on Facebook and Pinterest.