Amanda Yates is the Marketing Director at Food on the Table, a website and mobile app for Apple & Android that integrates the sale items at your local grocery store into recipes your family will love.  How cool is that?  She has a passion for family dinnertime… and her golden retriever, Roz.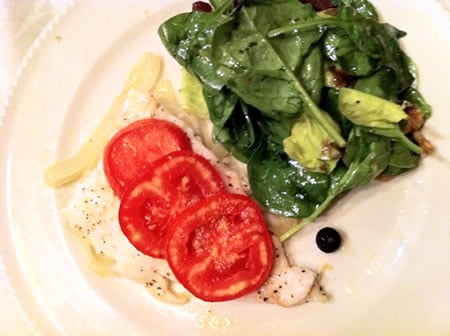 I've always been a huge Marc Bittman fan, and Saturday his column in the New York Times really hit home.   He summarized the evidence that eating unprocessed foods is good for your wallet too.   In "Is Junk Food Really Cheaper?", he points to the example that a meal for four at McDonald's is $28, while a roasted chicken at home with vegetables and a simple salad runs about $14.
While the argument to eat unprocessed foods is strong from a health perspective, more money in your wallet can be a reason that is equally powerful.
Here are three tips to makes sure eating unprocessed doesn't break the bank.
1. Make a Plan
There are many benefits to meal planning, but one of them is that you buy only what you need.  Because unprocessed foods don't have the shelf life of a dinosaur fossil, you need to use them shortly after you buy them.   Before you go to the store for the week, figure out what you want to eat and make a list.  Stick to that list, use those items throughout the week, and you won't have any excess foods rotting in your fridge by the end of the week.   Reducing food waste is a win-win.  Your wallet is happy and the food system is happy.
2. Look for Sales
If you are going to the grocery store instead of the farmers' market, look at the sales in your circular.  Every week, most supermarkets publish weekly specials that have a variety of meat and produce.   Build your plan around those sale items and you'll have a variety of unprocessed deals to choose from.
 3. Shop in Season
Even if you didn't take Econ 101 in college, you can probably figure out the law of supply and demand when it comes to seasonal produce. When produce is in season, there is a large supply.  In order to sell everything before it goes bad, the price needs to drop.  Look for seasonal produce in your grocery store and you'll get a good deal every time.
To get you started, I'm going to share a Food on the Table recipe I made for my family of four using the sale items at my local Whole Foods Market.  Sole was on sale for $7.99/lb, so this meal came in at a grand total of $15.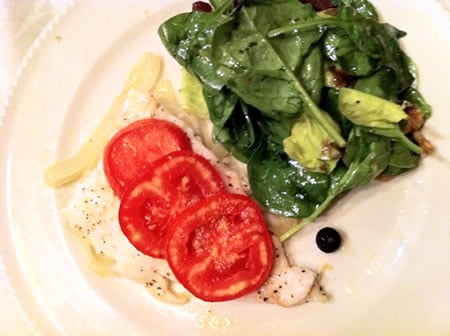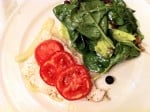 Tomato-Topped Sole
This simple dish is delicious and easily made. There are so many combinations you could use to eat on the side of this plate.
Ingredients
1

onion

thinly sliced

1

tablespoon

olive oil

1

pound

sole filets

1

plum tomato

sliced

2

tablespoons

butter

melted

1

clove

garlic
Instructions
In a small skillet, sauté onion in oil until tender. Transfer to 1-qt. baking dish. Place fillet over onions. Sprinkle with salt and pepper. Top with tomato slices. Season with a little more salt. Combine butter and garlic; pour over tomato.

Bake, uncovered, at 350 degrees F for 14-18 minutes or until fish flakes easily with a fork.

I served the sole with a simple salad of greens, blueberries, raspberry vinegar, extra virgin olive oil, salt and pepper.