Maple Popcorn Balls
Oct 31, 2011, Updated Jun 22, 2017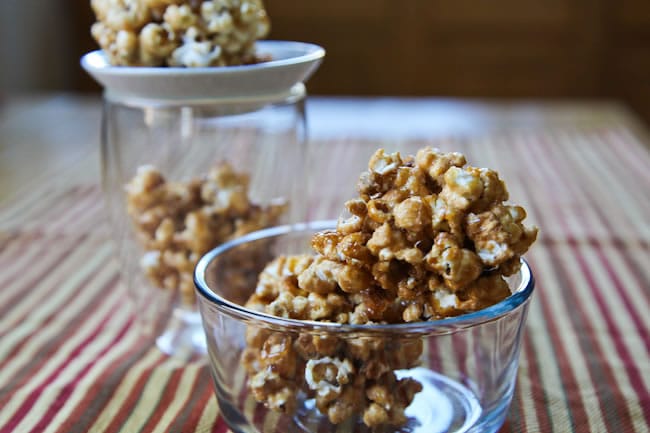 Today is Halloween and that usually means mountains of bite size candies for you and your kids (if you have them). The sort of candy bought at a big box store, in those huge plastic 5lb bags, that you probably loved when you were a child, but now, after doing a month of unprocessed foods, might not be as appealing (or conversely, more appealing). But we all need a treat now and then, something sweet to celebrate a month of unprocessed goodness. So why not consider making your own Halloween treat, completely unprocessed of course, to celebrate?
I offer to you the perfect unprocessed Halloween treat: Maple popcorn balls.
Now, if you've ever visited my blog, you know that it's a baking blog. Granted it's not your typical baking blog, full of polka-dotted cupcakes and obscene amounts of buttercream frosting. I do my fair share of "alternative baking" using whole grains, gluten-free products, alternative sweeteners and the like, but I also use a lot of the usual white cane sugar, unbleached flour, and butter that tend to be staples of most baking blogs. And though I easily could have come up with a recipe for a whole-grain baked dessert for this guest post, I stumbled across this recipe in a cookbook that made me realize it was the perfect thing to share with you.
As a food blogger, I get a lot of cookbooks, and some of them great, some of them not so good. Recently I received a reprint of the book Spirit of the Harvest: North American Indian Cooking
by Beverly Cox and Martin Jacobs.
A random addition to my cookbook collection and not something I would probably feature on my blog, but flipping through it (I always look through all the books sent to me) I realized that a great majority of the recipes use unprocessed ingredients – which is completely understandable as North American Indians certainly didn't have access to Velveeta and the like.
Of course there are some esoteric ingredients as well (sourcing elk liver might be difficult for the average person, but I know you guys are up for the challenge). Definitely check it out if you are looking to continue eating unprocessed foods, or are interested in Native American cuisine (after all Thanksgiving is coming up). Of course, as I browsed the book, I came across these maple popcorn balls and I knew I had to share them with you.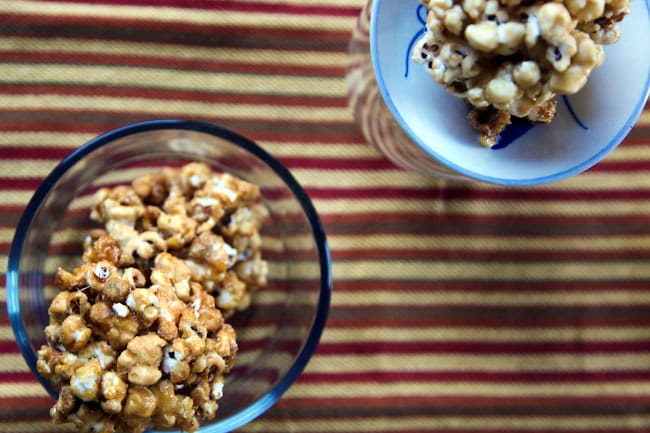 Popcorn itself is a whole grain and is naturally high in fiber, as well as low in calories and fat. It's usually the junk people put on the popcorn that is bad for you. Avoiding the prepackaged microwave popcorn bags means you can actually control what goes on the popcorn itself.
Maple syrup also happens to have antioxidants and other nutrients not found in processed sweeteners like white cane sugar. That's not to say it's totally nutritious for you, after all it is mostly sugar syrup, but it fits the bill of unprocessed and in small amounts it is definitely a great treat.
Try making these popcorn balls and seeing if they will help tame your Halloween candy craving. Or better yet, offer to swap some of your kids Halloween candy for homemade popcorn balls. It's worth a try at least. 😉
For another variant of unprocessed candied popcorn, "pop" over to my blog to check out my Halloween edition of my Wordless recipes series – Haunted Honey Caramel Popcorn, made with unprocessed ingredients as well!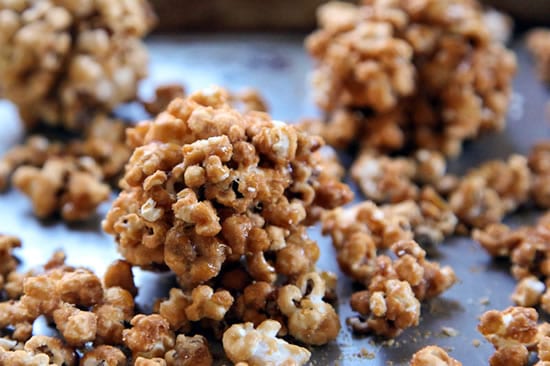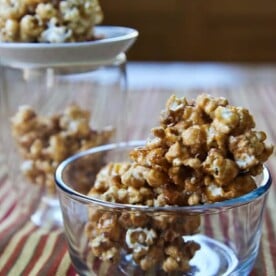 Maple Popcorn Balls
I usually avoid prepackaged microwave popcorn. If you bounce over to Andrew's post on
how to make your own microwave popcorn
you can certainly make it that way (use 1/3 cup instead of the 1/4 cup that he recommends on his post). However, I actually prefer my popcorn made on the stovetop the old-fashioned way, so the instructions below are given for that method. I use avocado oil, but feel free to use olive oil, coconut oil or another cooking oil of your choice. If you want to get fancy, you can add a dash of cayenne pepper, lemon zest, cinnamon or vanilla extract to the maple syrup as you cook it. I've intentionally left this recipe is basic so feel free to experiment!
Recipe adapted from
Spirit of the Harvest: North American Indian Cooking
by Beverly Cox and Martin Jacobs. Popcorn method adapted from
Simply Recipes
.
Ingredients
1

tablespoon

avocado oil

,

or oil of your choice

1/2

teaspoon

sea salt

1/3

cup

popping corn

1 1/4

cup

maple syrup

,

divided

1 1/2

teaspoons

butter
Instructions
Place the oil and the salt in a large pot and swirl the oil around to distribute the salt. Place three or four popcorn kernels in the pot and turn the heat to high. Cover the pot with a splatter guard screen or a lid, slightly ajar to keep the kernels from popping out, but allowing for the steam to escape.

Once the popcorn kernels have popped, turn off the heat and add the remaining 1/3 cup of popcorn. Shake the popcorn to coat with the oil. Wait 30 seconds for the popcorn to warm up (this allows for the popcorn to evenly heat – meaning fewer unpopped kernels) then turn the heat back on to medium high.

Wait until the popcorn starts to pop, shaking the pot occasionally to make sure the popcorn doesn't burn as you make it. Once the popcorn has slowed to popping every 2 seconds or so, turn off the heat. Shake it one or two more times to make sure no more popcorn is going to pop, and then empty it into a large heatproof bowl, placed on a trivet or oven pad.

Lightly oil a baking sheet or line it with a

silpat

. Preheat the oven to 250 degrees Fahrenheit. Pour 3/4 cup of the maple syrup and butter into a small saucepan. Cook the syrup on medium high, stirring frequently, until it reaches 250 degrees, the firm ball stage (when a little bit of syrup is dropped into cold water, it will form a firm ball that will flatten when you squeeze it) – about 8 to 10 minutes. Watch the pan carefully as the maple syrup may boil over. Drizzle the syrup over the popcorn and toss with a heatproof spatula or wooden spoon.

Keep tossing the popcorn with the maple syrup until the popcorn is evenly coated. Spread the popcorn on the prepared baking sheet, and pick out any uncooked kernels. Place in the oven for 15 minutes.

About 10 minutes after you put the popcorn in the oven, pour the reserve 1/2 cup of maple syrup in the same saucepan and heat until it reaches 250 degrees Fahrenheit. Since there is less maple syrup it should reach the firm ball stage about the same time you take the popcorn out of the oven. If it doesn't, that's okay, you can leave the popcorn in the oven for a few more minutes.

Once the popcorn has baked and the maple syrup has reached 250 degrees, take the popcorn out of the oven. The popcorn should have browned a bit and crisped up. Pour it back in the same large heatproof bowl and drizzle the maple syrup over the popcorn. Working fast, toss the popcorn with the maple syrup and quickly form the popcorn into balls. Place them back on the baking sheet. Let cool and store in an airtight container.
Notes
Makes about 4 or 5 baseball sized popcorn balls with extra popcorn to munch on.
Nutrition
Calories:
367
kcal
,
Carbohydrates:
77
g
,
Protein:
1
g
,
Fat:
5
g
,
Saturated Fat:
1
g
,
Cholesterol:
4
mg
,
Sodium:
314
mg
,
Potassium:
263
mg
,
Fiber:
1
g
,
Sugar:
60
g
,
Vitamin A:
45
IU
,
Calcium:
110
mg
,
Iron:
0.5
mg
Like this recipe? Rate and comment below!
Full disclosure: I received a review copy of Spirit of the Harvest, North American Indian Cooking from the publisher Stewart, Tabori & Chang. I was under no obligation to write about the book. That said, all opinions on the book are mine and mine alone.