Going #Unprocessed with Millet Polenta
Oct 21, 2013, Updated Aug 30, 2017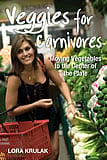 Lora Krulak is a Nutritional Muse, chef, speaker and Amazon best-selling author of Veggies for Carnivores. A passionate "anti-diet" advocate, Lora specializes in simplifying food & fitness techniques for anyone looking to overhaul their lifestyle. With her workshops, programs, and events, she combines a delicious blend of mind, body, and-soul focused exploration that blows traditional dieting out of the water. To learn more about Lora and discover her tips for a beautifully nourished life, visit her blog at lorakrulak.com or find her on Facebook.
This is a guest post for October Unprocessed. If this is your first time here, welcome! …and it's not too late to join in!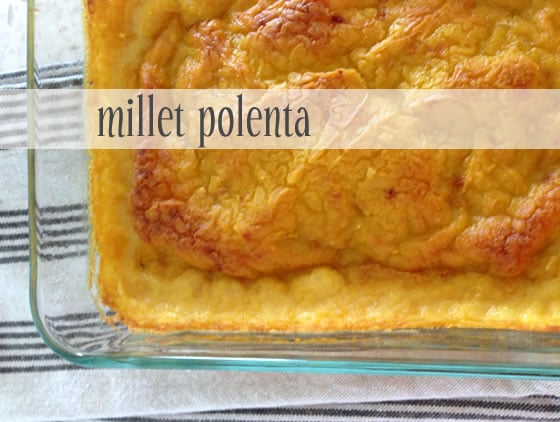 One month of unprocessed food? Sounds simple to me, I am the veggie-goddess after all! Well that's what I thought until I had a closer look at my "clean" kitchen. My boxed almond milk, liquid stevia, tubs of yogurt, vegetable broth, multiple jars of every type of nut butter imaginable and the list goes on. Albeit all organic, every item was all bought from a store with brightly colored labels and smart graphics glaring at me reminding me how not unprocessed I was. Mind you, the ingredient list on all of these items is short, but each one of these staples I could so easily make at home. I even preach and tweet ad nauseum about "Lazy days nut milk." (A tablespoon of nut butter plus 1 cup of water in a blender = nut milk!) But how often do I actually do that?
Going unprocessed means swimming upstream for a few weeks and saying no to convenience. But it also  means getting our hands dirty and getting creative. This can be a whole lot of fun. One of the ways I love to get creative is taking recipes and recreating them in new and different ways. Polenta made from cornmeal now becomes millet polenta instead. Not groundbreaking, but something new. Maybe tomorrow I will grind a few nuts together with some unfiltered molasses and make a fancy nut butter . . . I am loving October Unprocessed!
Millet Polenta with Spicy Tomato Ragú
An unprocessed entrée that is sure to make this a meal that the family will enjoy!
Ingredients
For the Polenta:
1

teaspoon

organic butter

,

plus more for greasing the dish

½

red onion

,

chopped

1

clove

garlic

,

chopped

1

cup

Bob's Red Mill millet flour

1

cup

vegetable broth

1

cup

carrot juice

,

you could also use all carrot juice or all vegetable broth
For the sauce:
1

box

8 ounces of plum tomatoes

1

head

garlic cloves

,

peeled and separated

1

red onion

,

sliced into 1/2" rings

1

tablespoon

olive oil

1/2

teaspoon

sea salt

,

more or less to your preference

1/4

teaspoon

ground pepper

,

more or less to your preference

Handful of fresh basil

,

torn
Instructions
For the Polenta:
In a medium-size saucepan, melt the butter over medium heat and sauté the onion and garlic until they are fragrant, about 4-5 minutes.

Add the millet flour and let it cook for about a minute, cooking out the "flour" taste.

Add the liquids slowly, constantly stirring to remove all the lumps.

Lower the head and simmer the polenta for about 7-10 minutes until the liquid is absorbed, but the polenta remains moist.

Pour the polenta into a greased baking dish.

Bake at 350F for 20 minutes, then let cool in the dish to set.
For the Sauce
Bring the oven up to 375F.

Line a baking sheet with parchment paper.

In a large bowl, toss the tomatoes, garlic cloves, onions, salt, and pepper in olive oil to coat evenly.

Spread on the baking sheet, and roast for 20 minutes, stirring half-way.

Allow to cool slightly, then transfer to a blender and purée.

Mix in the chopped basil.
To Serve
Slice the polenta into squares and serve, topped with a heaping spoonful of tomato ragú.
Nutrition
Calories:
47
kcal
,
Carbohydrates:
6
g
,
Fat:
2
g
,
Cholesterol:
1
mg
,
Sodium:
288
mg
,
Potassium:
130
mg
,
Sugar:
2
g
,
Vitamin A:
5720
IU
,
Vitamin C:
5.3
mg
,
Calcium:
18
mg
,
Iron:
0.2
mg
Like this recipe? Rate and comment below!