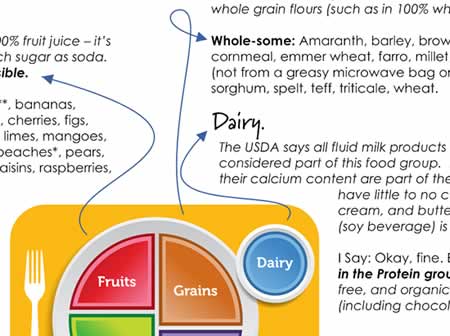 By now you've probably seen, or at least heard about, the new "My Plate" icon. If you've taken a moment to click over to the USDA's ChooseMyPlate.gov website, you've also seen that they have seven key takeaways as part of the 2010 Dietary Guidelines (sadly, only one of which is actually conveyed by the icon), along with lots of explanatory information about the icon and the Guidelines.
The icon is, by intent, incredibly simplistic. I'm actually a fan overall, since it distills everything down to the essences (and as I've said before, I love that it's a plate, not a pyramid).
So the website is needed to back up the icon with supporting information and (mostly good) advice. But what if you're in your kitchen, not at your desk? How do you know if your meal is going to stack up?
Simple! Just print out this free Guide to the My Plate Icon, and post it on your fridge for the whole family to see. Do it. Do it now!
The Eating Rules Guide to the "My Plate" Icon (8 ½" x 11″ one-page PDF, 265kb)
If you'd like to share this guide on your own website or blog, please be respectful (and law-abiding) and share it by linking directly to this post. Please do not link directly to the PDF or copy the PDF to your own server.  Thanks!