More than five thousand people avoided processed food for an entire month. What happened next…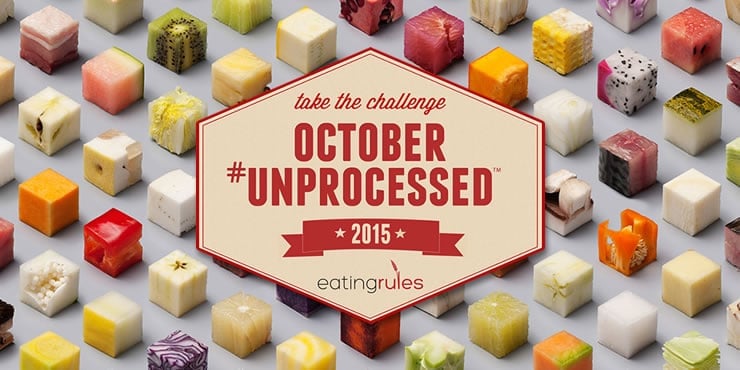 …will amaze you!
Sorry, I couldn't resist poking a little fun at all those click-bait titles… but when thousands of people (5,484 at last count) come together to do something for their health, and the health of their families, communities, and our planet, it truly is amazing.
October Unprocessed, at its core, is an awareness exercise. Although many people report feeling better (and losing weight!), the goal isn't really to change your health in just one month. It's to learn about and focus on what you're putting in your body, and how it affects your health and well-being, and the world around you. I hope you've learned a lot this month, and will take that with you moving forward from today. Even though this October has come and gone, October Unprocessed doesn't really end today – I hope you'll take your new-found unprocessed knowledge and build on it, growing and learning for the rest of your lives. (And of course I'll still be blogging here–though not every day!–and sharing on Facebook, Instagram, and Pinterest, of course.)
Each year our movement has grown — and it gives me hope for the future. It means the pendulum is starting to swing back from ultra-processed foods to real food, and it's gaining momentum. By continuing on this path, we will shift our world to what we want it to be. So please keep seeking out nutritious, delicious, unprocessed food. The more we demand it, the more the market will provide it, helping ensure everyone will soon have access to unprocessed, wholesome, and affordable food.

Thanks.
It's staggering the number of people who came together and volunteered their time, expertise, and talents to help make this project happen. First and foremost, I want to thank all the guest authors, who shared 36 guest posts throughout the month! Their contributions were delectable, creative, beautiful, helpful, and inspiring. I've said it before, and I'll say it again: The food blogging and wellness community is one of the finest groups of people I've ever been blessed to know and be a part of, and for that I am truly grateful.
I'd like to thank Bob's Red Mill and MightyNest for their generous sponsorship, which made it feasible for me to spend the time and energy coordinating all of this. (And it's not too late to get your FREE month of The Mighty Fix! Just use coupon code UNPROCESSEDFIX when signing up, and your first month will be completely free.)
Thanks also to KitchenAid for the Multi-Cooker with Stir-Tower Accessory giveaway, and to Lernert & Sander, for generously allowing me to use their delightful "Cubes" photograph (you can purchase a signed print of the image directly from them — mine just arrived from Amsterdam!).
Finally, a big Thank YOU to everyone who took the challenge and participated in any way – including those folks who weren't ready to sign the pledge, and just read along all month. This challenge is really all about all of you, and I hope it's been a great experience.
So, how did it go?
I'd love to know how the challenge went for you. What was your experience like? Did you have any revelations? Overcome a specific hurdle? Or did you only "make it" for part of the way? And most importantly: What will you take with you, moving forward?  Leave a comment below, and let us all know!
To Your Health,