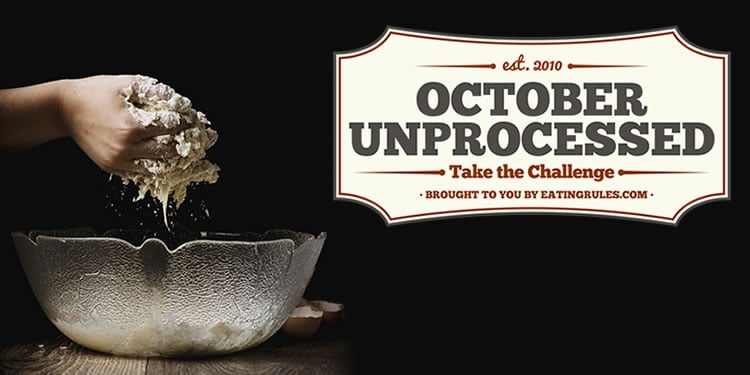 Congratulations on making it through the Eighth Annual October Unprocessed Challenge! Whether you went completely unprocessed, or just started paying closer attention to what is actually in your food, I hope you can consider the challenge a success.
October Unprocessed, at its core, is an awareness exercise. Although many people report feeling better (and losing weight!), the goal isn't really to change your health in just one month. It's to learn about and focus on what you're putting in your body, and how it affects your health and well-being, and the world around you. I hope you've learned a lot this month, and will take that with you moving forward from today. Even though this October has come and gone, October Unprocessed doesn't really end today – I hope you'll take your new-found unprocessed knowledge and build on it, growing and learning for the rest of your lives.
Each year our movement has grown — and it gives me hope for the future. It means the pendulum is starting to swing back from ultra-processed foods to real food, and it's gaining momentum. By continuing on this path, we will shift our world to what we want it to be. So please keep seeking out nutritious, delicious, unprocessed food. The more we demand it, the more the market will provide it, helping ensure everyone will soon have access to unprocessed, wholesome, and affordable food.
Thanks.
Each year I'm blown away by the number of people who volunteer their time, expertise, and talent to make October Unprocessed a success – and this year has been no different! First, I would like to thank the Guest Post Authors – the heroes of October Unprocessed! Together, they brought us stories of inspiration and health, along with many creative "how to" guides, recipes, and resources. I am reminded each year of the incredible people in the food blogging and wellness community. They are one of the finest groups of people I've ever been blessed to know and be a part of, and for that I am truly grateful.

I'd like to thank Bob's Red Mill and Primo Water for their generous sponsorship, which makes it possible for me to spend the time and energy coordinating all of this. It also enables me to pay my awesome team, working feverishly behind the scenes.
I'm deeply grateful to Kristi, who helps coordinate and set up all the guest posts (no small feat!), and Jeff, helping with all the graphics and images (gracious even under those "hey, we need just one more" weekend deadlines). Without Kristi and Jeff, there's no way October Unprocessed would have happened this year. Thanks, team.
Finally, a big thank you to everyone who took the challenge and participated in any way. The challenge is really about all of you and I hope you've had a great experience.
Wondering what to eat in November?

The October Unprocessed Simple Meal Plan Guide is a digital download packed with more than 50 simple, unintimidating recipes that all pass the kitchen test. I know many of you have purchased it already, but for those of you that haven't, this is a great way to make planning (and grocery shopping) much easier!
We've included:
Four weeks of delicious, unprocessed dinner recipes, laid out in meal-plan fashion.
Additional chapters packed with our favorite breakfast, lunch, snack, and dessert recipes.
Over 50 recipes to get you through the entire month of October feeling healthier than you have all year.
Added bonus: Four weeks of printable shopping lists for the dinner recipes, reducing your grocery store stress.
That's an entire month of knowing exactly what you're going to eat, setting you up to make almost no in-the-moment decisions about food. I know I said the price would go back up to $27 today, but I'm going to extend the discount just one more day. So today (November 1st, 2017) is really the last day to save $10. Tomorrow, we're locking the price at $27. Get your copy today!
So… How did it go?
I'd love to know how the challenge went for you. Did you complete the challenge? Overcome any specific hurdles? Have any revelations? The most important question: What will you take with you moving forward? Leave a comment below and let us all know!