Overcoming the Time Hurdle (Roasted Tomato & Pepper Salsa)
Oct 01, 2011, Updated Oct 15, 2017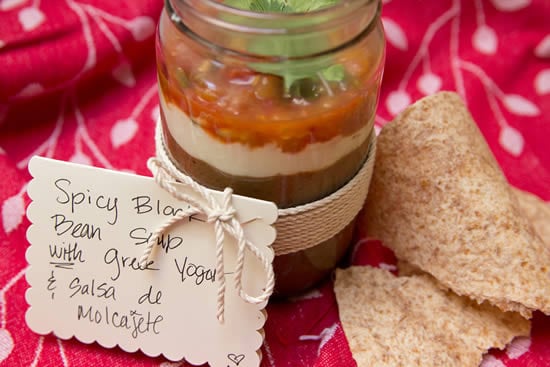 While Andrew deemed me an "overachiever," I prefer to think of myself as "enthusiastic." As soon as I read about October Unprocessed, I knew I was in. So much so, that we started last weekend!
After a couple of über-busy months which have included a move, the loss of my grandfather, a chocolate-tasting party, a bacon party, working with Jane Goodall and Oprah Winfrey, and too many food events to count, the timing couldn't be more perfect. I'm embracing the month of October, and getting back to basics.
In the Bay Area, we're fortunate to have great access to whole & real foods, beautiful produce from farmers markets, and local organic meats.  Even so, I knew that we'd face two main hurdles during the challenge.
ONE: We rarely have time for breakfast before leaving the house, and we both eat lunch away from home. All breakfasts and lunches would have to be prepped the night before.
TWO: Free time is at a premium, and sometimes we're both exhausted at the end of a long day. Eating out and, worse yet, ordering in can be a trap for us, so we'd have to have food for easy dinners to avoid the temptation to order in.
Last Saturday, I went to the Alemany Farmers Market here in San Francisco. I stocked up on end-of-summer tomatoes (seven glorious pounds of them), hot and sweet chilies, lots of fresh berries, onions, ginger, eggplant, garlic, and fresh herbs to complement everything brewing in my little noggin.  I stopped at Avedano's, my butcher, on my way home and picked up a pork shank and some skirt steak.
I came home and set to roasting half of the tomatoes and chilies to make a giant jar of salsa, I put on a big pot of spicy black beans, and I made some wild rice. I also slow-cooked that pork shank with chilies and chocolate and tomatoes for eight whole hours. It fell off the bone when it came out.
Saturday night, those were amazing burritos!
Sunday morning, I put the beans in little ramekins, and cracked eggs on top; we had spicy black bean baked eggs.
Sunday afternoon, we ate a bit of the shredded pork with the wild rice and some veggies over mixed greens for a light lunch.
Sunday night, I made some Bhutanese red rice, Spanish style, and we ate it with beans and some Greek yogurt. Followed by berries which I steeped in a syrup I made from Demerara sugar, rosemary, and lemons from a friend's yard.
After dinner, I prepped some of the week's breakfasts, simple plain yogurt parfaits in jars. I made three different flavors. One with berries, maple syrup, and pecans, another with the berries in rosemary lemon syrup, and other with berries and homemade spiced plum jam with pistachios.
I also made lunches, beans, rice, pork, and salsa all layered into a jar topped with a little Greek yogurt.
Monday and Tuesday, tacos/burritos with a big salad. I'm thinking I was overzealous with the black beans, but my husband is loving them.
Tuesday night, I pureed the last of the black beans and made a soup. So grateful not to eat a burrito again.
Wednesday, lunch, the last of the black bean soup with a bit of yogurt and salsa! For dinner we ate pecan-crusted skirt steak which will also go into a big green salad with peaches and avocados for lunch. Yum!
Observations: So far, our food budget has been miniscule compared to our normal week. The not-eating-out, really helps! Also, the meat we bought stretched so far with beans and whole grains at every meal. The meal planning aspect is really new to me, and I am enjoying it so far. Although, next week I will make only 2/3 as many beans (I'm thinking chickpeas), buy 1/3 less meat, and make twice as many berries.
Snacks and ready-made stuff: We bought some organic tortilla chips, some whole grain tortillas from Alvarado St. Bakery, flax and oat bread from Vital Vitals, nut butters, fresh fruits and veggies, some hard cheeses, raw nuts, and one pint of organic vanilla ice cream — which it turns out doesn't pass the sugar test, so the rest of it gets to sit in the fridge until November.
I'm looking forward to next week when I'll have the support of 1,700 people going #unprocessed with me!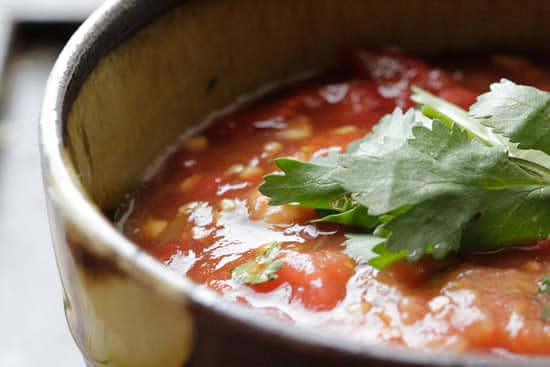 Roasted Tomato & Pepper Salsa
Salsa de molcajete is traditionally made in a stone bowl with little feet (a molcajete), you know the kind guacamole comes in at your favorite Mexican restaurant? I don't have such a bowl, but on Saturday I had a bunch of ripe, juicy tomatoes, some fresh chilies and a craving for something spicy.
So, I improvised with a potato masher and it worked out perfectly. I had big chunks of tomato and chilies just like I like it and I didn't use the food processor and make extra dishes. Score! This recipe makes a big, spicy batch. If you're less into spicy food, omit some of the jalapeños. The recipe is easily halved if you don't think you'll eat the salsa within a week or so.
Ingredients
3

lbs

ripe Tomatoes

,

cored (I used a mix of Early Girls and heirlooms)

4

Jalapeños

2

medium

Chilies

,

like Anaheim

1

Onion

,

diced

8

cloves

fresh Garlic

,

peeled and finely chopped

Juice of one Lime

Handful of fresh Cilantro

Sea Salt and Pepper to taste
Instructions
Preheat your broiler for about 10 minutes.

Lay out your tomatoes, jalapeños, and chilies on a baking sheet lined with aluminum foil. Broil for about 10 minutes and check for black char marks. These are good! If the tops are well-charred, it's time to turn. Char tomatoes, peppers, and chilies on all sides -- removing the jalapeños and chilies if you have to, in order to ensure the tomatoes get really dark and toasty.

Rest the tomatoes, peppers, and chilies until they're cool enough to handle. Peel off the black skin of the peppers and tomatoes and remove the stems.

Mash the chilies, lime, a heavy pinch of sea salt, and garlic with the back of a fork. Add in the tomatoes and mash with the tomato, err, potato masher until you reach your desired consistency. Add onion and cilantro and stir. Season with salt and pepper to taste.
Nutrition
Calories:
85
kcal
,
Carbohydrates:
18
g
,
Protein:
3
g
,
Sodium:
19
mg
,
Potassium:
905
mg
,
Fiber:
5
g
,
Sugar:
10
g
,
Vitamin A:
2985
IU
,
Vitamin C:
67.8
mg
,
Calcium:
51
mg
,
Iron:
1.1
mg
Like this recipe? Rate and comment below!