Sukkot Unprocessed (Roasted Root Vegetables)
Oct 19, 2011, Updated Oct 03, 2017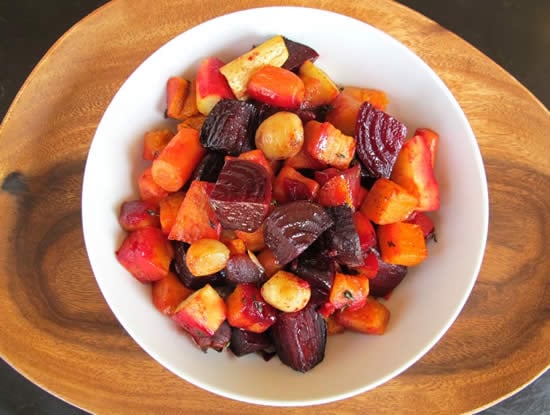 I'm so excited to guest post for Andrew here at Eating Rules! I love Andrew's blog, and I'm happy to share a simple and delicious recipe with you. Many of you may not be familiar with my blog, so here's a little background. I'm a convert to Judaism; I write about Jewish food and food history. My favorite thing to do is study the story behind what we're cooking; I'm a "culinary anthropologist," so to speak. For most of the recipes I post, I give some background on how that recipe came to be. In that way, my approach to food connects to what Andrew is doing here with October Unprocessed. I like to deconstruct recipes and find out where they started—how they were originally made, from scratch. I'm always curious about how regional dishes have evolved, what kinds of shortcuts were invented along the way, and how we can break recipes down to keep them as close to the original as possible. Usually, I find that the "original" version of a dish is largely unprocessed—the further back in history you go, the less processed foods existed. While not all of my recipes are unprocessed, many are, particularly the Middle Eastern, Mediterranean, and Sephardic Jewish dishes. I'm enjoying the challenge of "keeping it real" this month… I hope you are, too!
If you'll indulge me, before we start cooking, I'd like to briefly discuss the weeklong Jewish holiday happening right now — it's called Sukkot. While not as widely known or celebrated as some other Jewish holidays, Sukkot is a very important part of the Jewish experience. Historically many important events have occurred during Sukkot, including King Solomon's dedication of the First Temple of Jerusalem. Sukkot is the perfect holiday complement to October Unprocessed, because it's all about the autumn harvest. Sukkot menus feature vegetables and fruits that are harvested at the turn of the season. As a food lover, this holiday is one of my favorites because we are encouraged to create dishes from fresh, seasonal ingredients. The arrival of Sukkot ushers in the autumn season; foods are inspired by the bounty of the harvest.
To celebrate, I thought I'd share a simple and tasty seasonal recipe today – Oven Roasted Root Vegetables. I love this side dish; it's simple, unprocessed, vegan, gluten free, and full of flavor. It's also really adaptable; you can use any combination of root veggies you like. If you don't like yams, substitute plain potatoes. Not a fan of parsnip? Use two carrots instead. I included butternut squash in the mix (not a root vegetable) because it has a natural buttery sweetness that perfectly complements the roots. You could use another type of squash if you prefer. This is a great way to clear out your produce drawer or your CSA box, and the process could not be easier.
A couple of hints… if you use red beets in this recipe, keep in mind that the roasting will release a pinkish juice that will color the other vegetables. The color doesn't bother me– in fact, I think it's kind of pretty. However, if you'd rather not have pinkish veggies, use golden beets or omit the beets completely. I've found that the toughest part of prepping this dish is peeling and seeding the butternut squash. Go ahead and buy pre-peeled and cubed squash if you can find it. It'll save you a lot of prep time and effort. Or you could substitute pumpkin, which is a little easier to slice up.
I like to keep my seasonings simple in this dish. Root veggies have such earthy, wonderful flavors that I prefer to taste them in their "naked" glory. I only use salt, pepper, and fresh thyme to season them. For more flavor, you could sprinkle them with rosemary, oregano, a little garlic powder, fresh chopped parsley, or even a splash of balsamic vinegar. Feel free to use your culinary imagination!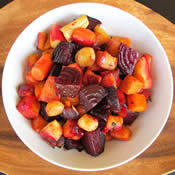 Roasted Root Vegetables
This recipe is simple, unprocessed, vegan, gluten free, and full of flavor. It's also really adaptable; you can use any combination of root veggies you like.
Ingredients
1

bunch

Beets

,

1 lb., red or golden, trimmed and scrubbed

1

Butternut Squash

,

1-2 lbs. peeled and seeded

1

large

Yam

,

peeled

1

large

Parsnip

,

peeled

1

large

Carrot

,

peeled

1/2

Red Onion

6-8

whole Garlic Cloves

,

peeled

3

Tbsp

fresh Thyme Leaves

3

Tbsp

Extra Virgin Olive Oil

Sea Salt and Pepper
Instructions
Preheat oven to 425 degrees F. Line a cookie sheet with foil.

Cut all vegetables (except garlic) into 1 1/2 inch chunks.

Toss vegetables in a large bowl with garlic cloves, thyme leaves, and olive oil until evenly coated.

Spread vegetables out evenly on the cookie sheet in a single layer. Sprinkle vegetables generously with salt and lots of black pepper.

Roast the vegetables in the hot oven for about 45 minutes, stirring once halfway through

cooking, until vegetables are tender and starting to turn golden. Serve hot.
Notes
Kosher Key: Pareve, Kosher for Passover
Nutrition
Calories:
183
kcal
,
Carbohydrates:
27
g
,
Protein:
3
g
,
Fat:
8
g
,
Saturated Fat:
1
g
,
Sodium:
56
mg
,
Potassium:
792
mg
,
Fiber:
5
g
,
Sugar:
7
g
,
Vitamin A:
18565
IU
,
Vitamin C:
43.5
mg
,
Calcium:
111
mg
,
Iron:
2.3
mg
Like this recipe? Rate and comment below!