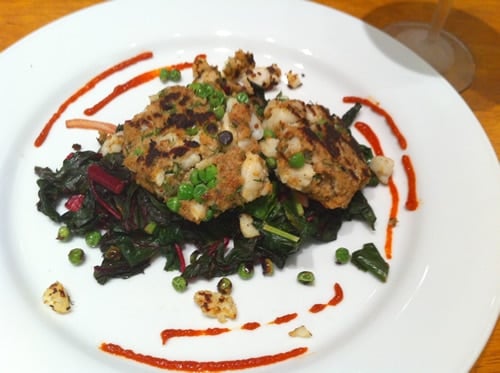 I'm so totally intimidated to post a recipe after the International Food Blogger Conference, considering the sheer amount of culinary and photographic greatness I witnessed and experienced last weekend.
But I'm doing it anyway [semicolon] want to know why?  I'll tell you:  These Shrimp cakes turned out fabulous.  So there.
After being away from my kitchen for — gasp! — 60 hours, I was all excited to come home and make some Whole Grain Crab Cakes.  Sadly, though, the half-container of crab meat in the fridge had been there a little too long, and smelled, umm, how do you say? Ghastly.
Although it pained me to toss seven dollars' worth of crab in the trash, it would have hurt a lot worse if we actually ate it, I'm sure.  So, on to Plan B:  Pull out some frozen shrimp* and make it work.
Speaking of which, I can still hear Kristine Kidd's and Diane Jacob's emphatic proclamation ringing in my ears: "The recipe has. to. work."
Well, these worked for me, and I hope they'll work for you.  Let me know.

Shrimp Cakes with Peas and Dill
These delicious cakes will be so good you're going to be going back for seconds.
Ingredients
3

slices

100% whole wheat bread

1/2

pound

8 ounces shrimp, peeled & deveined

1

tablespoon

toasted walnut grapeseed oil

1/8

teaspoon

black pepper

1/3

cup

peas

1

egg

lightly scrambled

1

tablespoon

kefir

1/4

cup

fresh dill

chopped

1

tablespoon

Hop Kiln Winery Cognac & Pepper Mustard

or any mustard

1/8

teaspoon

black pepper

1

tablespoon

Hop Kiln Winery Toasted Walnut Grapeseed Oil

1

tablespoon

olive oil

for frying the cakes
Instructions
Put the bread in a blender or food processor, and chop until you've got fluffy breadcrumbs. Set aside.

In a nonstick skillet, sauté the shrimp in 1 tablespoon of the toasted walnut grapeseed oil (if they're frozen, thaw them before cooking). Stir occasionally, and grind a little black pepper onto the shrimp while they're cooking.

Once the shrimp are cooked through, drop them on a plate too cool briefly, and then chop them into small, marble-sized pieces. If the peas are frozen, toss them into the still-hot pan for a minute or two to thaw them.

In a large bowl, mix all the ingredients together (excluding the olive oil). Heat your skillet back up over medium-high heat, and add the olive oil.

Shape the mixture into 2" patties, and gently set them in the pan to cook. They crumble easily, so be careful. Once they're brown on one side (about 4 minutes), turn them over. Cook until that side is brown (another 4 minutes or so). Because of the raw egg, be sure to cook them thoroughly.

Serve on a bed of  Kale, Chard, and Onion, or similar sautéed greens.
Recipe Notes
A quick note on the ingredients: I typically use Greek Yogurt in my crab cakes, but we were out. Instead I used a little Kefir, which added some moisture and a subtle, tangy flavor. The Toated Walnut Grapeseed Oil and Cognac & Pepper Mustard came from a recent visit to the Hop Kiln Winery in the Russian River Valley, CA. Beyond their wines, their tasting room offers a wide assortment of fab mustards and oils. Of course you can use any mustard and (unsaturated!) oil you have on hand.
I wanted to add a side vegetable, and we had some Kale and Chard in the fridge.  This is a quick, easy, and tasty way to get some high-powered veggies on your plate — and it complements the shrimp cakes nicely.

Sautéed Kale, Chard, and Onion
Perfect base for the delicious shrimp cake counterpart.
Ingredients
1/2

yellow onion

1/2

bunch

kale

1/2

bunch

red chard

1

teaspoon

hot sauce

Black pepper

to taste

1

teaspoon

olive oil
Instructions
Cut the kale and chard into 1" strips, removing the largest parts of the kale stalk. Dice the onion (in whatever shape/size you like).

Sauté the onion over medium heat in the olive oil, until it begins to sweat, about 2 minutes. Add the leafy greens, and cook another four or five minutes, until the leaves have softened and cooked down. Stir in the hot sauce and pepper.
—
We've been doing our best to buy shrimp only from the USA.  It can be hard to find (Bad Trader Joe! Bad!), but we've been pleasantly surprised to find it at Target, under their "Archer Farms" label.
View all my Recipes For The Weekend (R,FTW!)