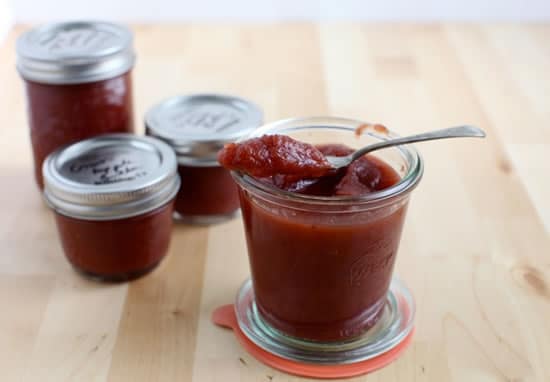 Smooth, spiced apple butter has become an integral part of autumn around here, with alternating flavorings such as vanilla bean, cinnamon, and cardamom taking turns jazzing up the fruit spread.
This year I've been obsessed with mixed fruit butters, like this blueberry-plum, and couldn't get the thought of adding fresh cranberries to my apple butter out of my head. It turns out that the tangy, deep red preserve is one of the prettiest and most flavorful of them all.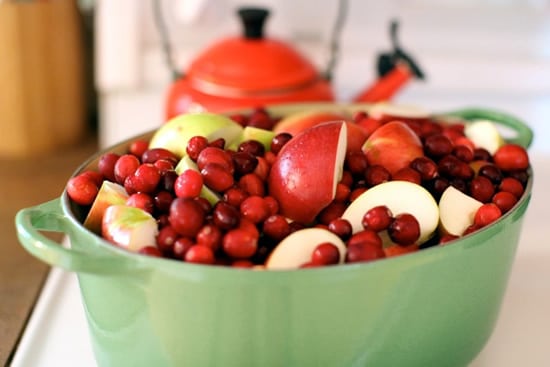 My natural sweetener of choice for the cranberry-apple butter is maple syrup, but you could certainly use honey and still have it unprocessed. The recipe needs a sweetener, as it helps with the preservation of the finished produce, but it doesn't need much, because we've concentrated the natural sweetness of the apples by cooking the liquid out of them.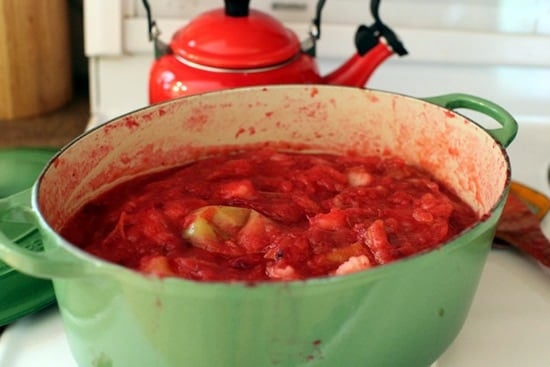 Fruit butters can be reduced on the stovetop or even in the oven, but the benefit of using a slow cooker is that you don't have to stand over it, or even keep an eye on it, really. Mine steamed and slowly splattered away while I ran errands and picked up the kids from school.
If you don't want to bother with the hot water bath, you can certainly freeze the cran-apple butter or store it for up to three weeks in the refrigerator.
As for me, we're going apple picking on the weekend and I'll be making another couple of batches. This fruit butter seems too festive not to give out as gifts for Christmas.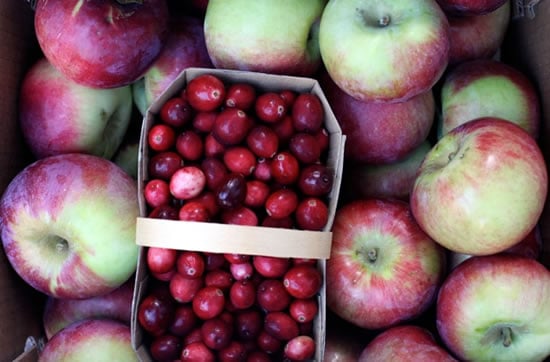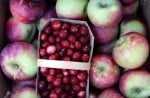 Slow-Cooker Cran-Apple Butter
This delicious jarred recipe is sure to bring the fall season with it wherever you make it.
Total Time
9
hours
25
minutes
Ingredients
1 1/2

pounds

fresh organic cranberries

about 7 cups, well washed

5

pounds

organic Cortland apples

or other sauce apple such as Empire, Fuji, McIntosh, or Spartan

1

cup

apple cider or unsweetened cranberry juice

1

cup

pure maple syrup

optional: 1 tablespoon cinnamon, or 2 vanilla beans, split
Instructions
Wash apples well, then core them and cut into quarters. There's no need to peel them, we will sieve everything later, plus, the skins add color and pectin to the butter.

Combine apples and cranberries in a large, heavy bottom pot. Don't worry if they don't quite fit and fill it to near overflowing; they will cook down in a few minutes.

Add apple cider, then partially cover with a lid and place the pot over medium heat.

After about 15 minutes, use a sturdy wooden spoon to stir up the softened apples at the bottom and distribute the heat. Be careful, as the cranberries like to jump out of the pot and roll away!

After 15 more minutes, reduce the heat to medium-low and stir again. The contents will start looking like a bloody Halloween cauldron, but don't worry.

Continue to cook on medium low for about another 45 minutes (for a total of 1 hour and 15 minutes of cooking) Stir occasionally as the fruit breaks down, scraping the bottom of the pot to avoid scorching.

Remove from heat and give one final big stir. Apples may still hold some of their shape, but the flesh will be soft. Place a sieve or chinoise (you can use fine-mesh if you like) over the bowl of your slow-cooker and, working in batches, press all the cooked fruit through the sieve with the back of a ladle. Discard the solids.

What you have now is velvety, blush-colored cranberry applesauce. (Moms may want to reserve a little aside for any babies at this point before the sweeteners are added.)

Now is when we will add sweeteners and flavors (if using), there is no point in sweetening the skins and materials that we will discard! Stir in the maple syrup and any spices such as cinnamon, green cardamom, or vanilla bean. Turn slow cooker onto low, cover with lid, and set for 8 hours.

Once the butter begins to bubble, crack the lid open slightly so the steam can evaporate. This helps the fruit butter to reduce. Over the cooking time, you can give the butter an occasional stir.

Once the cran-apple butter is a nice spreadable consistency (remember it will thicken more as it cools) it is ready to be preserved.

Ladle the hot fruit butter into clean hot jars and wipe rims with a clean cloth. Apply sterilized lids and jar rings, and process in a boiling water canner for 20 minutes (starting the time when the water returns to a boil). (See

Canning 101: The Basics

for further instructions, if needed)

When the time is up, remove the jars from the water and let them cool on a towel-lined countertop. When the jars are cool to the touch, check the seals by removing the rings and lifting the jars by the edges of the lid. A good seal means that the lid will hold fast.

Label your jars and mark the date. Store in a cool, dark place for up to six months.
Recipe Notes
If you don't want to bother with the hot water bath (steps 12-14), you can certainly freeze the cran-apple butter or store it for up to three weeks in the refrigerator.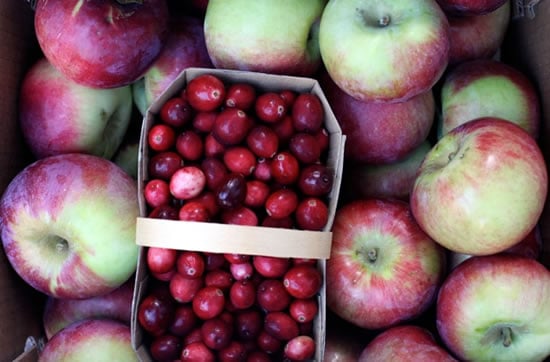 About the Author
Aimée Wimbush-Bourque is a food writer, editor, main writer, and mom of three kids living in Montréal.  She draws from her rural, real food upbringing as well as her professional training as a chef to prepare simple, unprocessed home cooking on a daily basis for her family.
She chronicles her kitchen experiences with stories, cooking tips and recipes on her award-winning food blog, Simple Bites. For more whole food inspiration and everyday delicious chit-chat, follow Aimée on Twitter, Pinterest, and Facebook.