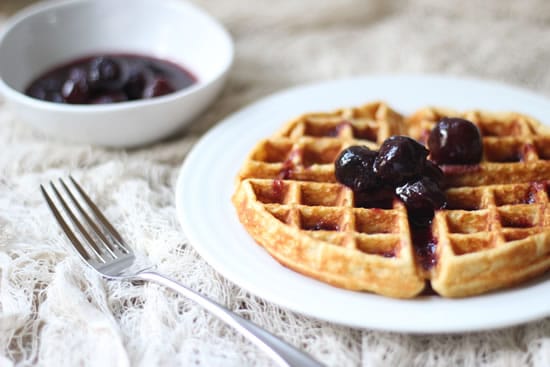 Most people who know me know that I'm a "foodie." I love food. I think about food a lot. I'm usually thinking about my next meal before I finish the current one. Yeah, I love food.
I also love "real" food. As a former co-leader of our local Slow Food chapter, I understand the importance of eating locally and sustainably produced food … and not only the importance it has on our health, but on the environment and our community as well. To that end, both I and my husband try to eat as much real, unprocessed, and local food as possible. But, we're not saints, and we do occasionally indulge in things that don't come close to passing the kitchen test … and that's why I decided to take the October #Unprocessed pledge. (And no, my husband didn't really have a say in the matter, but he's happily along for the ride!)
Prior to the start of the pledge, I went through our pantry, and I was pretty surprised by the results. Even though I'm a conscientious label-reader, I still found quite a few items that wouldn't pass the kitchen test. I immediately wondered whether we'd be able to go the whole month without any processed foods … and I also knew I needed to start planning to set us up for success. (Looking for some menu planning tips? Check out my recent post on this very topic … it's helped us tremendously!)
So, how are we doing? I'm happy to report that we've been incredibly successful thus far. Granted, we're only one week into the October Unprocessed pledge, and it's natural to expect that a bump in the road will occur sooner or later, but we've already learned so much. Most importantly, our food choices through the rest of the pledge and beyond will be much more informed … the knowledge we've gained is truly priceless.
One of my favorite parts of our October Unprocessed journey so far has been experimenting with new recipes … and I'm pleased to be sharing my latest recipe success with you today. My husband and I are big fans of breakfast so experimenting with an "unprocessed" waffle recipe was at the top of my list … and I think my sorghum, honey, and cornmeal waffles will satisfy even the biggest breakfast lover's appetite. Topped off with my two-ingredient homemade syrup, you have an "unprocessed" breakfast winner!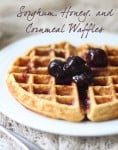 Sorghum, Honey, & Cornmeal Waffles
Classic way to start the morning off with delightful waffles that are perfect to hold you for the day to come.
Ingredients
1

cup

white flour

unbleached, unbromated, unenriched

1/2

cup

sorghum flour

1/2

cup

cornmeal

2

teaspoons

baking powder

1/2

teaspoon

salt

2

cups

buttermilk

4

large

eggs

3

tablespoons

honey

1

stick unsalted butter

melted
Instructions
Preheat waffle iron on highest heat setting.

In a large bowl, thoroughly whisk together the flours, cornmeal, baking powder, and salt, making sure everything is evenly distributed.

In a medium bowl, whisk together the buttermilk, eggs, and honey. Pour the wet ingredients over the flour mixture, and whisk gently to combine. Some lumps are okay; do not overmix the batter. Gently fold in the melted butter until just combined.

Pour 1/2 to 3/4 cup batter into the center of waffle iron (depending on the size of waffle iron), spreading batter to within 1/2 inch of the edge. Close waffle iron, and cook waffles for 2 to 3 minutes, until golden brown.

Serve warm with syrup and butter as desired.
Recipe Notes
I used Bob's Red Mill unbleached/unbromated white flour, sorghum flour, and cornmeal for this recipe. Additionally, I was able to find buttermilk and butter that contained only ingredients that pass the kitchen test, but I had to read quite a few labels first so be sure to read the labels too!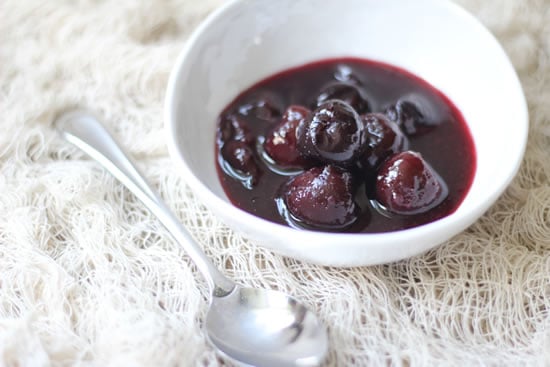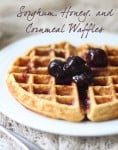 Two-Ingredient Homemade Syrup
This is the perfect topper for morning waffles and it is a super easy recipe!
Ingredients
1

16 ounce

bag frozen fruit of your choice

preferably organic

1 1/2

cups

"unprocessed" fruit preserves of your choice
Instructions
Place frozen fruit and preserves in a medium saucepan, and stir to combine.

Place pan on stove, and over medium-high heat, bring the fruit mixture to a boil, stirring occasionally.

Once mixture boils, reduce heat to medium-low, then cook until fruit mixture thickens, again stirring occasionally.

Serve warm with waffles.
Recipe Notes
I used a combination of dark sweet cherries and blackberry preserves in my version of this recipe; feel free to play with any fruit combination you like ... the possibilities really are endless. Additionally, you can mash the frozen fruit into the preserves or even process with a stick blender if you prefer a smoother syrup. Finally, I had to read a number of fruit preserve labels to find one with ingredients that pass the kitchen test, but it is possible!
About the Author
Kimberly Henricks-Friedhoff is the author behind Rhubarb and Honey, a food blog that chronicles her love affair with food. Kimberly's culinary style can best be described as 80% "fresh / local / sustainable" and 20% "nostalgic / somewhat bad for you / everything in moderation." An avid home cook who likes to play in the kitchen, Kimberly has been eating mostly unprocessed for years, but she's always striving to do better. She is often joined in the kitchen by "The Chef," her husband, who just happens to be a professional chef. You'll also find her on Facebook, Twitter, Pinterest, and Instagram.