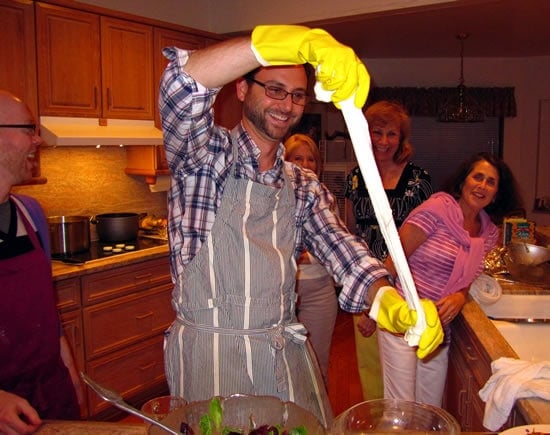 During yesterday's #Attune Twitter chat*, in which I posed several questions about reading food labels, the conversation shifted from a spirited one about labels to an even more enthusiastic one about bringing back Home Economics classes and the sad fact that many people no longer know how to cook (Sandra Lee doesn't count!).
At the end of the chat, Annelies asked a terrific question: How can you help just one person in your circle learn how to read labels or cook?
That got me thinking. How could I do that? I know from comments and emails I receive that I have a positive impact through my blog, but in my personal circle? How many friends have I actually helped learn to cook? (Granted, I'm not the world's greatest cook, either, so I'm happy to learn from my friends and family, too!)
I then realized the best way to help someone learn how to cook is simply to cook with them. That's how children learn from their parents,of course. I remember cooking in the kitchen with my mom (and with dad on the weekends for pancakes). I also learned a lot by cooking with my college roommate Jim (to this day, I remain grateful to him every time I dice an onion and manage not to cut myself).
So how can we get people cooking together? Sure, you can invite a friend over to cook dinner with you – that's certainly a great start. But what if we take it further? There's been a resurgence in "Book Clubs" in the past couple of years, right? Where everyone chooses a book to read that month, and then they get together to discuss it?
Well, how about Cooking Clubs?
Say you get together a group of six friends, and once or twice a month you all meet at someone's house, taking turns of course, to get together and cook dinner. One person hosts. One person makes the appetizer. Two friends make the entrée. One person makes a (healthy!) dessert. And one person does the dishes.
Or get four friends together, and meet up one night each week, so each person hosts once a month. You get the idea.
I know I'm not the first person to come up with this idea. "Supper clubs" have existed for a while (and here are some good tips for those) but these days it seems it's more likely that people are going to get together at a restaurant for dinner. Or people will cook their dishes at home and then bring them, like a potluck.
To be clear, I'm specifically not talking about a potluck where people show up with completed dishes. I'm talking about six people in the kitchen, making dinner together from start to finish. Sure, you might need a bigger kitchen, but do what you can. Set up a prep station in the living room if you have too! Get someone outside with the BBQ. Do whatever it takes to cook. Together.
I bet everyone will learn something. It'll be a ton of fun, too.
What do you think? Could you find five other people interested in doing this with you? Why not email them right now and get your cooking club started?
—
* I'm a proud Brand Ambassador for Attune Foods. Part of the fun is our weekly twitter chat on Wednesdays at 9am Pacific, 12pm Eastern. We all follow the #attune hashtag, and discuss various food & health related topics. I hope you'll join us next week!