Baked Apple Puff from The Whole Family Cookbook
Apr 21, 2011, Updated Oct 03, 2017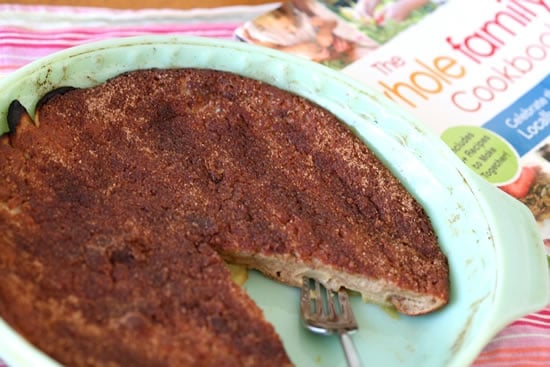 I met Michelle Stern last year at the BlogHer Food Conference in San Francisco, and we became fast friends. Michelle is the founder of What's Cooking, a certified green mobile cooking school for children. She teaches kids how to cook — and teaches adults how to cook with kids — all with a focus on healthy, practical food.
In other words, she's in the trenches of the food revolution — helping people, especially busy families, get back in the kitchen and cook good food from scratch.
Michelle's book, The Whole Family Cookbook
, just hit the shelves. She sent me a copy, and after one quick look, I'm already super-excited to tell you about it (you can also watch Michelle tell you about it!).
Michelle shares over 75 kid-friendly recipes in the book, but it's more than that.  She's lined the pages with bite-sized "going green" tips and info on sustainability, eating locally, composting… you name it!  The photos are beautiful, too — showing lots of action shots of the youngin's in the kitchen.
One of my favorite things about Michelle's recipes is that she splits up every step into small, manageable tasks — and uses a color-coded system to indicate the appropriate age group for each step. It's so simple and effective, I dare say it's genius.
I don't have kids of my own, so I asked my sister to try one of the recipes with her two boys. Shari chose the Baked Apple Puff, and used whole wheat flour instead of refined (bravo!).  I especially like that this recipe does not use a lot of sugar — unlike the Apple Pancakes you'd find at a restaurant. Here's what she had to say:
The recipe was simple and healthy, easy to follow and complete, and I loved it!  It was like an apple pancake from Dinah's in LA or Bickford's in Boston, without the excessive sugar and fat.  The apples we used (Gala) were crisp and sweet but a little tangy — perfect for this dish as recommended by Michelle.  We added the full amount of cinnamon, chose whole wheat flour over regular white flour as neither was specified, and used the shortest cooking time, which was almost too much (but we are cooking at an altitude of about 7,000 feet, which can make a difference in cooking times and consistencies).
While I absolutely loved the healthy simplicity of it "as-is," my 7-year-old had other ideas. He thought the dough needed to be sweeter and the apples and dough needed more cinnamon, though we did sprinkle a little cinnamon and sugar on top for presentation.  However, it was a satisfying and wholesome twist to a basic pancake, and even easier to make because it cooks in the oven, not on the stove!

Baked Apple Puff
Michelle notes in her introduction to this recipe, "We love adaptable recipes." I agree -- see my notes at the bottom!
Ingredients
5

tablespoons

butter

,

divided

3

eggs

3/4

cup

milk

3

tablespoons

granulated sugar

,

divided

1/2

teaspoon

pure vanilla extract

1 1/4

teaspoon

ground cinnamon

,

divided

1/4

tsp.

salt **

1/2

cup

flour *

2

small

crisp apples

,

organic if possible (go for Fuji if you prefer a slightly sweet apple, or Granny Smith if you enjoy a tart flavor)
Instructions
Preheat oven to 450°F.

Melt 2 tablespoons of butter in the microwave or in a saucepan.

In a medium-sized bowl, crack the eggs.

Beat the eggs lightly and then add the melted butter.

Measure milk, 1 tablespoon sugar, vanilla, 1/4 teaspoon ground cinnamon, salt, and flour, and add them to the eggs.

Mix all of the ingredients until the batter is well blended.

If you have one, use an apple peeler/corer/slicer to peel, core, and slice your apples. If not, use a vegetable peeler to peel the apples.

Cut out the cores and slice the apples thinly.

Heat the remaining 3 tablespoons butter in a 10" ovenproof skillet. Add the sliced apples and cook until they are golden brown, 5-10 minutes. (If you'd like, you can add a dash or two of ground cinnamon.)

Put on oven mitts and take the skillet off the heat. Pour the batter over the apples.

Measure 2 tablespoons granulated sugar and 1 teaspoon cinnamon and stir them together in a small bowl. Sprinkle the cinnamon sugar over the batter.

Place the skillet into the oven and cook for 15-25 minutes until gently browned and puffed. (Do not open the oven during the first 15 minutes of the cooking process, or the puff will deflate!)

Put on oven mitts, remove the skillet from the oven, and immediately place an oven mitt over the handle, so that you won't accidentally burn your hand.

Cut the puff into wedges and serve immediately.
Nutrition
Calories:
334
kcal
,
Carbohydrates:
34
g
,
Protein:
7
g
,
Fat:
19
g
,
Saturated Fat:
10
g
,
Cholesterol:
164
mg
,
Sodium:
312
mg
,
Potassium:
202
mg
,
Fiber:
2
g
,
Sugar:
19
g
,
Vitamin A:
730
IU
,
Vitamin C:
3.5
mg
,
Calcium:
85
mg
,
Iron:
1.4
mg
Like this recipe? Rate and comment below!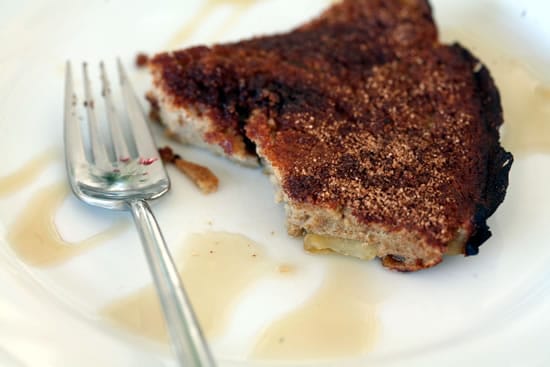 * I started writing this post just before the first night of Passover, and half-way through I realized that it's not kosher for Passover because of the flour. That got me wondering how it would turn out if I used matzo meal instead, which should've been an easy enough substitution. However, when I went to the stores, I couldn't find any of the stuff!
Not to be deterred, I made my own!  I gave the coffee grinder a good cleaning, and then used it to pulverize two sheets of 100% Whole Wheat Matzo.
I then used my homemade "100% whole wheat matzo cake meal" in place of regular flour, and gave it a shot. It turned out great!  (The pics in this post are from my "experimental" version, not Shari's "proper" one). Sure, it didn't "puff" all that much, but even so, it was fantastic. Moist, chewy, a little tart and sweet — and you'd never even know it's kosher for Passover.
** Also, I forgot to add salt.  Didn't even realize it was missing it until I typed up the ingredients list…. so I won't add it next time, either.