These little pies may look scary, but they are pretty sweet!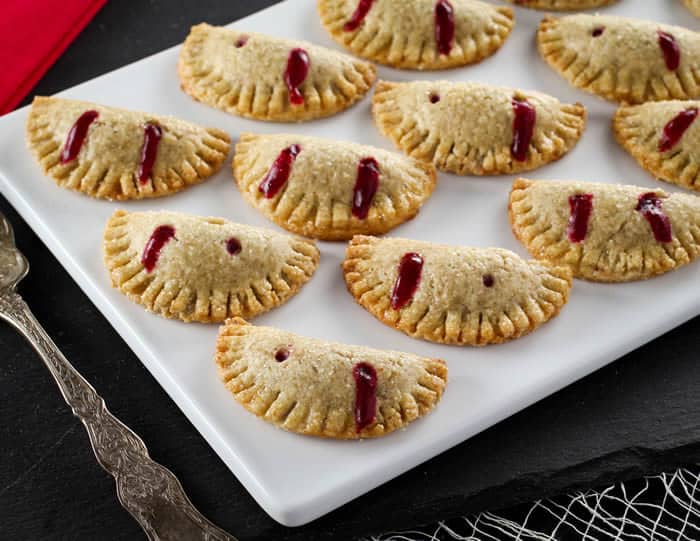 Looking for a fiendishly good treat for your favorite little ghouls and goblins this Halloween? How about some gruesome pies oozing with tart berry goodness?
Have you ever considered thickeners for pies? As someone who has a lot experience making pies, I usually rely on some old standards for thickening that do not always meet the kitchen test. (Bad, bad Kelly!) The original filling for this pie was just mixed red berries – cherries, strawberries, and raspberries. Most berry pies use cornstarch or instant tapioca to thicken them. As you know – or you should know if you have read the October Unprocessed FAQ's – cornstarch and instant tapioca get a big fat fail in the kitchen test. I was a little stumped.
I did not want to thicken this filling with flour as it is too heavy, and would give the filling a starchy flavor. I also wanted the filling to be vibrant and blood-red. So, I next thought of potato starch. When you slice and soak raw potato have you ever noticed the grainy, white substance that is left over in the bottom of the bowl? That is potato starch. I thought that commercial potato starch was made in a similar way, just on a much grander scale. I was not 100% sure, however, so I reached out to Andrew and he worked his fact-finding magic. Turns out, during the refining process of potato starch production they use sulfurous acid – a mild form of bleach! Ok, that also means kitchen test failure.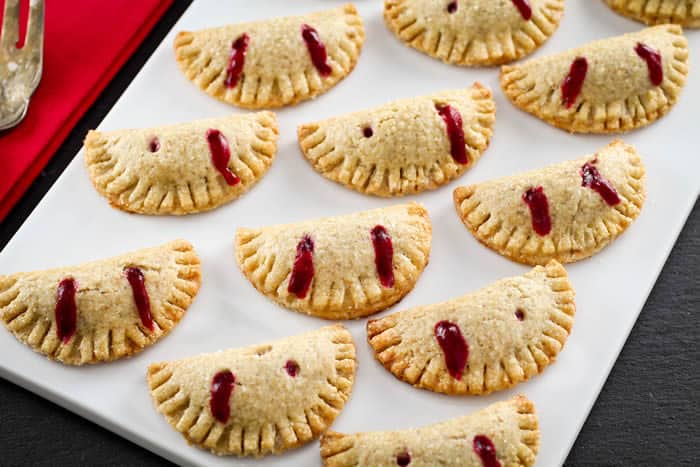 So, I put on my thinking cap. What could I use to naturally thicken the fruity filling that would pass the kitchen test with flying colors? The answer, my dears, is cranberry! Cranberries have a high amount of natural pectin, the substance that helps jams and jellies thicken. Cooking fresh, or whole frozen, cranberries until they pop releases the pectin and, quicker than you can say 'I want to suck your blood!', your fruit filling is thick and delicious! I was worried that the filling would break down and become runny during baking, so I baked a few test pies and the filling stayed nice and thick. I had a winner!
Now, I know that this solution will not work for all berry pies – you may not always want a tart sweet filling – but here it is perfect! For these spooky pies I used two parts cranberries to one part unsweetened black cherries to balance the tartness, but you can use any red berries you like in place of the cherry. I just happen to really, really like cherry, and I like the natural dark blood-red color it adds. To sweeten the filling I used raw organic honey purchased from my local peach orchard this summer. You will find this filling slightly tart. If your little monsters like things a little sweeter feel free to add extra honey to taste. Because Halloween is a time for sweet treats these pies also contain a little demerara sugar in the pastry, but I did my best to use the bare minimum. You can adjust to your taste.

Vampire Pie "Bites"
These little pies may look scary, but they are pretty sweet!
Total Time
1
hour
5
minutes
Ingredients
For the Filling:
1

cup

organic unsweetened whole cranberries

fresh or frozen

1/2

cup

frozen organic unsweetened black cherries

defrosted

½

cup

water

2

tablespoons

raw organic honey

please, use local!!

¼

teaspoon

organic cinnamon

¼

teaspoon

organic vanilla bean paste
For the Pastry:
1 ½

cups

unenriched, organic all-purpose flour

½

cup

organic spelt flour

¼

cup

organic almond meal

2

tablespoons

organic demerara sugar

plus extra for garnish

1

teaspoon

Kosher salt

8

tablespoons

unsalted butter

I prefer Kerrygold, cubed and chilled

2-4

tablespoons

ice water

1

egg

lightly beaten (Please, use pasture-raised eggs)
Instructions
First prepare the filling.
In a medium sauce pan combine the cranberries, cherries, ½ cup water, honey, cinnamon, and vanilla. Stir to combine then place the pan over medium heat. Bring the pan to a boil, stirring frequently, about 8 minutes.

Once at a boil reduce the heat to medium low and cook until the cranberries pop and the mixture thickens, about 3 to 5 minutes more.

Remove the pan from the heat and cool for 5 minutes then transfer the mixture to a blender. Puree until the mixture is smooth then pour the mixture through a strainer into a bowl.

Cover and chill for 2 hours or up to two days.
Next, prepare the pastry.
In a large bowl whisk together the all-purpose flour, spelt flour, almond meal, sugar, and salt. Add the butter and with your fingers rub the fat into the flour until the mixture looks like coarse sand with only pea sized pieces of butter remaining.

Add 2 tablespoons of water and mix until the dough forms a rough ball. Add more water, one tablespoon at a time, if needed. Turn the dough out onto a lightly floured surface and knead the dough 5 times by pressing it into a rough rectangle and folding in half and turning ¼ turn. Once kneaded, wrap in plastic and chill for at least 30 minutes or up to 2 days.

Remove the dough from the refrigerator ten minutes before rolling out. Roll out on a lightly floured surface to 1/8-inch thick, turning the dough often to make sure it does not stick. Dust the surface with additional flour if needed.

Using a 3-inch round biscuit or cookie cutter, cut the dough into as many rounds as you are able – aim for 15-18 the first time, 10-12 the second. Simply collect the scraps, gently knead then to form a ball, chill for 15 minutes, then re-roll and cut the remaining rounds.

Fill the center of each pastry round with a heaping tablespoon of filling into the center or each pie. Lightly brush half of the pastry with beaten egg and gently fold the circle in half. Crimp the edges with a fork to seal, then poke two holes into the top of each pie with a metal skewer or metal chop stick to simulate vampire puncture wounds. Chill the pies for 1 hour, or overnight. Reserve the left over filling.

Heat the oven to 350 F. Brush each pie lightly with beaten egg and lightly sprinkle a little sugar in each pie. Bake for 18 to 20 minutes, or until golden brown on the bottom and edges. Let the pies cool for 3 minutes then paint some additional filling on the pies to simulate bloody drips. Be creative!
About the Author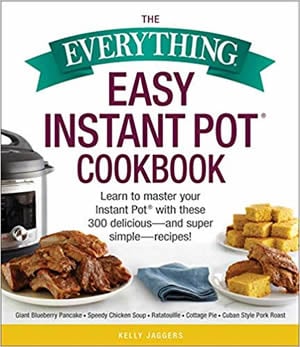 You might not associate Kelly Jaggers and her blog, Evil Shenanigans, with clean eating, but she is a firm believer in cooking real food with real, wholesome, local ingredients (…and lots of butter — she suggests that you consider her your "cheat day" friend). Kelly has been blogging since 2006 and is the author of six cookbooks: Everything Pie, Not-So-Humble Pies, Moufflet, The Everything Easy Asian Cookbook, The Everything Dutch Oven Cookbook, and coming soon The Everything Easy Instant Pot Cookbook. You can also find her on Facebook,  Instagram, and Twitter.