These pumpkin peanut butter balls are the perfect fall treat, and you can mix up the spices to your heart's content!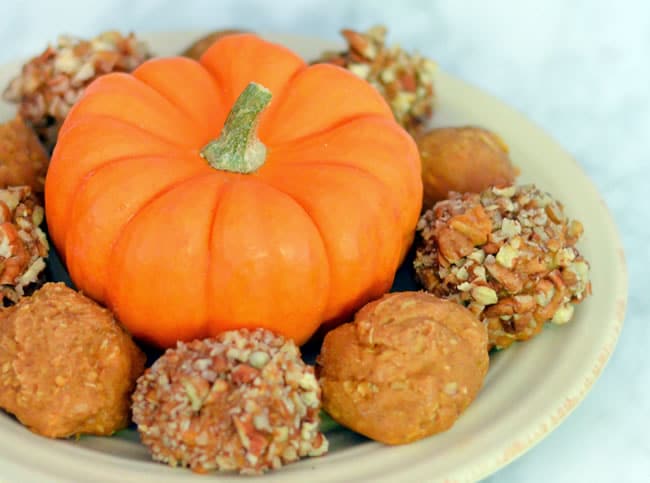 When Andrew started telling me about October Unprocessed and his very manageable definition of "unprocessed," I knew I wanted to be involved!
I've always subconsciously eaten primarily unprocessed foods, but in the course of losing close to forty pounds, I became much more aware of what I was putting into my body.
I was never small growing up. I spent much of my childhood and very early adulthood slightly overweight. My mom was, and still is, a firm believer in homemade meals that always include vegetables and protein. My mom knew that if my diet was balanced, I was healthy, and eventually my weight would even itself out. And, as usual, she was right!
When I started grad school just before my 22nd birthday, I weighed 165-170 pounds. Living by myself for the first time, I realized how much of a social eater I was (thanks to a big family who loves food, I'm sure). I snacked quite a bit less when I didn't have roommates constantly baking up morsels. In the vein of cutting back, I started to see how long into the day I could go without eating. It wasn't a healthy option, I've since realized, but it started my weight loss so I can't waste time regretting it.
I soon started to pay attention to what I was eating and how often I was eating. At first, I tried to limit my carb consumption and maximize my protein intake. One day while eating cheese and peanut butter (seriously delicious!), I looked at the nutrition facts on the cheese and was aghast at all the saturated fat. The same went for the peanut butter. Ok. First lesson learned – protein is good, but you have to pay attention to other factors. I also tried eating loads and loads of vegetables, only to rediscover the importance of protein. And one of the biggest lessons was realizing how much time on the elliptical machine at the gym each beer was costing me. So I started cutting back during evenings out. By the end of my third year in grad school, I was super strict about my diet and working out 5-6 days per week. I was down to around 130 pounds and feeling great.
So, October isn't about weight loss… I know. But I tell you this background because during my trek to find low-calorie, low-fat, and high-protein options, I realized I was eating foods that were so very processed. I noticed it first on the nutrition facts labels with the high percentages of sodium and cholesterol. Then I started noticing the ingredient lists and how much of it I couldn't pronounce – all in the name of a few less calories or fat. I decided I didn't like that either. After a few years of constantly losing weight, I had to reassess some of my eating options. When faced with the option of low-fat peanut butter made with mono-xxx and poly-yyy, both mysteries to me, I decided that the natural, unprocessed, full fat option was much better. This was not an easy transition for me and it is still partially incomplete. It's been slow and at times very difficult.
I've realized through this journey that you have to make choices. I'll take peanut butter over cheese almost any day. And I'll try not to eat bread every day. But I'm apt to enjoy a cookie. With a natural inclination to prefer homemade food, versus pre-made food and eating out most of the time (thanks mom!!), choosing unprocessed, healthy options is a lot easier for me, though I'm far from perfect. Fortunately, I'm willing and able to put in the time and energy for a homemade meal with ingredients that I know and understand – the unprocessed ones!
And speaking of ingredients I know and understand. These pumpkin peanut butter balls are the perfect treat. There are so many recipes out there for oozingly delicious pumpkin treats, but all the fat and the processed ingredients make me cringe. Last month I made vegan 7 ingredient peanut butter balls. As I was finishing the last few out of the freezer, I eyed the pumpkin hiding there in the back and knew I had to make a version with fall flavors. You can mix up the spices to your heart's content. And leave off the pecans for the kids if they so desire!

Vegan Pumpkin Peanut Butter Balls
Vegan Pumpkin Peanut Butter Balls are both easy to make and fabulously delicious...my favorite combination!
Ingredients
1 ¼

cups

quick-cooking or rolled oats

1 ½

cups

additive-free or homemade peanut butter

1/2

cup

maple syrup

1 ½

cups

canned or homemade pumpkin puree

3/8

teaspoon

salt

1 ¼

teaspoon

cinnamon

½

teaspoon

ginger

¼

teaspoon

cloves

2/3

cup

pecans

chopped (optional)
Instructions
Preheat oven to 350 degrees F.

Spread oats on a large baking sheet and bake for ten minutes. This can be done ahead of time.

Combine all ingredients except pecans in bowl. Mix thoroughly. It will thicken as you mix together.

Roll into balls (roughly two tablespoons each). If dough is too soft to roll, stick in freezer for 2-3 minutes to harden a little.

Roll in chopped pecans if desired.

Freeze for at least twenty minutes, and keep in freezer until serving.
About the Author
Luci Petlack is a lifestyle blogger with a penchant for denim, iced coffee, and homemade food. She's a Doctor of History, a lover of witty humor, and a bit obsessed with Instagram. She blogs at Luci's Morsels. Follow her on Instagram, Pinterest, and Facebook.