Healthy Homemade Whole Wheat Pizza
May 30, 2011, Updated May 20, 2020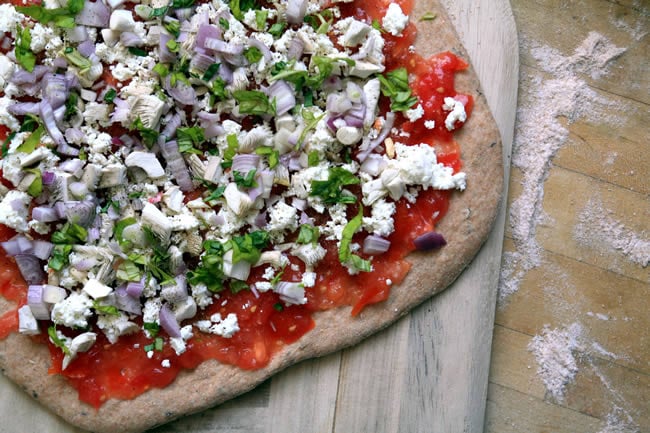 There's really nothing quite so amazing — and perhaps even life-changing (world-changing!) — as fresh, homemade bread, just out of the oven… Except maybe for one thing: Fresh, homemade pizza!
Considering the work-to-reward ratio of homemade pizza, I'm amazed that more people aren't doing it. You don't need any special equipment (though there are a few gadgets that do make it easier), and — if you use whole wheat flour and don't go overboard on the cheese — it can be a healthful, inexpensive, and outrageously satisfying meal. Kids of all ages (self included) simply love it! (Hint: Add a side salad).
A little over a year ago, we discovered Healthy Bread in Five Minutes a Day. We eagerly followed their unique directions for "100% Whole Wheat Bread, Plain and Simple," with a surprising degree of success.
Since then, Matty has become the one in charge of making the dough (I'm usually still in front of the computer; he just gives up and starts without me), and lately he's been experimenting with some flavorful additions (we both looooove caraway seeds). Turns out, that very same bread dough makes a terrific pizza crust — and you don't even have to give it time to rise!
To me, pizza is kind of like soup. It's one of those comfort foods that's hard to mess up (though I've botched both before), and you can toss in/on whatever ingredients you have on hand. When making the pizza pictured here, for example, we realized the only suitable cheese we had in stock was chevre. Turned out beautifully. So use the recipe below as a guide, and use the sauce, toppings, and/or cheese you (or your kids) see fit.
Before I get to the recipe, I want to share some morsels we've learned:
You don't need to buy marinara or pizza sauce. Most store-bought tomato sauces are loaded with far too much salt, and they're expensive. We have been buying cans of organic, diced tomatoes (low-salt) by the case (thanks, Costco!)… you can simply open a can and spoon it on, or you can use an immersion blender (or food processor) to purée it into a smooth sauce. Sprinkle on some basil, oregano, and pepper, and you're in business. (For the pizza shown here, we just took two fresh tomatoes and puréed them lightly in a food processor.)
You don't need a lot of cheese. This crust has a rich, nutty flavor. Going easy on the cheese allows the flavors of the crust and toppings to shine through. It's a lot less expensive, too.
If you use fresh herbs, it's usually better to put them under the cheese — otherwise they may overcook.
If you use fresh garlic, it's usually better to put it on top to be sure it cooks fully — else it will overpower everything else.
Having a pizza stone helps, but isn't necessary (Use instead: Baking sheet). We use this excellent pizza stone. I bought the 14″, but wish I had the 16″. Measure your oven first to make sure it'll fit.
Having a pizza peel helps, but isn't necessary. (Use instead: A second baking sheet or large cutting board.)
Give your oven a full 30 minutes to warm up, and be sure your baking stone or baking sheet is in the oven when you start preheating. You want the surface to be hot when you add the pizza to the oven.
Use lots of flour when rolling the dough. This dough is fairly wet, and it gets very sticky. Keep your hands, rolling pin, and pizza peel coated with flour.
Crank your oven all the way up (500°F or even 550°F), but be sure you don't accidentally turn it to "broil." (Boy, was that a bummer…)
Roll out the dough on the counter, but place it on the floured pizza peel before adding toppings. Moving it onto the peel once the toppings are on will result in topping bits just about everywhere but on your pizza. Once the rolled out dough is moved to the peel, work quickly to add the sauce and toppings. Otherwise, the dough will get sticky again and cling to the pizza peel. If that happens, don't stress: Lift up a corner of the pizza with a spatula, sprinkle some more flour under it, and carefully work your way around until the pizza is un-stuck and slides easily again.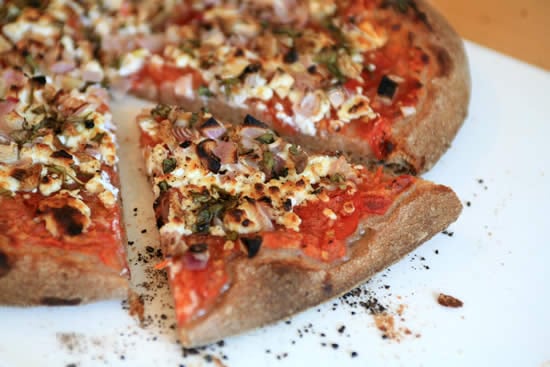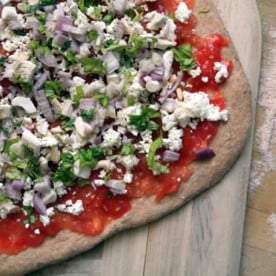 Healthy Homemade Whole Wheat Pizza
Serves 2-3, twice: This recipe makes enough dough for two or three pizzas, depending on how thick you like your crust. Unused dough can be stored, loosely covered, in the fridge for up to a week. It will rise, even in the fridge, so use a large container.
Ingredients
3 1/2

cups

white whole wheat flour

1/8

cup

vital wheat gluten

,

or an extra 1/8 cup flour

1

packet

yeast

,

or 3/4 tablespoon

1

tablespoon

garlic powder

1

tablespoon

caraway seeds

1

tablespoon

onion salt

1 3/4

cups

warm water

2

teaspoons

extra virgin olive oil
Instructions
Place your pizza stone or a baking sheet in the middle rack of the oven, and preheat to 500°F or 550°F, for at least 25 minutes. (Be careful not to accidentally turn it to "Broil" mode.)

Add all dry ingredients to a mixing bowl. If you have a stand mixer, use a paddle or dough hook. If mixing by hand, a wooden spoon should suffice. While mixing slowly, slowly pour in the warm water and olive oil. The dough should mix to a sticky, gooey consistency, but not be runny. Adjust with a little more flour or water as necessary.

Scrape dough into a large container and allow to rise for 15 to 60 minutes. (If you don't want to wait, you certainly don't have to!) We use this time to prep and chop all our toppings, so they're ready to go as soon as the dough is rolled out.

Sprinkle a liberal amount of flour on a clean counter top and on your hands. Tear off a chunk of dough about the size of a softball. If you're already an advanced pizza maker, and can toss the dough, by all means go for it. Instead, here's what I do: Form it into a ball and then place on the floured surface. Using a rolling pin (or wine bottle, in a pinch), roll the dough into a 12" round(ish) shape. It doesn't have to be a perfect circle, but it is a little easier to get in and out of the oven if it's somewhat round.

Sprinkle more flour on a pizza peel, and spread it around to be sure it's an even layer. Transfer the rolled dough to the peel. Spoon tomato (or other) sauce onto the dough, then add whatever cheese and toppings you wish.

Gently shake the peel forward and back to be sure the pizza slides easily. If not, use a spatula to un-stick it and sprinkle some extra flour underneath. This is important -- you don't want your pizza to end up as a blob of dough and toppings at the bottom of your oven as you try to slide it onto the pizza stone.

Gently transfer the pizza to the hot pizza stone, coaxing the back edge of the pizza off the peel and onto the back section of the stone. Carefully pull the pizza peel back towards you, jiggling as necessary, to place the entire pizza on the stone.

Bake for 12 minutes, then carefully check for doneness. The center should not be soggy, and the bottom should be crispy all the way across. If not done, bake a few minutes longer and check again.

Use the peel to carefully lift the pizza off the stone. Allow to cool for a couple of minutes, then transfer to a cutting board. Slice and enjoy!
Nutrition
Calories:
787
kcal
,
Carbohydrates:
152
g
,
Protein:
35
g
,
Fat:
8
g
,
Sodium:
3493
mg
,
Potassium:
319
mg
,
Fiber:
22
g
,
Vitamin C:
0.7
mg
,
Calcium:
171
mg
,
Iron:
6
mg
Like this recipe? Rate and comment below!