Yogurt instead of Mayo for the win!
Apr 30, 2010, Updated Oct 03, 2017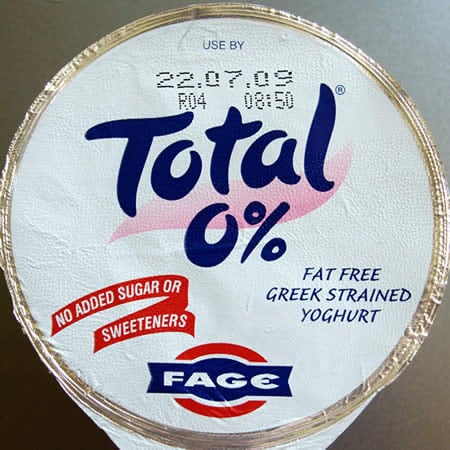 I like to view healthy eating as a bit of a game.   See, I'm a foodie and absolutely love a well-crafted, delicious meal.  But I also love how I feel when I eat a healthful meal.
It becomes a fun challenge to try to combine the two into a truly great meal.
Sometimes, it's as simple as finding a tasty and good-for-you recipe.  Other times, it's about making creative substitutions.
The best kind of substitution is one in which you can swap out a Really Bad Food™ with a Really Good Food™ and find that it tastes just as good — if not better!
As you likely know, mayonnaise is one of the most fat-laden, calorie dense foods out there.
Case in point:  A good friend of mine once told me that his college roommate used to eat mayonnaise right out of the jar; he was a broke rock climber, you see, and found that mayo gave him the most calories for his buck.  Yuck!
Personally, I think that low-fat mayonnaise tastes downright awful, even when it's "hidden" in other foods.  Instead, I've been enjoying Greek Yogurt as a spectacular substitute for mayo. It's much thicker than regular yogurt — almost like a custard or a mascarpone cheese — and is much higher in protein.
One of my favorites is Fage Fat-Free Greek Yogurt, though unfortunately it's not certified Organic.  (It's pronounced "Fa-Yeh," by the way).  Trader Joe's also sells good 0% Greek Style Yogurts (both Organic and Not), but I find they're a bit tarter than the Fage. There are a few other brands out there as well, of course, so go with whatever you find and/or prefer.
I should point out that I'm not telling you to never eat mayo.  I'm just saying that when you do, make it count — don't use it as an ingredient where it  "disappears" into the recipe.

So here's my "Hooray, it's the weekend!" gift to you:  Two recipes in which the yogurt sub works particularly well.  You'll never miss the mayo.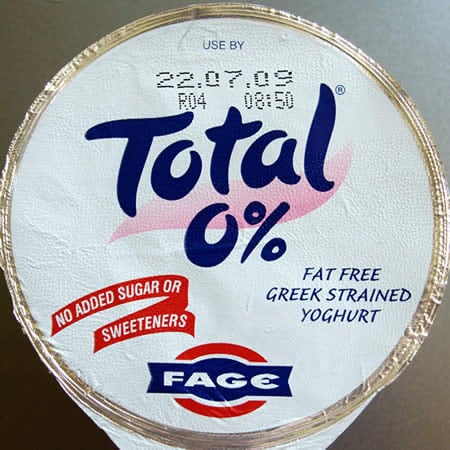 Wild Alaskan Salmon Salad
Although it's found in pretty much any well-stocked grocery store, it can be pricey. Costco sells a good one in packs of six; you can also get it at Trader Joe's. Make sure it's packed in water, not oil.
Ingredients
1

can 6 ounces Wild Alaskan Pink Salmon

1

stalk Celery

,

chopped

1/3

cup

Fat-Free Greek-Style Yogurt

1/2

tsp.

Mustard

1/4

tsp.

Dill

Pinch

Freshly Ground Pepper

,

to taste

Other items you can throw in for some crunch, color, and nutrients: Chopped Red Bell Pepper, Onion, Cucumber, Jalapeño... you get the idea.
Instructions
Combine all ingredients.

Serve half the mixture rolled up in a 100% Whole Wheat Tortilla with a leaf of lettuce and some diced tomato (or however else you like).
Nutrition
Calories:
24
kcal
,
Carbohydrates:
1
g
,
Protein:
3
g
,
Cholesterol:
2
mg
,
Sodium:
44
mg
,
Potassium:
99
mg
,
Sugar:
1
g
,
Vitamin A:
135
IU
,
Vitamin C:
1.2
mg
,
Calcium:
45
mg
Like this recipe? Rate and comment below!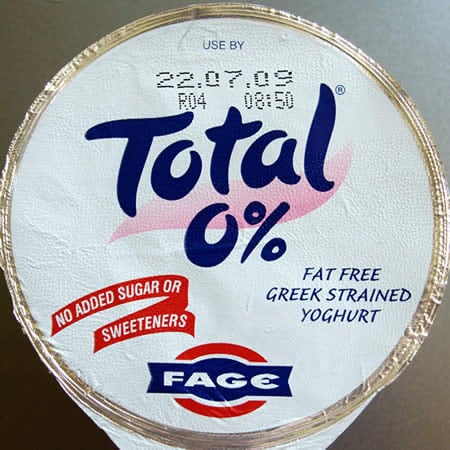 Spinach Artichoke Dip
Using yogurt instead of mayonnaise really lightens up this crowd favorite.
Ingredients
1

can artichoke hearts

,

rinsed, drained, and chopped

1/2

cup

chopped

,

cooked frozen spinach (thawed)

1/2

cup

Greek-style Yogurt

1/4

cup

low-fat shredded mozzarella cheese

1/4

cup

shredded parmesan

,

romano, and/or asiago cheese

1

tsp.

garlic powder

,

not garlic salt

Pinch

ground pepper

,

to taste
Instructions
In a large, microwave-safe bowl, combine all ingredients.

Heat on high in the microwave, in 30-45 second increments, stirring each time to be sure it heats evenly.

Alternately, you can double the recipe and bake in a casserole dish at 350° for 30 minutes, covered.

Sprinkle a little more mozzarella on top and bake uncovered at 450° for about 8 more minutes, until the cheese is browned.
Notes
Serve with 100% Whole Wheat Bread, Ak-Mak Crackers, or a few Reduced-Fat Triscuit Crackers.
Nutrition
Calories:
66
kcal
,
Carbohydrates:
1
g
,
Protein:
3
g
,
Fat:
5
g
,
Saturated Fat:
1
g
,
Cholesterol:
4
mg
,
Sodium:
77
mg
,
Potassium:
42
mg
,
Vitamin A:
75
IU
,
Vitamin C:
0.9
mg
,
Calcium:
67
mg
,
Iron:
0.2
mg
Like this recipe? Rate and comment below!
—
Do you have a great yogurt-for-mayonnaise idea?  Share it in the comments below!
"Total" © 2009 chrisinplymouth, used under creative commons license.