LexiYoga focuses on healing your mind, body and spirit through the practice of yoga and natural living. The benefits of yoga are endless, as it's not just physical. Yoga can change your lifestyle and help remove any negative thoughts or actions from your life. Visit her website, Lexi Yoga, for more information on the healing powers of yoga. You can also find her on Facebook, Twitter, Pinterest, and view her instructional yoga videos on YouTube.
This October Unprocessed guest post is also part of International Kale Day! (Okay, so International Kale Day didn't exist…until now! I hope that you'll make every October 10 — or every day — Kale Day from now on.)
Did you know that kale is one of the most nutrient-dense vegetables around?  If you had one choice for a vegetable, it should definitely be kale!
Before you start washing, chopping, and cooking with kale, you must take a moment to find out why kale is your new friend with benefits. Here are the top five reasons:

Antioxidants
Kale has powerful antioxidants that may fight against cancerous cells. Loaded with carotenoids and flavonoids, which protect your cells from oxidative stress, this cruciferous vegetable can also help keep you looking youthful and healthy from the inside out.
Anti-Inflammatory
A cup of kale provides you with 100mg of omega-3 fatty acids, which may help reduce inflammation. With the added mega-dose of vitamin K, it may help reduce inflammatory-related problems, such as asthma, arthritis, autoimmune disorders, allergies and sensitivities, acne, colitis, fibromyalgia, high blood pressure and more.
Detox
Research has shown that the isothiocyanates (ITC) from glucosinolates found in kale can aid in your body's detoxification process at a genetic level. The high sulfur content is also essential in the detox process. Getting rid of toxins in your body is important to help keep your organs running smoothly.
Diet & Digestion
Kale is great for those on a diet, as one cup contains 36 calories, and zero grams of fat. It also provides you with 20% of your dietary fiber per day, which aids and improves digestion, and prevents constipation. For those trying to lose weight kale, put kale at the top of your list of foods to eat, as it helps curb overeating and lowers your blood sugar levels.
Vitamins A, C, & K
One cup of kale provides you with 180% of your daily value of vitamin A, which is important for maintaining your vision, your skin and cellular health, and immune function. It also gives you twice your daily minimum vitamin C, which is a powerful antioxidant that is needed for the growth and repair of tissues in all parts of the body, may shorten the duration of a common cold, and can help keep your skin from wrinkling as you age. That same cup of kale provides you with more than ten times your daily minimum of vitamin K, which can strengthen our bones and help prevent calcium build up in our tissues that can lead to heart disease and stroke – and it may reduce the overall risk of developing or dying from cancer, according to a  study in the American Journal of Clinical Nutrition.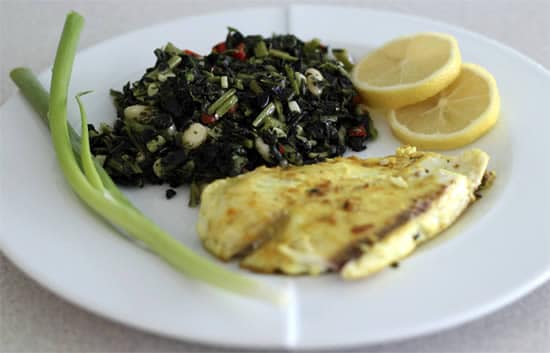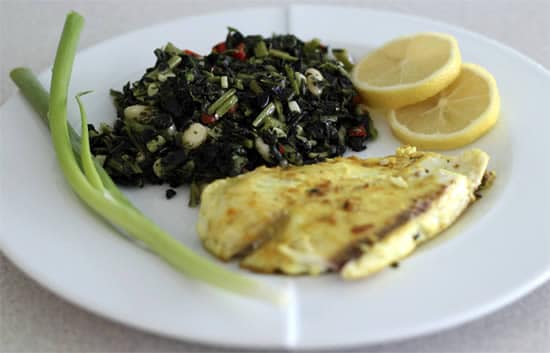 Kale Stir Fry
Here's a lovely way get it on with kale. You can share it with other vegetables to gain even more benefits. I find that adding collards, spinach, red peppers and white beans really add flavor to the mix. This makes a nice side dish with a piece of white fish.
Ingredients
1

tablespoon

olive oil

1

cup

chopped kale

1

cup

chopped collards

1

cup

chopped spinach

1/2

cup

diced sweet red pepper

1/2

cup

white beans

1/4

cup

sliced green onion

4

cloves

garlic

diced

lemon and sliced green onion

for garnish
Instructions
Heat olive oil in a large pan over medium heat.

Add the vegetables and beans, and stir-fry for 8-12 minutes.

Garnish with lemon and green onion slices.

Enjoy!
"Kale: Red Russian, Lacinato, Redbor, Green Scotch" © 2012 Suzie's Farm, used under Creative Commons License