The Best Breakfast Potatoes Recipe Ever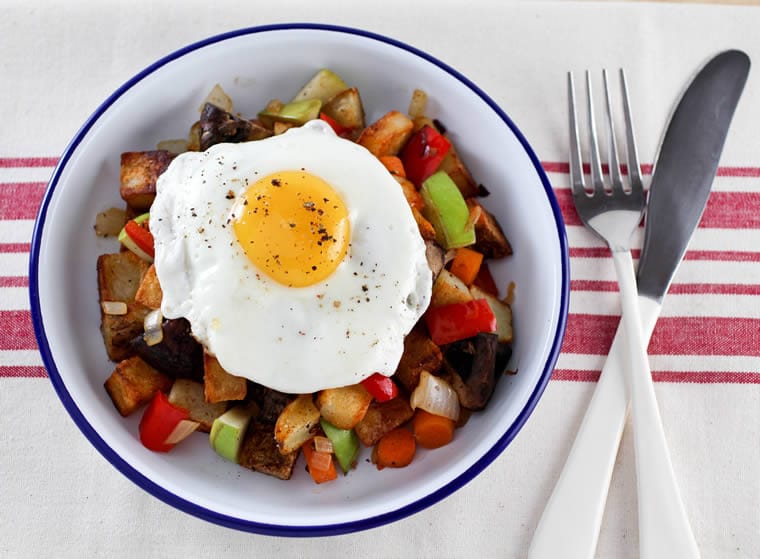 Okay, so the title of this post might be just a little bit of hyperbole.
But really, they're pretty darn good. Want to know why? Because of the secret ingredient, of course!
No, not the fried egg on top. That's no secret, silly.
And it's not any secret spices, either (though the red chili flakes are key).
The secret is a few little green triangles of crunchy apple goodness. That's the magic right there, I tell you.
Sure, I hear you telling me how crazy it is to put apples into your breakfast potatoes. But trust me on this one. The sweet-tart of the apples makes the perfect counterpoint to the savory-spicy of the chili, potatoes, and onions.
Just be careful: The trick is to add the apples right at the end, moments before serving, so they get warm but not mushy. Because "Mushy Apple Breakfast Potatoes" wouldn't really brighten anyone's morning, now would they?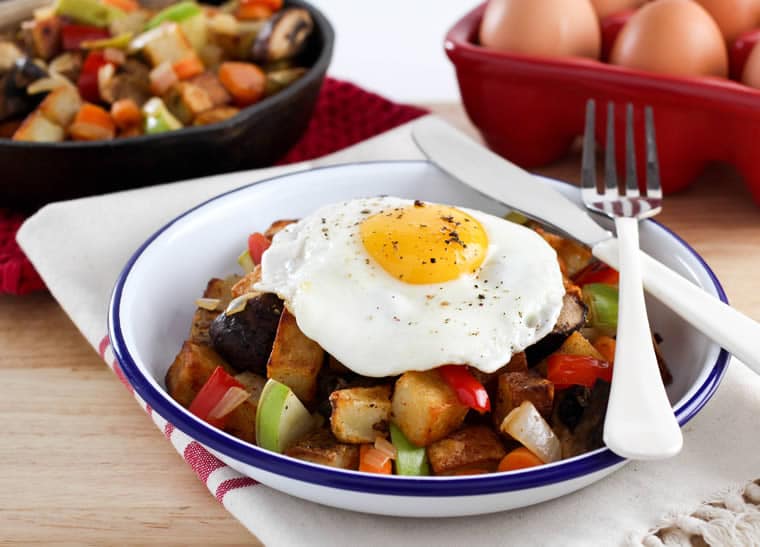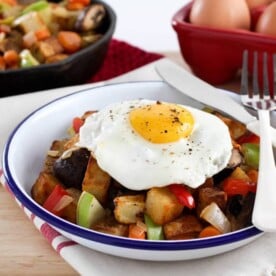 Best Breakfast Potatoes with Apple
The order of cooking and preparation is key for this dish. To save time, I like to chop as I go, which does take a little practice to get the timing right. Then again, this recipe is quite forgiving, so don't stress too much over it (as long as you keep it to medium heat and don't burn the potatoes, you'll be fine).
The order you add the ingredients is important: Once you get the hang of the pacing, you'll be able to get the potatoes started, make your morning coffee or tea, continue dicing up the rest of the ingredients as you go, and even cook some eggs on another burner.
I don't bother par-boiling the potatoes, since that means there are fewer steps and, better yet, fewer dishes to clean! We like to serve the hot potatoes in a bowl, sprinkled with a little shredded cheese, and topped with a fried egg. Breakfast heaven!
Ingredients
2

tablespoons

olive oil

2 to 3

medium

potatoes

,

washed but unpeeled

1

medium

onion

,

yellow or white

2

carrots

,

washed but unpeeled, optional

1

cup

mushrooms

,

about half of an 8 ounce package

1

red or yellow bell pepper

,

optional

1/2

teaspoon

red chili flakes

,

more or less to taste

1/2

teaspoon

paprika

1/2 to 1

teaspoon

kosher or sea salt

,

to taste

1/4 to 1/2

teaspoon

ground pepper

,

to taste

1

medium

apple

,

a tart apple works best, but any will do

2

eggs

,

organic, pastured

1/2

cup

shredded cheese

,

cheddar, jack, or mozzarella all work well
Instructions
Heat the oil in a large, non-stick pan over medium heat.


Dice the potatoes into 1/2" cubes, doing your best to get them all about the same size, and add them to the pan. Feel free make them larger or smaller if you prefer, just note that will slow down or speed up the cooking time accordingly. From this point forward, you'll need to stir or toss the contents of the pan every minute or two.

Once the potatoes are in the pan, coarsely dice the onion and cut the carrots into 1/4" coins.


After about 10 to 15 minutes, the potatoes will have softened up a bit and started browning (they shouldn't be fully cooked yet). Add the onion and carrot.


Quarter the mushrooms and, if including the bell pepper, seed and remove the pith and cut into approximately 3/4" squares.


Once the onions have softened (about 4 or 5 minutes), add the mushrooms and bell pepper, if using.


Sprinkle in the chili flakes, paprika, salt, and ground pepper. I find it's best to start with 1/2 teaspoon salt, stir, then taste to see if it needs more. That's also a good way to test the potatoes for doneness.


When the potatoes are just about done, fry two eggs in a skillet. You may want to lower the heat on the potatoes at this point, just to keep them warm.


While the eggs are cooking, cut the apple into 3/4" pieces. (I use an apple corer and divider to make quick work of it, and then discard the core and cut the wedges into triangles.)

Once everything is completely cooked, turn off the heat and stir in the apple. The goal is for the apple to warm up, but not become mushy.


Place the potatoes into two serving bowls, top each with shredded cheese and a fried egg, and serve immediately.
Nutrition
Calories:
350
kcal
,
Carbohydrates:
29
g
,
Protein:
3
g
,
Fat:
14
g
,
Saturated Fat:
2
g
,
Sodium:
58
mg
,
Potassium:
651
mg
,
Fiber:
6
g
,
Sugar:
18
g
,
Vitamin A:
12500
IU
,
Vitamin C:
88.9
mg
,
Calcium:
38
mg
,
Iron:
1
mg
Like this recipe? Rate and comment below!
 Photos by Kelly Jaggers for Eating Rules.