Let them eat cake! (Blood Orange and Almond Upside-down Cake)
Oct 13, 2011, Updated Oct 03, 2017
JJ is a relative newbie to the blog world, sharing recipes and stories at 84th & 3rd. American by accent and Australian by passport, she works in advertising during the day, writes and cooks at night, and obsessively photographs pretty much everything. She is currently recapping her most recent around-the-world-trip, one recipe at a time. You can also follow her on Twitter and Facebook.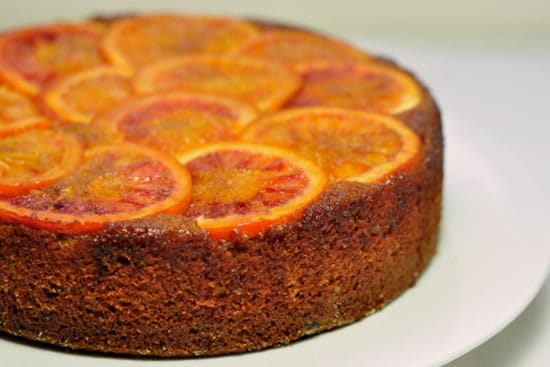 I was so excited when I saw Andrew's October Unprocessed initiative that I put my hand up immediately to contribute. Nearly a year ago, after some niggling health concerns and a visit to a naturopath, we made a pretty dramatic change to how we eat, almost overnight. Over time, one take-away meal a week had turned into three, and the veggies were rotting away in the bottom of the fridge more often than not. It's not that we were all that unhealthy, but it was time for a shift in how we approached food.
At the core, we went un-processed
But for us it was one step further: Organic wherever possible; No Sugar (with the exception of a piece or two of fruit each day); No White/Refined Flour; No Saturated Fats, No Alcohol, No Caffeine, Limited Meat, No Cow Dairy (except real cultured yougurt), and No Soy (except limited cultured soy).
It looks like a lot of "No" at first glance, but what it comes down to is simplicity in food and respect for what goes in our bodies. Plus, the list of foods we do eat is pretty good — whole grains, beans, nuts and seeds, fresh fruit and veggies, poultry, eggs, fish, healthy oils, goat and sheep dairy, green tea, and lots of water. (If you want to know more about the details you can read about it at 84th&3rd in How We Eat.)
The first thing we did was to clean out the cupboards
It is much easier to avoid foods you don't want to include in your diet if they aren't around in the first place. The next order of business was to immediately figure out how we could still have our favourite things under the new rules. I never have been one for total denial. Pizza delivery nights turned into homemade whole-wheat/whole-spelt bases with hard goats cheese, organic no-sugar tomato sauce and lots of veggies. Goat and oat milk replaced cow dairy. Stir-frying and roasting took the place of unhealthy take-away options.
But there was still the matter of cake.
Everyone needs a treat sometimes
Cake is by far one of my favourite things in the world. I know, it's a big statement. There is just something about the texture, the act of cutting into a soft dense slice, warm out of the oven, and washing it down with a cold glass of milk or a hot cup of tea. But how do you bake cake without sugar, and why would you bother?
For the purpose of baking, and baking only, I have made my own "deliberate exception" for sugar in the form of Apple Juice Concentrate. It is as it sounds, simply concentrated apple juice. I get it in a jar from the health food store and keep it in the refrigerator. When using it I cut down the quantity of traditional sugar that is called for in a recipe, usually by about half, and layer flavours with fruit and spices and nuts and whole grains. The result is hearty, homey cakes that tick the healthy box and give us a bit of a treat at the same time.
Eleven months after changing how we eat, we not only have more energy and stronger immune systems, we have a healthier approach to food that will stay with us for the long-term. And we still get to eat cake regularly.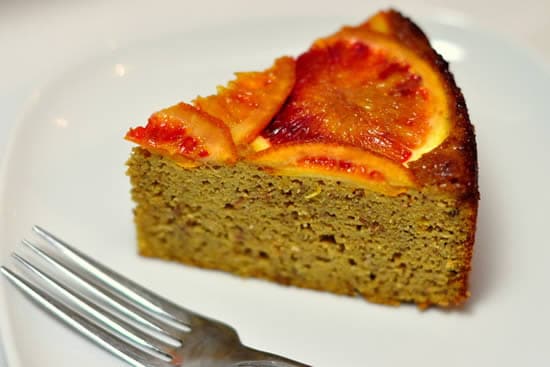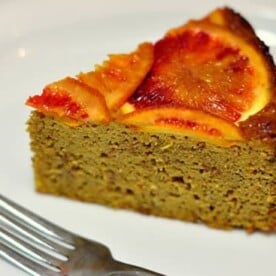 Blood Orange and Almond Upside-down Cake
This cake has a few steps to it but the result is well worth the effort! You can certainly make it with traditional oranges if you prefer but when blood oranges are in season they make for a lovely colour contrast on top of the cake. If you can't find Apple Juice Concentrate, feel free to substitute honey, agave, or maple syrup.
Ingredients
1

cup

Almond Meal/Ground Almonds + 1 Tbsp extra

1

cup

Organic Whole Wheat Flour

2

tsp

Baking Powder

1/2

tsp

Baking Soda

1/4

tsp

Sea Salt

1/4

tsp

Ground Cloves

4

Eggs

1/3

cup

Apple Juice Concentrate + 1 Tbsp extra

3

Tbsp

Grapeseed or Nut Oil + 1 tsp extra

1

slightly heaped cup Orange Puree

,

approx. 3 organic Blood Oranges

2

Organic Blood Oranges

,

scrubbed and sliced thinly
Instructions
Place 3 oranges into a saucepan and cover with cold filtered water -- the oranges will float, it's okay. Place a lid on the pan, bring to a boil and simmer gently for 45 minutes. Drain, rinse once with cold water, fill pan again, return to a boil and simmer for a further 30 minutes.

Drain, rinse with cold water again and set aside to cool slightly. Don't skimp on the simmering time -- this processes softens the peel and removes the bitterness! When cooled slightly cut oranges into quarters, remove any pips (seeds) and blend the flesh, including peel, until smooth. A handheld immersion-blender is brilliant for this. Set purée aside.

Pre-heat oven to 350 F / 180 C. Grease the base and sides of tall 8 inch cake pan or 8 inch springform pan with a bit of oil. Line base with a round of parchment paper and tap the extra tablespoon of almond meal around the pan so it sticks to the greased sides. Drizzle the extra tablespoon of apple juice concentrate on the parchment covered base of the pan, followed by the extra teaspoon of grapeseed oil. Layer the thinly sliced orange around the pan starting from the centre and overlapping each slice slightly with the next.

Sift together dry ingredients in a medium bowl. In a large bowl beat eggs with an electric beater for 4 minutes until thick and creamy. Slowly drizzle in the apple juice concentrate and continue to beat for another minute. Beat in oil and orange purée.

Gently fold dry ingredients into the egg/orange mixture and pour on top of the orange slices in the prepared pan, smooth top. Bake for approximately 40 minutes until the top of the cake is golden and a toothpick inserted into the centre comes out clean.

Cool cake in pan for 5 minutes then run a knife around the edge to loosen. Turn out on to a platter, remove parchment paper and leave to cool completely. Serve with thick greek yogurt and a cup of tea.
Notes
Unprocessed Note: There has been some discussion here about baking soda and baking powder, as both are made chemically but have been around for well over a century. I would recommend at least finding an aluminum free baking powder or just making your own with baking soda and a bit of cream of tartar.
Nutrition
Calories:
148
kcal
,
Carbohydrates:
12
g
,
Protein:
5
g
,
Fat:
9
g
,
Saturated Fat:
1
g
,
Cholesterol:
54
mg
,
Sodium:
123
mg
,
Potassium:
171
mg
,
Fiber:
2
g
,
Sugar:
2
g
,
Vitamin A:
110
IU
,
Vitamin C:
6.9
mg
,
Calcium:
73
mg
,
Iron:
1
mg
Like this recipe? Rate and comment below!