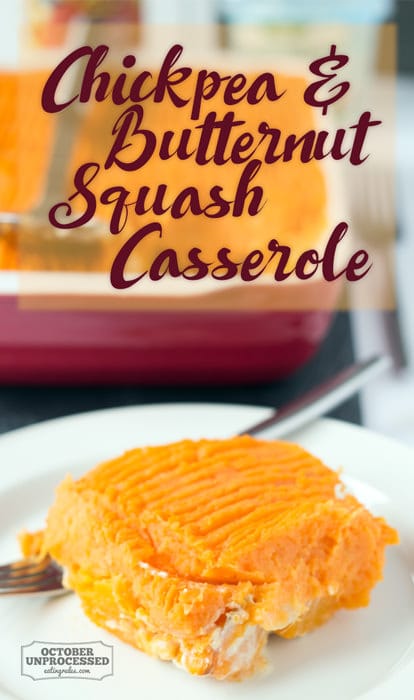 This chickpea and butternut squash casserole makes for an excellent meatless vegetarian family meal. It has a delicious tasting filling with tangy hints of freshly grated parmesan and nutmeg. So tasty you'll not miss the meat!
Unique fresh flavours of the creamy sauce combined with the protein packed chickpeas and heart healthy butternut squash are just some of the elements of this recipe that I feel sure you'll love. I'm not strictly a vegetarian myself, but offer me this casserole or a meat filled one and I know it's this one I'll be choosing.
Being Scottish I'm always on the lookout for any way I can save money but still ensure that I'm eating good quality healthy foods and meals. And that's where I became obsessed with chickpeas.
Everything I cook has to be cooked from scratch. That's how I began my journey of controlling what I was eating and my weight too. Also that's where my blog Neil's Healthy Meals started. I learnt I could still have the odd sweet "treat" for as long as I watched what I was eating and kept up a regular exercise routine. It's all in the 80/20 rule that I write about.
So at the start of my journey a number of years ago, as I was beginning to experiment with different healthy foods, I discovered chickpeas.
As chickpeas are high in fibre and protein, that meant I could reduce my overall meat consumption without becoming a complete vegetarian by substituting those fatty meats with chickpeas. That in turn helped to reduce my saturated fat intake and lose weight. I also discovered how low-cost they were!
Today, the price of 3 cans of chickpeas is still the same here in Scotland as it was 5 years ago. I can get 3 cans for £1! ($1.21 currently)! That kind of healthy bargain is not one for us Scot's to turn up our noses at. We like to save our pennies!
And, aren't these little chickpea beauties just so versatile? You can have them hot or cold and pretty much in any course too!
I've mostly used chickpeas as substitutes for meat. Indeed, one of my most popular curry recipes is my vegan healthy chickpea curry. It's interesting that from a curry point of view, most curries were originally vegetarian anyway. It's only more recently that us Westerners have added so much meat to curry dishes and many other unhealthy additives too.
Nowadays there isn't a week that goes by where I'm not cooking at least two recipes from scratch with chickpeas.
I hope you enjoy this delicious chickpea and butternut squash casserole recipe as much as I do. The recipe makes 6 portions and is freezable too.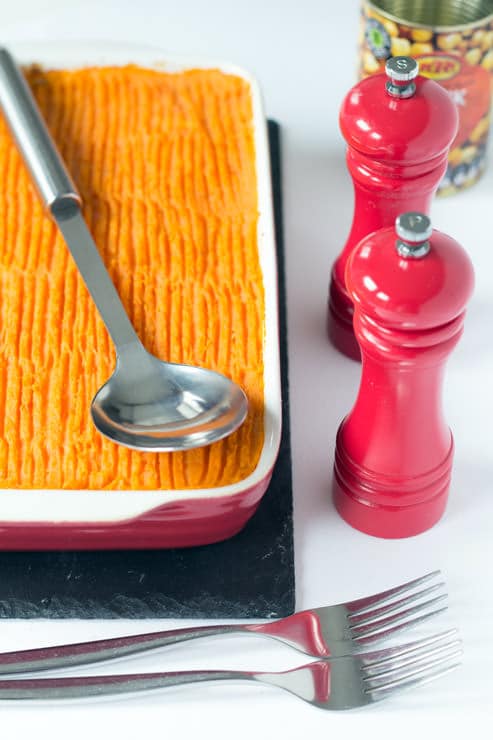 Chickpea and Butternut Squash Casserole
An excellent vegetarian family meal.

Total Time
1
hour
15
minutes
Ingredients
2 1/4

pounds

sweet potato

peeled and chopped

1 1/4

pounds

butternut squash

peeled and cubed

3

tablespoons

olive oil

2

medium

Spanish onions

diced

2

cloves

garlic

minced

14

ounces

chickpeas

if canned, rinsed and drained

7

ounces

reduced fat creme fraiche

3.5

ounces

vegetable stock

2

tablespoons

freshly grated Parmesan cheese

salt

freshly ground black pepper

freshly ground nutmeg
Instructions
Pre-heat oven to 180 degrees C / 350 Degrees F


Cook the sweet potatoes in boiling water for 10 to 15 minutes or until tender and set aside.


Whilst the potatoes are cooking place the butternut squash into a casserole dish with 2 tbsp. of the olive oil and roast for 30 to 40 minutes until soft, stirring occasionally.


Heat the remaining tbsp. olive oil in a separate saucepan and sauté the onion and garlic for about 3 to 4 minutes.


When the onion and garlic has softened add the tin of drained chickpeas, crème fraiche, vegetable stock and parmesan cheese. Heat through for about 3 to 4 minutes, season to taste and add desired amount of nutmeg. I normally add just a pinch.

When the butternut squash is ready, remove it from the oven and empty the chickpea mixture into the casserole dish and combine with the butternut squash.


Drain and mash the potatoes and evenly spoon over the top of the chickpea / butternut squash mixture use a fork to level.


Place the casserole back into the oven for a further 15 – 20 minutes until the potatoes brown a little.

Remove, allow to rest for 5 minutes and serve.
About the Author
Neil Lockier is a healthy recipe creator from Scotland who helps people live a diet-free lifestyle with his 80/20 plan.  The plan is simple: Follow a healthy living lifestyle, eat healthfully, and take regular exercise for 80% of the time and you can then indulge for the other 20%.  Learn more about 80/20 living and check out Neil's recipes on his website: Neil's Healthy Meals. You can also find him on Facebook and Pinterest.