Cassidy Stockton writes and publishes a blog on behalf of Bob's Red Mill Natural Foods, a distinctive stone grinding miller of whole grain natural foods. Bob's Red Mill offers the widest selection of whole grain, natural, organic and gluten-free flours, cereals, and baking mixes. And, of course, they're a sponsor of October Unprocessed 2015! You can follow them on Facebook, Twitter, Instagram and Pinterest.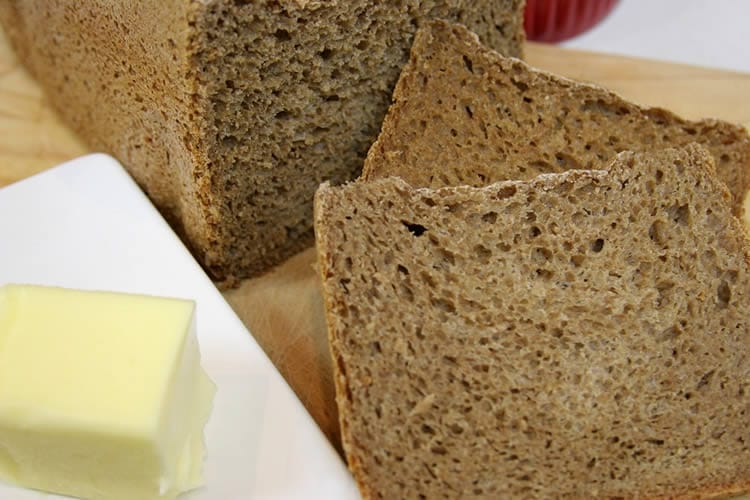 There are a few foods that you and I eat regularly that probably don't pass the "Kitchen Test" for October Unprocessed. Some of them we should know better and probably shouldn't be eating, but others are more of a gray area when it comes to processing. As defined by Andrew, the "Kitchen Test" defines unprocessed foods as, "any food that could be made by a person with reasonable skill in a home kitchen with whole-food ingredients."
One of these foods that comes up whenever I talk about October Unprocessed is Vital Wheat Gluten (aka gluten flour). In case you're not familiar with Vital Wheat Gluten, this flour-like substance is primarily composed of wheat protein (typically gluten flour is about 75% protein, 25% starch). In baking, it is used to give bread more elasticity and loft – it's what makes pizza crust chewy and helps trap those beautiful air bubbles in artisan breads. In cooking, it's the main ingredient in seitan and many processed meat substitutes. It's also the dreaded enemy of those with gluten intolerance and celiac disease. If you don't have gluten intolerance or celiac disease, however, it's pretty darn wonderful.
To make gluten, high protein wheat flour is washed repeatedly until the majority of the starch has been cleaned away, leaving behind the protein. The sticky result is then dried and ground to make a flour-like substance. It takes about 14 pounds of wheat flour to produce 1 pound of vital wheat gluten. Rest assured, the more nutritious parts of the wheat flour have already been stripped away into wheat bran and wheat germ before this process begins.
Sure, you could try to make this at home, but it would be a time-consuming, exceedingly messy project. Vital wheat gluten doesn't truly pass the kitchen test. Some folks have made this ingredient a deliberate exception for October Unprocessed because of the many benefits it brings to the table. Seitan is a wonderful protein choice for vegetarians and vegans and far less processed than the faux meats that grace supermarket shelves. [Andrew's note: You can also make seitan at home with whole wheat flour.]
Gluten also improves the texture of whole grain breads, allowing us to bake our own delicious whole grain breads without the extra ingredients like enrichments and stabilizers. If you can eat gluten, you may choose to make an exception for October Unprocessed. If you do, I hope you enjoy this recipe for "Deliberate Exception Whole Wheat Bread."

"Deliberate Exception" Whole Wheat Bread
Author:
Cassidy Stockton / Bob's Red Mill
Yields 16 servings.
Ingredients
4 cups (567g) Whole Wheat Flour
¼ cup (30g) Vital Wheat Gluten
2 ¼ cups (540mL) Water, warm
1 teaspoon Sea Salt
2 ¼ teaspoon (7g) Active Dry Yeast
Instructions
Bread Machine Method:
Follow manufacturer's instructions to add dry ingredients, liquid ingredients, and yeast. Bake on wheat bread setting. Let cool before slicing.
Hand Method:
Sprinkle yeast over warm water and let sit until yeast has dissolved, about 5 minutes.
Combine whole wheat flour and vital wheat gluten. Add water/yeast mixture and begin to mix until incorporated. Add salt and knead until a smooth dough forms, about 10 minutes.
Place dough in a lightly oiled bowl. Cover and let sit in a warm area until doubled in size, about 45 minutes.
Punch down dough, cover and let rise again until doubled in size, about 45 minutes.
Punch down dough a second time and shape into a loaf. Place in oiled loaf pan or on oiled baking sheet, cover and let rise in a warm area until doubled in size, about 30 – 40 minutes.
Meanwhile, preheat oven to 350°F.
If desired, spray the top of the loaf with a light mist of water before placing in the oven. Bake for 45 – 60 minutes, until internal temperature reaches 205°F and the top crust is golden brown.
Let cool, then slice.
Not into vital wheat gluten as a deliberate exception? Here are some recipes from previous years that that don't add extra gluten:
The Scoop on Flour: 100% Stone Ground Whole Wheat Bread