Everyday 100% Whole Wheat Bread
Mar 06, 2016, Updated Sep 09, 2018
Andrew's Note for Carrie's Recipe (originally published October 2010, updated March 2016):
This Everyday 100% Whole Wheat Bread calls for coconut oil, which conventional wisdom says is high in saturated fat and therefore should be avoided. When I expressed that concern, she pointed out that there is increasing evidence that coconut oil has many redeeming health properties: It has high antimicrobial properties, is quickly used for energy, and contributes to the health of the immune system. She suggested reviewing the information and links at www.coconutoil.com.
Fast forward a couple of years, and Andy Bellatti and I gave unrefined Coconut Oil a high ranking on our Cooking Oil Comparison Chart. It's especially good for high-heat cooking, since it has a much higher smoke point than most other cooking oils.
If you don't want to use coconut oil, this recipe can also be made with butter (choose organic from grass-fed cows).  Or, you can omit the fat altogether and this 100% whole wheat bread will still turn out great. It's very simple to put together and you can have fresh bread on the table in just two hours (most of that time is inactive, letting the dough rise).
For a vegan option (without honey), try this 100% Whole Wheat Bread recipe instead.  (And in case you're wondering, Carrie shared this recipe before she went grain-free — for those of you who still enjoy grains, this recipe is well worth a try!)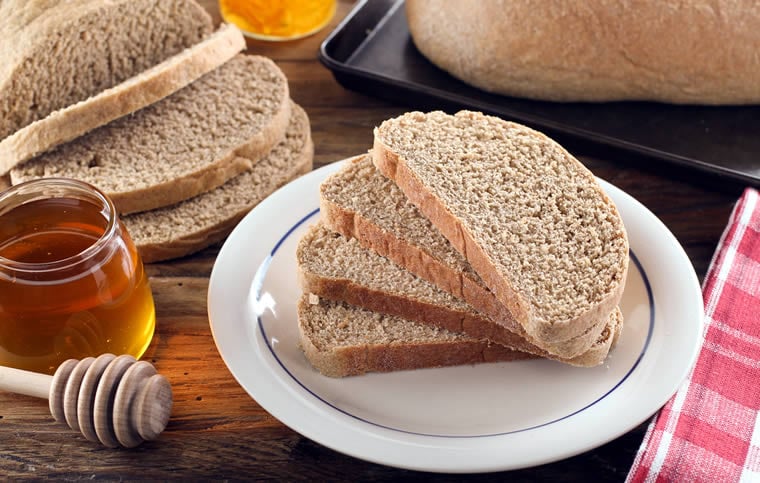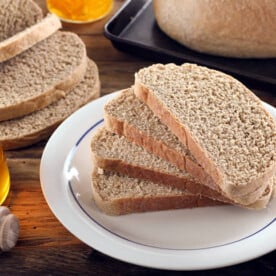 Everyday 100% Whole Wheat Bread
If you've been intimidated by homemade bread then this is the recipe for you. It's very simple to put together and you can have fresh bread on the table in just two hours. Makes 2 loaves.
Ingredients
1/3

cup

coconut oil or organic butter

,

optional

2 1/2

cups

warm water

,

not above 120°F (49°C)

7

cups

whole wheat flour

,

divided

1/3

cup

honey

1 1/2

tablespoons

yeast

1

tablespoon

sea salt
Instructions
Melt the coconut oil or butter (if using) over low heat in a small saucepan. In a large bowl stir melted fat, warm water, 3 cups (350g) flour, honey and yeast. Cover the bowl with a clean towel and set in a warm, draft-free area for 30 minutes.

Preheat the oven to 350°F and adjust rack to middle position. Uncover the bowl with the flour mixture in it and add remaining 4 cups (450g) flour and sea salt. Stir until just combined and then pour mixture onto a floured, flat surface.

Knead the dough for one minute (if the dough is a bit sticky, add a tablespoon or two of flour). Cut the dough in half. Roll first half to a 12x9-inch (30x22-cm) (approximate) rectangle and then it roll up to form a loaf. Place the loaf seam side down on baking sheet lined with parchment paper. Repeat with second half of dough.

After both pieces of loaves are formed, place a clean dish towel over the loaves and let them rise again in a warm, draft-free area for about 30 minutes or until they double in size.

After dough has risen, remove towel and bake in the oven for 20 minutes, until golden brown. Another way to tell if the bread is ready is to thump the bread with your finger. If it makes a hollow sound, the bread is ready. Cool for 5 minutes before serving.
Nutrition
Calories:
160
kcal
,
Carbohydrates:
29
g
,
Protein:
4
g
,
Fat:
3
g
,
Saturated Fat:
2
g
,
Sodium:
291
mg
,
Potassium:
131
mg
,
Fiber:
3
g
,
Sugar:
4
g
,
Vitamin A:
5
IU
,
Calcium:
12
mg
,
Iron:
1.3
mg
Like this recipe? Rate and comment below!
Photos by Kelly Jaggers for Eating Rules.