The Real Secret to Ditching Industrialized Food – Forever (Power Pancakes)
Oct 16, 2011, Updated Oct 03, 2017
Annette Cottrell started Sustainable Eats in 2009 as a way to document her "midlife food crisis."  She swore to avoid grocery stores for a year in an effort to connect her children with recognizable, local foods — and she hasn't looked back.  Her book, The Urban Farm Handbook, just came out last month, and it's awesome!  She sent me a copy to check out — it covers everything from gardening to backyard chickens to dairy goats (!), to grinding your own grains. On top of all that, it includes nearly 100 recipes.
Annette has offered up a free copy of her book to one lucky October Unprocessed participant.  After you read her post, check out the instructions at the end for how to enter the giveaway. (Note: The giveaway has now ended)
I've been following Andrew's blog for a few years now and noted with joy how many people are ready to separate from industrialized food.  This is the end of my own third year of feeding my family predominantly local farm or garden fresh food and along the way I've had loads of failures, complete dinnertime meltdowns, a fair bit of family mutiny, and moments where I just wanted to quit.  It's hard.
What I've come to realize over time is there are many paths to real food and no one path is right for everyone.
When I ripped out the lawn and planted a year-round garden, I got the attention of my neighbors.  People started walking by after dinner, pointing to all the food growing.  Cars drove by slowly, amazed at all the produce.  So many visitors began coming from other neighborhoods who had heard of this food oasis on a tiny in-city lot that my enterprising son — then but a wee lad of six — began selling tours for $1 a head.    Although this is a great path towards ditching industrialized food, I could easily have found a local CSA or shopped at Farmers' Markets.
When I sourced local milk and spent hours learning to make my own cheeses I had fun, but I also ended up until 3 am, stirring, timing and flipping the cheese.  I lost a lot of it to mold in my wine fridge doubling as cheese cave too until I discovered that you could shrink-wrap it.  My family approached each new cheese with trepidation and never totally embraced the whole adventure.  So cheesemaking may be a great path for some of you with affordable sources of good quality milk (I'm looking at you backyard goat keepers!) but it's not the only path.  There are some phenomenal cheeses at the farmer's markets and some great ones made with local milk you can even purchase from Costco, like Beecher's (here in Seattle).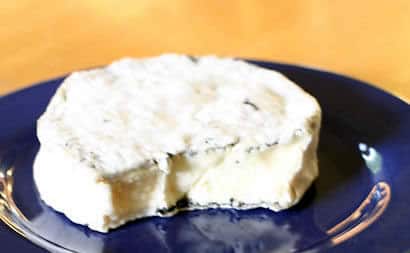 When I first got backyard chickens and ducks I was smitten.  I found them easier to care for than my dog, albeit slightly less cuddly.  The eggs are amazing and I can control what they eat and how many bugs they get (bugs and greens make the healthiest eggs possible).  But you can also buy some pretty amazing eggs at the Farmers' Market so that's not the only path you could take.
When I decided to never shop at the store again I canned everything in sight.  I ended up with my own grocery store down in the basement.  Then I realized with remorse I had been so busy canning that I missed the entire summer.    I vowed to freeze, dehydrate and ferment as much as possible going forwards but since then I've discovered an even easier preservation strategy: simply eating in season.  My family is not quite there yet so I still can things like tomatoes that we can't imagine an entire winter without.  But if you were committed to seasonal eating, or didn't have the time to preserve at all, you could eat very well by dining on winter squashes, potatoes and kale all winter and reserving the fruits of summer for summer.  So preserving isn't the only path either.
When I vowed never to buy meat at a grocery store again, I went in with a few friends and split a grass-fed cow, and a pig.  I was there at the farm to observe how the animals live, and I was there for the slaughter to be sure it was not traumatic for the animals.  It's the only way this ex-vegetarian can stomach meat.  Since then I've also learned to process chickens that don't lay (like roosters and old, decrepit hens), and other small backyard animals that I can control the diets and lifestyles of.  But there are other paths here too: Local legumes and more cheese and eggs.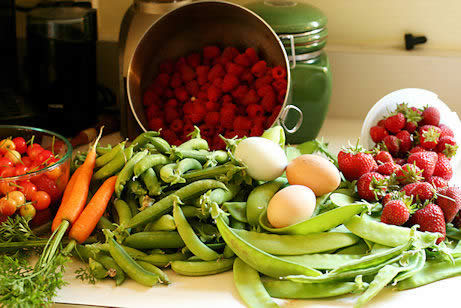 When I decided to break up with the grocery store I bought a grain mill
and ordered bulk grain berries from Bob's Red Mill (I've since found other, more local grain farmers but Bob's is a great place to start.)  I learned to make pancakes and whole wheat bread that wasn't a brick, pizza dough and crackers, and how to crack oats and emmer to cook into porridge.  I learned how to soak my grains in acidic medium overnight to increase their digestion and make their nutrients more readily available and watched my energy levels increase.  I've come to appreciate their very distinct flavor profiles. I love knowing that I'm not just eating hard red wheat flour that has been tinkered with for the last hundred years in order to bake a high rising loaf of bread at the expense of nutrition and flavor.  And I really love that I'm not feeding my children corn in a thousand disguises and as many brightly colored plastic and cardboard packages.  But grinding my own isn't the only path I could take here either because so many small grist mills are springing up around the country, and it's increasingly easy to find ground heirloom grain flours (some even grown close to you!)
There isn't one clear path that you should follow in order to ditch processed foods.  The path that's right for you is the path that is the most do-able, the one that you can sustain long term.
And remember, if the path you choose today doesn't work, simply choose a different path.  Tiny paths covered with many footsteps eventually turn into well-worn roads.
Power Pancakes
These pancakes will take a little extra prepping the night before opposed to the opposition of Bisquick but if that time is put in there will not be any regrets in this delicious recipe.
Ingredients
Stage 1: Mix and soak for 12-24 hours*
2

cups

Whole Wheat Pastry Flour

,

from soft wheat, Spelt Flour , and/or Oat Flour

2

cups

Buttermilk

,

preferably home-cultured
Stage 2: When ready to make pancakes
1/4

cup

Organic Cane Sugar or Rapadura

2

tsp.

Baking Powder

1

tsp.

Baking Soda

1/4

tsp.

Sea Salt

1/2

cup

Virgin Coconut Oil

,

melted

4

Eggs

,

preferably pastured or free-range, organic
Instructions
After the overnight soak your grains will be almost gelatinous and difficult to mix the other items into so technique is important here. Mix the leaveners, salt, and sugar together in a small bowl. In a separate small bowl, beat the eggs then add the melted coconut oil in a small stream until they are completely incorporated.

Add the content of the sugar bowl to the liquid bowl and mix well.

Grease a cast iron griddle with a small amount of coconut oil and heat over medium heat.

Finally, make a well in the middle of the soaked grains and stir the liquids and sugar in just until it's all evenly incorporated. Your leavener will begin to party immediately so leave this step until your griddle is good and hot.

Adjust the batter to your thickness preference by adding additional water, milk or flour (some buttermilk is much thicker than others so it's hard to get a precise recipe for everyone -- plus I grind my own flour and it tends to be fluffier then bagged flour so it measures less.)

Once a drop of water sizzles when dropped on the skillet, spread 1/4 to 1/2 cup amounts of batter onto the griddle.

If you want to add fruit or cocoa nibs now is the time to do it. You can gently press apple chunks, nuts, berries, or cocoa nibs in at this point.

When the edges begin to bubble and the bottoms are brown flip them over and cook for a couple of minutes more.
Notes
* Soak the grains loosly-covered, at room temperature. By soaking overnight, you make the nutrients in the grain more absorbable.
Nutrition
Calories:
179
kcal
,
Carbohydrates:
18
g
,
Protein:
4
g
,
Fat:
10
g
,
Saturated Fat:
7
g
,
Cholesterol:
50
mg
,
Sodium:
185
mg
,
Potassium:
196
mg
,
Fiber:
1
g
,
Sugar:
5
g
,
Vitamin A:
125
IU
,
Calcium:
83
mg
,
Iron:
0.9
mg
Like this recipe? Rate and comment below!
Giveaway: The Urban Farm Handbook
Please note, this giveaway has ended!
Want your own copy of The Urban Farm Handbook?  Just leave a comment on this post (email and RSS readers, click through to the website), and share at least one new thing you'd like to try on your journey of ditching industrialized food. It doesn't have to be complicated or huge, just a step in the direction that's right for you.
The fine print: Giveaway ends at 12pm (noon) Pacific, Wednesday, October 19th. Limit one entry per person. Odds of winning depend on the number of entries received. No purchase necessary, you've just got to leave a comment as described above. After the entry period ends, I'll use random.org to pick a winner at random, and will email that person directly. She or he will have three (3) days to reply with a shipping address, else I'll pick another winner. Shipping is limited to U.S. Addresses only.  Thanks!