Build Your Children out of Stupid-Easy Homemade Fajitas
Oct 19, 2011, Updated Oct 03, 2017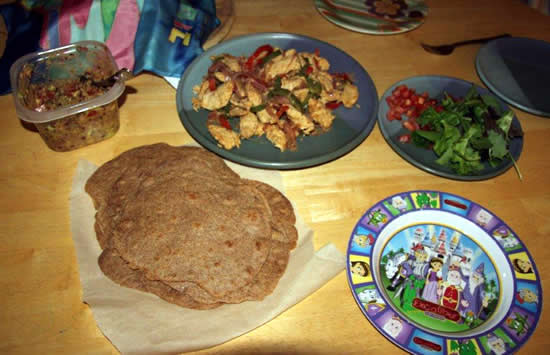 When I first met my wife over a decade ago we weren't even remotely interested in nutrition and her "cooking" was relegated to eggs and pasta sauce, mine to barbecue, and both of us to lots and lots of boxes.  We had boxes of chicken fingers, burritos, pizzas, hors d'oeuvres, fish filets, burgers, perogies and of course, treats.
Flash forward a decade and though there's an occasional boxed treat in our home, I'd venture that over 80% of our cooking is from scratch.
Of course that didn't happen overnight.  It was a slow and gradual process, and in part it was spurred by us deciding to make little humans.  Given that what goes into our childrens' mouths literally make up the building blocks of their bodies, and given our mutual growing interest in living the lives we want our children to live, cooking healthful foods – quality building blocks – has become an important part of our family's routine.
Looking at the rise of chronic disease in society, including obesity and diabetes, it's difficult to believe that the rise of convenience foods hasn't been a dramatic contributor.  Studies on caloric intake report that adults and kids are consuming virtually an additional meal worth of calories daily, and the quality of those calories?  Perhaps that's the real tragedy.  Meals eaten outside of the home are one obvious target, but how about the meals cooked in our homes?  Are they any better in terms of nutrition?  Probably not if we're discussing a home like the one we started out in – where we were kidding ourselves that reheating boxed foods, stirring together mixes and having jars of everything was "home cooking."
So how to improve your family's health?  Bringing back the family meal, teaching your children how to cook healthful, whole food meals, role modeling that cooking is something worth prioritizing (even over a night here and there of after school sports as far as I'm concerned) — those choices would go an exceedingly long way to not only improving your family's health, but possibly your grandchildren's as well.
But despite the pledge here to go October Unprocessed, I'd say all or nothing probably isn't the way I'd recommend going.  Instead I'd recommend identifying the worst meal in your family's repertoire, and swap it for a weekly family cooking night.  The internet's filled with recipe resources and so long as your kids are old enough, have each family member take turns picking a recipe and more importantly, involve them in the actual cooking.
Live with the one swap until you find a dish the whole family loves (which may take a while), and then tackle the next worst dish, and so on, and so forth.
Build your kids out of quality construction material and teach them to pay their grocers and not their doctors.
For a family friendly, easy meal, how about try something you might not imagine being able to cook easily on your own – fajitas and even from-scratch, whole grain tortillas.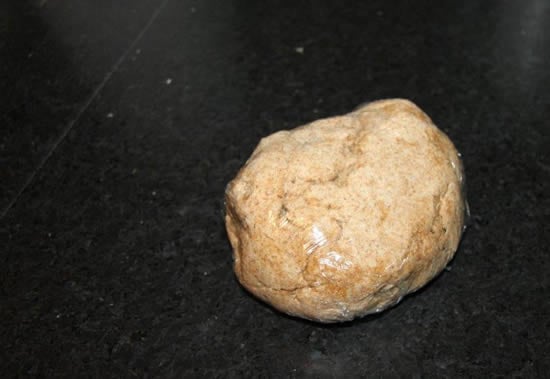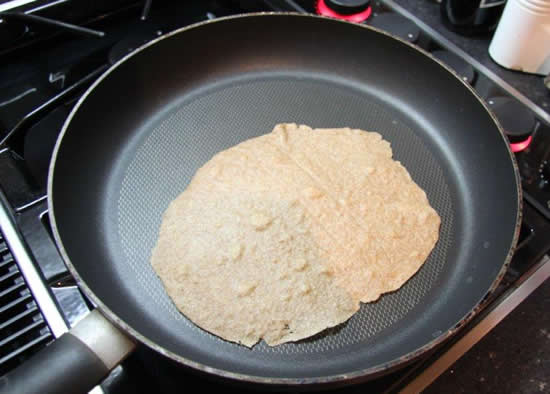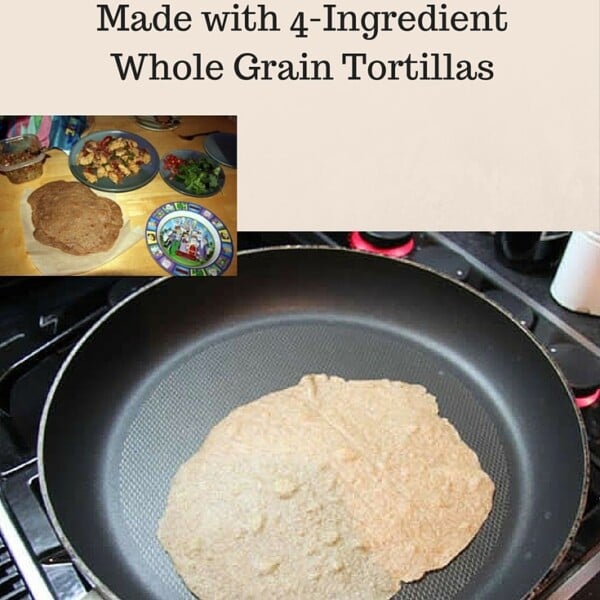 Homemade Chicken Fajitas
(October unprocessed cheat: I used Chili-Lime Cholula on mine.)
Ingredients
4-Ingredient Whole Grain Tortillas
2

cups

Whole Grain Whole Wheat Flour

1/2

tsp.

Sea Salt

1/4

cup

Oil

1/2

cup

Warm Water
Stupid-Easy Chicken Fajitas
3

Tbs.

Lime Juice

1

tsp.

minced fresh Garlic

1

tsp.

Chili Powder

1

tsp.

Cumin

2

whole Chicken Breasts

,

cut into strips

1

medium

Onion

,

sliced

2

Peppers

,

green, yellow, red, whatever, sliced

2

cups

shredded Cheddar Cheese
Instructions
Tortillas
Mix it all up, and let the dough rest for 30 minutes.

Divide into 10 small balls.

Take two large pieces of parchment paper and roll the dough out in between (or use a tortilla press)

Oil a non-stick pan with a smidgen of a neutral-tasting oil. Heat the pan on high for 5 minutes.

"Fry" the tortillas, flipping once. Cook 30 to 60 seconds per side.

Keep finished tortillas warm in a toaster oven at a low temperature while frying the rest.
Fajitas
In small bowl, mix first 4 ingredients.

Add chicken and marinate for 15 minutes.

In skillet, cook onion and chicken with marinade for 3 minutes.

Add peppers, sauté for 3 minutes.

Divide among tortillas.

Top with cheese and/or salsa, and/or guacamole, and/or Cholula!

Roll up and serve.
Nutrition
Calories:
327
kcal
,
Carbohydrates:
25
g
,
Protein:
17
g
,
Fat:
18
g
,
Saturated Fat:
6
g
,
Cholesterol:
47
mg
,
Sodium:
340
mg
,
Potassium:
342
mg
,
Fiber:
4
g
,
Sugar:
1
g
,
Vitamin A:
590
IU
,
Vitamin C:
27.1
mg
,
Calcium:
229
mg
,
Iron:
2
mg
Like this recipe? Rate and comment below!