Food for Healing – Body, Heart, and Soul (and Almond-Crusted Curry Chicken Wraps)
Oct 28, 2013, Updated Aug 29, 2017
Katie Sturm and her husband have traveled the world, enjoying culture, community, and fine food along the way. Having lived in California and Ireland in the past, they are currently rooted in the vibrant town of Ashland in the lush Rogue Valley of Oregon. She has studied interfaith dialogue, spirituality, and theology and is active in a number of communities, teaching healing, spiritual disciplines, and peace-building. She loves to write, to cook, to make music, and to encourage others to live into their dreams. You can read some of her spiritual reflections at The Whispered Life, learn more about her peace-building endeavors at Empowering Peace, and you can also find her on Twitter.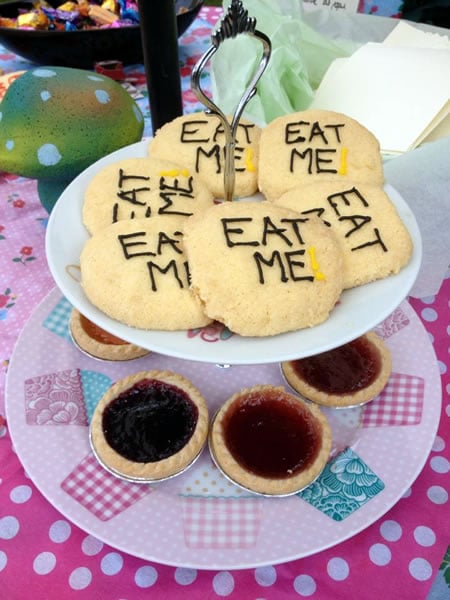 Food is one of the central factors of the human experience – a mandatory activity, affecting our entire being, and governed by our free will and creativity. Our choices about food and eating reflect our core values, our dis-eases (when we are not at ease), and our worldview. Because food *literally* becomes our body's building blocks for our very being, even a choice not to make choices about food and eating is a statement of worldview and values.  When I began my own "unprocessed" journey almost a decade ago, I had no idea how integrated my food choices were with my well-being. Now, however, I can see how my dietary decisions are a reflection of the state of my body, heart, and soul.
I have always tried to be "healthy." Because I was mildly overweight (by Los Angeles standards) in my teen years, I was encouraged to diet. So, I became a fanatic about food choices. My worldview was governed by the idea that food was either "good" or "bad" – and to be controlled as a hazardous substance, never enjoyed. Then, I would have spectacular "failures" where I would binge on ice cream or chocolate or other rich, delicious foods, and punish myself for my lapse in judgment. This cycle continued for decades. It is only recently that I've begun seeing how damaging that worldview was to my health – physically and emotionally.
You see, my body was malnourished. I was not getting enough healthy fats – so I would binge on ice cream. I was not getting enough Magnesium – so I craved chocolate. I was depriving my body of the very building blocks it needed to help me thrive, and so my body would take matters into its own hands – and get those nutrients by any means necessary. When I punished myself for these lapses, I was basically perpetuating a worldview that said that my identity was based on a particular assessment of beauty, and I was allowing my fear of being unloved or unaccepted to dictate my own bodily (and emotional) health.
The first five years of my "unprocessed" journey were critical for re-wiring that worldview. I – slowly – began to learn to eat whole foods that came as close to the source as possible. This process reconfigured my assessment of "good" and "bad." Now, "good" foods were those that honored the animals and land in their production and that provided nutrients for my body's health and wellness. If that meant ice cream and chocolate, so be it! If that was a super-fatty grass-fed steak with mashed potatoes and heaps of pastured, organic butter, all the better! There actually were no "bad" foods anymore, there were simply those I didn't prefer, or food-like *products* like margarine that mimicked food and created havoc in my system. My stress levels decreased, and I began a journey towards a slower food lifestyle. I stopped allowing busy-ness to force me into hurried meals alone or on the go, and began enjoying my time in the kitchen both alone and with friends. Food became more communal, and I loved introducing other friends to re-creations of their favorite meals – with wholesome ingredients made from scratch! My worldview shifted, and my heart began to remember that love and acceptance have to do with shared experiences and compassion, not my dress size or caloric intake. I felt my heart healing as I began, once again, to realize that changing my worldview from control to nourishment had released the same changes in my emotional and spiritual world. Instead of trying to be "in control" of my emotions, I focused on nourishing my emotional health, taking care of myself and giving myself what I needed to thrive.
The journey intensified last year, as my husband and I had been dealing with infertility, and I opted to see a nutritional therapist rather than the modern medical options. Choosing food for my medicine was one of the most counter-cultural acts I could have committed. People thought me crazy. Here I was, eating raw egg yolks, liver, and taking fermented cod liver oil each morning, when I could just get a simple shot and have all my problems go away! I gave up grains and most dairy. As my food choices shifted, I was surprised that other long-term health issues began to disappear. It turns out that eating nutrient-dense, healing food choices can actually help your whole system – not just your fertility. Without any medication or added supplements, in the last year I have experienced significant relief from a chronic skin condition, a reduction in systemic inflammation, and I have begun to heal my gluten-intolerance. I have more clarity, less fatigue, and to cap it all off, we are now pregnant!
We have found it consistently true in our home that our approach to our food choices is a reflection of our approach to life. I would encourage you in the remaining days of October Unprocessed to begin to reflect on how your worldview towards food reflects or shapes your emotional or spiritual worldview. Start examining your own assumptions – are you doing the challenge as another "diet" or as a shift in your lifestyle and approach to food? How can you make these changes connect with your heart, so that they can effect lasting change in your life, your home, and your community? What have you learned that you want to share with others? How can your transformation help others find life and nourishment?
Sending  love and nourishment from our kitchen to yours!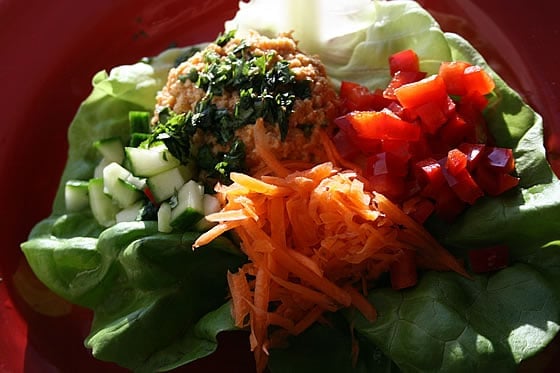 Almond-Crusted Curry Chicken Wraps
Delicious way to enjoy an unprocessed meal as it combines all fresh and healthy ingredients into a wrap!
Ingredients
¼

cup

almond flour

1

tablespoon

curry powder

1/2

teaspoon

salt

,

more or less to your preference

1/4

teaspoon

ground pepper

1

teaspoon

ground ginger

1

teaspoon

ground mustard

1

teaspoon

ground turmeric

1

pound

boneless chicken

,

diced into bite-sized pieces (I prefer thighs, but breasts work well also)

2

tablespoon

toasted sesame oil

Lettuce leaves

,

something robust enough to hold chicken and veggies, I love red-leaf

Sliced or diced tomatoes

,

optional

Shredded carrots

,

optional

Sliced or diced cucumbers

,

optional

Sliced or diced bell peppers

,

optional

Sprouts

,

optional

Shredded red cabbage

,

optional

Avocado-garlic-dill Mayo

,

optional, see below
Instructions
Mix dry ingredients (almond flour and seasonings) in a glass bowl.

Dredge chicken pieces in flour mixture.

Add toasted sesame oil to a large pan over medium heat.

Add chicken pieces to oil, stirring regularly to avoid scorching or sticking.

When chicken pieces are cooked through (approximately 12-14 minutes), remove from pan and allow to cool.

Assemble lettuce wraps with sauce first, then add chicken and whatever veggies strike your fancy.
Nutrition
Calories:
478
kcal
,
Carbohydrates:
6
g
,
Protein:
51
g
,
Fat:
27
g
,
Saturated Fat:
3
g
,
Cholesterol:
145
mg
,
Sodium:
846
mg
,
Potassium:
910
mg
,
Fiber:
2
g
,
Vitamin A:
100
IU
,
Vitamin C:
2.7
mg
,
Calcium:
55
mg
,
Iron:
2.9
mg
Like this recipe? Rate and comment below!
Avocado-Garlic-Dill Mayo
Equipment Needed:

1 glass jar, which you will use to both make AND store the mayo. Make sure you use a tall and narrow jar with an opening that's just wide enough to accommodate your stick blender. I like to use a 500ml (one pint) wide mouth mason jar.

An immersion blender (stick or handheld).
Ingredients
1

large or extra large

egg

1

cup

extra light tasting olive oil

1/2

lemon or lime

,

about 2-3 teaspoons, juiced

1

generous pinch

salt

½

avocado

,

fresh and ripe

2

teaspoon

dry dill

3

cloves

garlic
Instructions
Add all ingredients to your glass jar.

Let the egg settle to the bottom of the jar, under the oil.

Immerse your stick blender all the way to the bottom, turn on, and DO NOT MOVE for 20 seconds.

When your mayo is about ¾ of the way to the top of the jar, begin slowly raising your blender to ensure that the avocado has been thoroughly mixed. Move the blender to ensure that the whole thing is all mixed together.
Nutrition
Calories:
112
kcal
,
Carbohydrates:
4
g
,
Protein:
2
g
,
Fat:
10
g
,
Saturated Fat:
1
g
,
Cholesterol:
40
mg
,
Sodium:
19
mg
,
Potassium:
181
mg
,
Fiber:
2
g
,
Vitamin A:
125
IU
,
Vitamin C:
10.6
mg
,
Calcium:
26
mg
,
Iron:
0.6
mg
Like this recipe? Rate and comment below!
Thai Curry Chicken Lettuce Cups Photo © 2009 by Dean Beeler, used under Creative Commons License.