If you have to go gluten-free because you have been diagnosed with coeliac disease or if you simply feel better not eating modern-day wheat, you don't have to give up comforting grains on your plate. Only barley, rye, and wheat — including its relatives such as spelt and Kamut — contain gluten. In fact, you might be surprised to learn that there is an amazing array of ancient grains to choose from which are gluten-free. And many have become more widely available, even in mainstream supermarkets.
So start exploring the subtle flavors and rich textures of these gluten-free grains which have been the foundation of our diet for millenia. Many of these grains are perfect for our busy lives as they cook up fast and can be on your table in 15 to 20 minutes. Let me introduce some of my personal favorites:

Amaranth
This iron- and calcium-rich grain has become easier to find and is worth seeking out. Amaranth is wonderful in comforting porridge because it cooks up a little sticky. This characteristic also makes it great for use in puddings. Or add the malty nutty-tasting grains to soups — the tiny pearls will act like a binding agent, adding great texture and body.
Buckwheat
First documented in China and Japan, buckwheat is perfect for busy weeknights as it needs only about 15 minutes to cook. I often make delicious Greek-inspired burgers with feta cheese and fresh thyme, using buckwheat. I'm partial to raw greyish-green buckwheat groats — you can use the mild grains in soups or as a quick-cooking side. You can also buy kasha, already toasted buckwheat with its signature earthy aroma with hints of cocoa.
Cornmeal / Polenta
Cornmeal, cooked into a mouth-watering polenta, is my ultimate comfort food. On a busy weeknight, I'm perfectly happy with my polenta after 20 to 25 minutes on the stove. There is no need to cook it for 1 hour like a good Italian mama — unless you wish to do so, and you will be rewarded with a sweeter aroma and more supple texture. Be sure to seek out stone-ground cornmeal which typically retains the bran and the germ (unlike most supermarket products).
Oats
This popular breakfast staple, rich in protein and fiber, is gluten-free when processed correctly. I love a bowl of chewy rolled oats in the morning but I like steel-cut oats even better for their richer texture and aroma. In my book, I introduce a quick-cooking method which brings them to your breakfast table in 7 minutes — rather than the typical 30 minutes. If you get a chance, be sure to also seek out whole oat berries some day. They are naturally sweet, with a lovely chew, and I like to pair them with toasted walnuts, thyme, briny green olives and aromatic Gorgonzola. A treat!
Quinoa
Among the gluten-free ancient grains, quinoa with its delectable crunch is super-trendy at the moment. Cultivated for at least 5 000 years, it had been banned by the Spanish explorers but survived in the wild. The disc-shaped drought-resistant grain has been lauded by the UN as a super-crop for its potential to feed the poor. Versatile and quick-cooking, quinoa is a complete protein. Try it as a breakfast cereal, in a soup or salad, or even for dessert.
The Universe of Rice
We've all had our fair share of brown rice by now which contains the germ and the bran and thus has more nutrients than refined white rice. But there is so much more: get ready for a universe of whole grain rice varieties now on your supermarket shelf. Chinese black rice is one example; it cooks up into a stunning purple color which will pop on your plate. Bhutanese red rice is another great aromatic choice worth seeking out. My favorite brand is Lotus Foods as the small Bay Area company is always searching for the most sustainable high-quality rice varieties.
Teff
This nutritious ancient grain, rich in magnesium and calcium, has been a staple of the Ethiopian diet for centuries. The miniscule seeds, part of the millet family, have a delicious tang which reminds me of rye. If you have been to an Ethiopian restaurant, you might have enjoyed injeera, the spongy flatbread at the center of a traditional meal in the East-African nation. Because teff has become more widely available, I plan to include great recipes in my next ancient grains cookbook.
Wild Rice
Native to North America, wild rice is delightfully chewy and aromatic, and contains more fiber and protein than brown rice. Today, most wild rice — the seed of aquatic grass — is cultivated in California and Minnesota. If you ever get a chance to try "wild" wild rice — go for it! It has a mottled brown color (unlike the shiny black of the cultivated seeds) and a distinct smoky aroma from the traditional parching over an open fire. It is pricey but worth a try on a special occasion.
Millet
If there is one underrated grain I can't stop talking about, it is millet. This ancient staple is mild, immensely versatile, and it cooks up fast! Millet makes for a delicious warming breakfast porridge during the cooler months of the year. But I also enjoy the magnesium-rich grain as a simple side, lightly salted, and with a dab of butter or with a drizzle of olive oil. The Greek-inspired Millet Saganaki with Shrimp and Ouzo from my cookbook is a great example of the versatility of the grain. Vegetarians may omit the shrimp.
Greek Millet Saganaki with Shrimp and Ouzo
A saganaki is a traditional two-handled skillet in which Greeks serve aromatic one-pot dishes, typically topped with cheese. This recipe is a play on the classic shrimp and feta saganaki, to which I have added millet for a deliciously satisfying meal, finished with a dash of ouzo to infuse the shrimp with its distinctive anise flavor. A Dutch oven doubles beautifully as a serving vessel, or transfer the cooked millet to a shallow serving bowl and top with the ouzo-infused shrimp.
Ingredients
For the Millet
1 1/4

cups

water

3/4

cup

millet

1

bay leaf

Pinch

fine sea salt
For the Saganaki
1

tablespoon

extra-virgin olive oil

1

cup

finely chopped yellow onion

about 1 small

1

clove

garlic

peeled and slightly crushed

1

small

hot green chile

minced (optional)

1/4

teaspoon

fine sea salt

2

tablespoons

tomato paste

1

28 ounce

can whole tomatoes

crushed in a bowl

1/4

teaspoon

freshly ground black pepper

1/2

cup

green pimiento-stuffed olives

halved if large

4

ounces

coarsely crumbled Greek feta cheese

about 1 cup, preferably sheep's milk
For the Shrimp, and to Finish
1

pound

jumbo shell-on shrimp

deveined and patted dry

Fine sea salt and freshly ground black pepper

2

tablespoons

extra-virgin olive oil

1/3

cup

ouzo

or other anise-flavored liqueur

1/4

cup

chopped fresh flat-leaf parsley
Instructions
To prepare the millet, bring the water, millet, bay leaf, and salt to a boil in a 2-quart saucepan. Decrease the heat to maintain a simmer, cover, and cook until the water is absorbed, about 15 minutes. Remove from the heat and let sit, covered, for 5 to 10 minutes. Uncover, remove the bay leaf, and set aside to cool.

Meanwhile, make the saganaki. Heat the olive oil in a large Dutch oven or large heavy-bottomed saucepan over medium heat until it shimmers. Add the onion, garlic, chile, and salt; cook, stirring frequently, until the onion softens and turns light golden, about 5 minutes. Add the tomato paste and cook, stirring, until it darkens, about 1 minute. Add the tomatoes with their juices and the pepper; bring to a boil over medium-high heat. Decrease the heat to maintain a light boil and cook, uncovered, for 3 minutes.

Stir in the millet and green olives. Taste for salt and pepper and adjust (keeping in mind that olives and feta cheese can be quite salty). Remove the pot from the heat, sprinkle with the feta, and cover to allow the cheese to soften.

To prepare the shrimp, season them with salt and pepper. Heat the olive oil in a 12-inch skillet over high heat until it shimmers. Add the shrimp. Cook, undisturbed, until the shrimp turn golden, 1 to 2 minutes, and then flip them with a spatula and cook until they are just opaque throughout, 1 to 2 more minutes, depending on the size. Add the ouzo and cook until syrupy, about 30 seconds. Using a spatula, briskly remove the shrimp from the pan and arrange on top of the millet. Sprinkle with the parsley and serve at once.
About the Author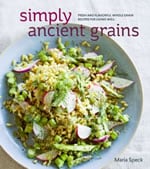 Raised in Greece and Germany, Maria Speck has a lifelong passion for whole grains. She is the award-winning author of the new Simply Ancient Grains and Ancient Grains for Modern Meals. Maria's first cookbook won multiple awards, among them the coveted Julia Child Award from the International Association of Culinary Professionals. Both the New York Times and the Washington Post named Ancient Grains a top cookbook, and Cooking Light magazine included it among the 100 best cookbooks of the past 25 years.  Simply Ancient Grains was selected as a top cookbook for 2015 by the Washington Post, the Huffington Post, and Sweet Paul, as well as on NPR's Here & Now. It also won an M.F.K. Fisher award, first prize in the book category.  You can find out more at MariaSpeck.com, and follow her on Facebook, Twitter, and Instagram.