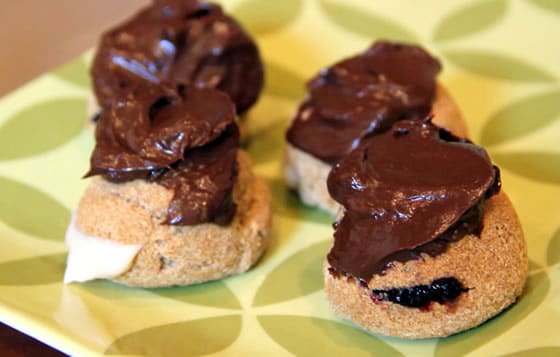 I love desserts. However, as I am allergic and intolerant to gluten/grains, dairy, cane sugar, and soy, desserts have always been pretty complicated for me. But they're not complicated for me anymore because now I make my own.
It's empowering to have a craving and then be able to turn that craving into a reality. Case in point, these donuts.
I made both Boston Cream Donuts and Jelly Donuts that pass the kitchen test (as long as you're making your own stevia). They are a fantastic twist on the traditional cupcake for birthday parties but since I don't have children I just eat them as regular dessert. I love them. They're basically cream-filled or jam-filled balls of awesomeness.
And don't be intimidated! The assembly sounds a little complicated but it really, really isn't.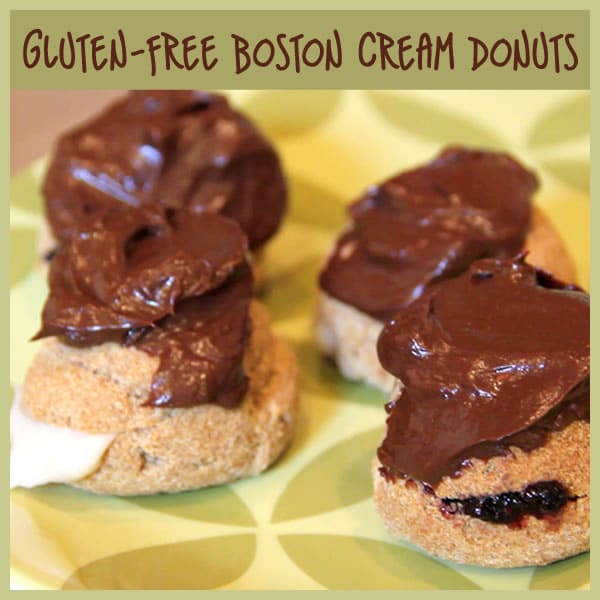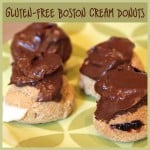 Gluten-Free Boston Cream Donuts
I. Love. These. They are basically little cream filled (or jam filled) balls of awesomeness.
Ingredients
1/2

cup

cooked butternut squash

3/4

cup

water

1/4

cup

honey

2

tablespoons

coconut oil

1

tablespoon

vanilla extract

1/2

teaspoon

celtic sea salt

1/4

teaspoon

baking soda

10

drops liquid vanilla stevia

2

tablespoons

psyllium husk powder

1/2

cup

coconut flour

Jam and/or Vanilla Cream filling

Honey Chocolate Mousse for frosting
Instructions
Preheat the oven to 375° F.

Line a baking sheet with parchment paper.

Add all the ingredients but the coconut flour to a food processor or bowl.

Blend either with the food processor or if it's already in the bowl, use an electric hand mixer.

Transfer from the food processor to a bowl.

Add coconut flour.

Blend with a hand mixer.

With your hands, form the dough into 8 balls and put on the baking sheet.

Bake for 35 to 45 minutes.

Cool.
ASSEMBLY
Insert a small pairing knife into the side of the donut.

Move the knife back and forth to create space inside the donut.

Scoop the jam or vanilla frosting into a plastic bag.

Snip the corner of the bag.

Insert the snipped corner into the donut.

Squeeze the jam/frosting in until the donut puffs up.

Frost the top of the donut with the Honey Chocolate Mousse Frosting.

EAT!
About the Author
Lillian Medville is a food blogger who is allergic to gluten/grains, dairy, cane sugar, and soy. Her struggle to understand her own allergies (It took her ten years for her to figure them all out) and to help others battling similar issues inspired her to create Lillian's Test Kitchen, where she has been making other people's gluten-free, grain-free, dairy-free, soy-free, cane-sugar-free recipes for the very first time on camera for the past several years. You'll also find her chatting about real foods, the emotional impact of food allergies, and on her other things that make her happy on Twitter, Facebook and Pinterest.