Gluten-Free Flours
Oct 16, 2010, Updated Sep 17, 2016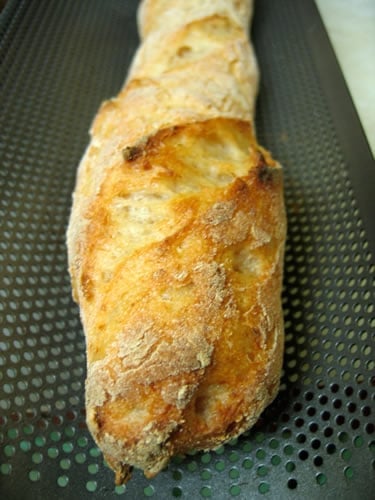 I'm one of those doctors you go to see who runs all the typical blood tests, but then evaluates them for nutritional deficiencies instead of pharmaceutical ones. My typical patient is a middle aged woman who has seen at least eight other doctors and has been told her problems are all in her head.
They aren't in her head, they are in her gastrointestinal tract!  So I help these patients get back to the diet we all were eating a millennia ago: Whole grains, minimally processed, lots of vegetables, minimal sweeteners and only unrefined ones when they are used.
When Andrew first threw out the challenge of eating unprocessed, I had to ask: What process? What about things we bake, freeze, pickle, or dry ourselves? Are those off limits in this unprocessed month of harvest abundance?
I was getting a bit panicked. You see, my family of four are all gluten-intolerant, and we already follow a "clean" and home-prepared diet.
(For a great overview of what leaves your life when you go gluten-free, check out Heidi's wonderful synopsis of living gluten-free from Day 9).
My family has been gluten-free since November of 2005.  But take away my lifeline of home baking and freezing and I would flounder!  I routinely create gluten-free versions of normally-gluten-full baked goods simply because otherwise we wouldn't have any in our lives. We have already weathered the conversions of holiday meals like popovers for Christmas, gluten-free, casein free birthday party cupcakes at school and girl scout events with grace and a sense of humor.
There is also nothing like fresh bread to make both the hearth and the heart grow warmer.
So check out my chart of gluten free flours (click through for the full story) and use the ones with the greatest amounts of fiber, proteins, and complex carbohydrates to make things like this gluten free sourdough bread.
Color
Qualities
Fiber
Fat
Protein
Carb.
(per 1/4 cup)
Millet
yellow
soft crumb
0g
1g
3g
22g
Sweet Rice Flour
white
structure, sticky
1g
0.6g
2g
24g
Sorghum Flour
pale brown with tiny flecks of dark brown
tender, structure
3g
1.1g
4g
25g
Potato Starch
white
glide, slippery
0g
0g
0g
40g
Corn Flour
yellow
strength, depth
3.9g
1.1g
2g
22.5g
Amaranth Flour
brown
strength
3g
2g
4g
20g
Quinoa Flour
pale brown
strength, pronounced flavor
0g
1.7g
4g
21g
Brown Rice Flour
pale brown
crunch unless finely ground, mild flavor
1.8g
1.1g
2.9g
30.2g
Tapioca Flour
white
soft, crisp
0g
0g
0g
26g
Teff Flour
dark or ivory
tender
6g
1.1g
5g
32g
Buckwheat Flour
Dark
tender
3g
0.9g
3.8g
21.2g
Garfava Flour
yellow beige
beany
6g
1.7g
6g
18g
White Bean Flour
white/ivory
mild flavor, tender crumb
8g
0g
7g
20g
White Rice Flour
white
mild flavor, crunch unless finely ground
0.9g
0.6g
2.4g
31.7g