The Top Ten Gluten-Free Misconceptions and Pitfalls, plus Oats & Honey Apple Crumble
Oct 23, 2013, Updated Aug 30, 2017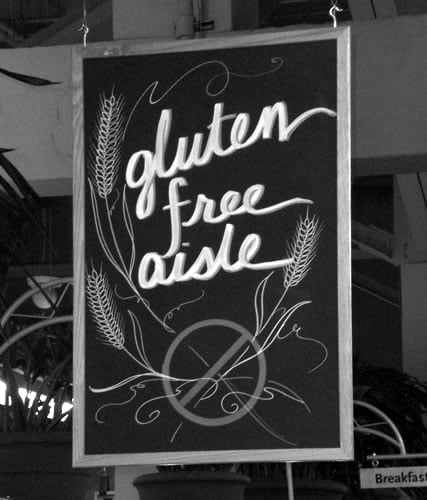 Gluten-Free living is complicated, especially when you are listening to outdated, incorrect information.
Over the seven years I've been writing about thriving gluten-free, I've found some pieces of celiac lore that just won't die, even once completely disproven. For October Unprocessed, I want to bring them up and put them out to pasture, permanently.
The reason so many of these urban legends continue to have life is because folks are searching for answers. They understand that they have to avoid wheat, rye, and barley but don't know the other names for them. For example, barley malt is frequently just called "malt" on the labels.
Dr. Google is a lousy diagnostician and historian. Everything on the web lives forever, so if you choose just the right search terms, you will pull information from long before the research was updated.
I've gathered my list of proven, accurate sources for celiac and gluten-free living to share with you.
When you have a question about an ingredient, search these sites first, then ASK these sites your question if you can't find the answers.  The folks who write these sites go back to the medical literature to find your answer, they don't have financial ties to labs or drugs, they just want to help.
Top Ten Gluten-Free Misconceptions
1. Maltodextrin doesn't have malt; it is a sugar.  Products made in other countries can have wheat-based maltodextrin and must be labeled as such. It is never made from barley or rye.
2. Modified Food Starch – If made from wheat has to be labeled as such; never made from barley or rye.
3. Caramel Color is made from Corn or Sucrose in USA and highly refined to remove gluten in Europe.
4. Shredded Cheese uses cellulose (wood starch), potato, or cornstarch, but not wheat starch. Yup, you are eating ground-up, highly processed trees when you use pre-shredded cheese.  Grate your own to avoid this.
5. Blue Cheese – Since 1993 testing has shown no gluten in blue cheese
6. Envelope Glue – There's no gluten in envelope glue, according to the international Envelope Manufacturers Association, no matter what a major Gluten-free brand claims.
7. Grain Alcohol – The distillation process removes all gluten, just watch for gluten being added back with flavorings
8. Vinegar – Distilled vinegar and apple cider vinegar are both fine. Only vinegars that have gluten added back with the flavorings are a problem
9. Coffee is naturally gluten-free, but watch for flavorings.
10. Corn – All Corn is naturally gluten-free; watch for flavorings, seasonings and other additions.
Top 10 Inadvertent Gluten Exposures
This list is of foods that newly diagnosed gluten-free folks typically forget have gluten, creating an exposure and reaction.
1. Soy Sauce – Most soy sauce contains wheat, which means any food made with soy sauce is gluten-full, including things like Barbecue and Teriyaki sauce.
2. Soups, Sauces, and Gravy – Most creamy gravies, soups, and sauces have wheat flour as a thickener. Any food made with a prepared soup as an ingredient is likely gluten-full. 
3. Oatmeal – Naturally, oatmeal does not contain gluten. The growth rotation of farmers sometimes has oats following wheat in the fields and unless precautions are made, the oats travel in trucks that carry wheat, are processed in mills that also handle wheat, and get contaminated with gluten along the way. Look for certified gluten-free oats.
4. Beer – Barley is the reason beer is gluten-full. Some beers also contain wheat. 
5. Vegan Meat Replacements are typically made with wheat gluten. Choosing a Vegan gluten-free lifestyle means being very careful of your product choices.
6. Sushi Soy sauce in the dipping sauce is obvious, but much sushi uses some soy in the seasoning of the individual pieces as they are being made. If inexpensive sushi is made from faux crab or fish, that is also gluten-rich.
7. Rice Crispies – Yes there are gluten-free rice crispies, but the ones used to make the pre-made treats or used in bakeries to give a bit of a crunch to cookies or pastry are not that kind of rice crispies.
8. Tortillas – Corn tortillas are naturally gluten-free, but many restaurants use the newer wheat and corn blends or fry their chips in a fryer that is also used for battered items, contaminating the chips with gluten.
9. Chocolates and Candies – Flavorings, rice crispies (puffed rice), and sweeteners can all contain gluten.  Also, watch for malt powders.
10. French Fries – Although you would expect French fries to be just potatoes and oil, many have a flour coating to make them crisper or to allow spices to stick.  The other concern is the dreaded cross-contaminated fryer, used to fry battered foods as well, leaving tiny bits of wheat dough all over your fries.  Make them yourself at home.
—
I review and discuss many of the gluten-free brands I enjoy on my blog. One of my favorite brands is Bob's Red Mill, especially because of their dedicated gluten-free facility. I use their gluten-free oats exclusively for this wonderful crumble.
The oatmeal topping marries well with the apples, while being lightly sweetened with honey.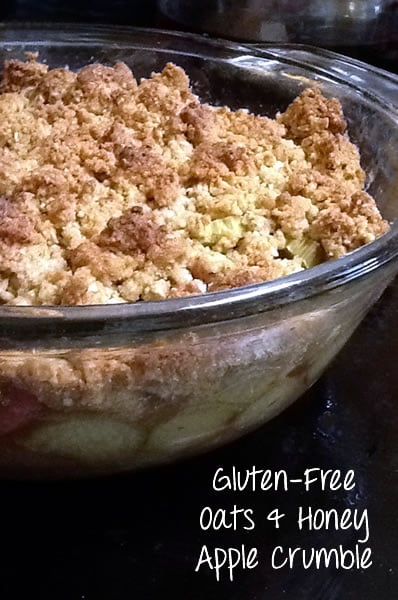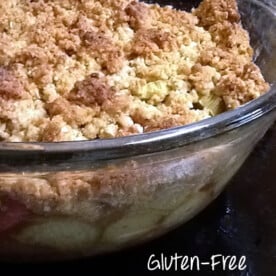 Gluten-Free Oats & Honey Apple Crumble
With only the bare minimum amount of ingredients that are needed, you will find yourself with a mouth watering dessert that with spread its aroma throughout the house.
Ingredients
3

pounds

organic apples

,

cored and chopped

½

teaspoon

vanilla extract

1 ½

teaspoon

cinnamon

,

divided

2

cups

gluten-free rolled oats

¼

cup

melted butter

¼

cup

honey

½

cup

chopped pecans
Instructions
Preheat oven to 350 degrees F (180C or gas mark 4)

Grease a deep casserole dish.

Stir together the apples, vanilla extract, and ½ teaspoon cinnamon, and pile the apples into the casserole dish.

In a separate bowl, mix together the oats, butter, honey, pecans, and remaining 1 teaspoon cinnamon.

Spread the topping mixture on top of the apples.

Bake for 40-45 minutes, until browned and the apples are soft.
Nutrition
Calories:
473
kcal
,
Carbohydrates:
75
g
,
Protein:
6
g
,
Fat:
19
g
,
Saturated Fat:
6
g
,
Cholesterol:
24
mg
,
Sodium:
86
mg
,
Potassium:
461
mg
,
Fiber:
10
g
,
Sugar:
43
g
,
Vitamin A:
430
IU
,
Vitamin C:
12.5
mg
,
Calcium:
44
mg
,
Iron:
2.1
mg
Like this recipe? Rate and comment below!
Photo: "Gluten Free Aisle" © 2007 by Alexis O'Toole, used under Creative Commons License.