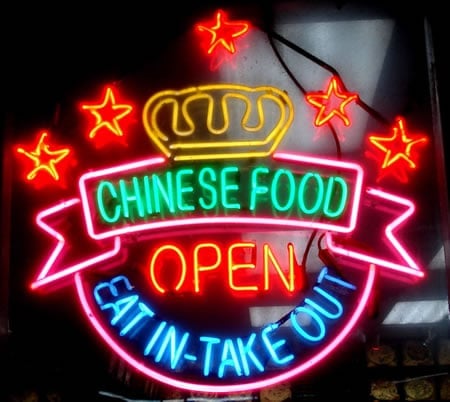 It's a longstanding Jewish-American tradition to go out for Chinese food for Christmas. I have absolutely no idea how that got started, but hey, I'm a fan. It's kind of a running joke to all of us, I think,  but every year I'm more than happy to play along.
In the spirit of the holidays, Matty suggested I review a Chinese restaurant today. I've already reviewed P.F. Chang's and Panda Express, and I don't actually know of any other large Chinese food chains! Come to think of it, Chinese food restaurants might actually be the last bastion of small, family-owned businesses that we have in this country.
So that leaves me with just making some general recommendations. Obviously I don't have specific numerical information, since all of the recipes will vary, but my hope is that you can make some better choices and still have a great meal.
I should mention that I'm talking here about "American Chinese Food" — which is apparently quite different than the food you'd find in China. (My friend Bryan's Facebook status, from when he was working in Macao: "Apparently 'spicy noodles Loo Men' means 'bland noodles with chicken feet.' lesson learned…").
Appetizers – Best Choices
Of course, the best thing to do is to skip the appetizers altogether, since you're going to get plenty of calories in your entrée.  But, if you insist… at least get something that's not fried, ok?
Fresh Spring Rolls


I'm talking about the rice-paper wrapped rolls filled with fresh veggies, not the deep-fried egg rolls.  Sometimes restaurants use these terms interchangeably, so be sure to ask if they're fresh or fried.
Steamed Pot Stickers/Dumplings
Preferably get them vegetable-filled — that will reduce the calories considerably.
Vegetable Tofu Soup
I don't recommend most soups because of the outrageous sodium content, but if you want a soup, a vegetable tofu soup (or similar) will be more filling and more satisfying than something like egg-flower soup (you'll end up eating more of the veggies & tofu, and can skip some of the salty broth).
Tofu or Chicken Skewers


Skip the dipping sauce…
Green Tea


Don't forget to have some green tea with your meal! Since many places will serve a pot as soon as you sit down, you can start drinking some tea, which will help quell some of those hunger pangs, helping you make better choices when it comes time to order.
Appetizers – Worst Choices
The most important thing is to avoid foods that are deep-fried, of course.
Fried Crispy Noodle Things


I'm talking about those deep-fried chips that resemble tortilla strips. Except somehow they're even greasier.
Egg Rolls / Spring Rolls (fried)

BBQ Spareribs

Fried Wontons

Crab Rangoon


Whoa! Deep fried and filled with cream cheese! Save this one for a super-duper, extra-special occasion.
Egg Flower / Egg Drop Soup
Entrées – Best Choices
The hardest thing to limit at Chinese restaurants is the Sodium.  When considering sauces, you can ask them to make your dish with "half sauce," which will make a big difference — and you'll still get some great flavor. Consider getting dishes that use hot mustard sauce, hoisin sauce, or oyster sauce — and avoiding those that use dark brown sauces, which are loaded with fat, sugar, and salt.
I'm not going to dictate which protein is "best," though I generally prefer shrimp, tofu, or scallops. (Most places will offer steamed or fried tofu — get the steamed!).  In general, it's probably healthier to get chicken instead of beef or pork, but I'll leave that one up to you.
Buddha's Feast / Mixed Steamed Vegetables


This is likely the healthiest entrée just about anywhere — usually filled with a ton of steamed vegetables in a light sauce.  If you want extra protein, ask them to add tofu.
Moo Shoo


This is sauteed vegetables, served with thin crêpe-like wraps. It often comes with a brown sauce, which adds a lot of sodium (and isn't really necessary).  At least go easy on the sauce, and you'll be eating mostly vegetables for your meal.
Chop Suey


Similar to the Moo Shoo, this is a plate of sauteed veggies.  Consider adding a protein such as steamed tofu to make it more satisfying.
Egg Foo Young
This is the Chinese version of a fritatta or omlette, more or less.  It's mostly egg (though I think some places will add a bit of flour or dough to make it fluffier) — and if you go easy on the brown sauce (get it on the side), it can be a better choice.
Entrées – Worst Choices
General Tso's Anything



Deep fried food, in a sugary sauce.  Totally over the top, sadly.
Kung Pao Anything


This is generally very meat-heavy, so it's going to be higher in calories than most other dishes that have more veggies.
B. B. Q. Anything


Sugar, sugar, and more sugar.
Sweet and Sour Anything


Yup, another super-sugary sauce.
Pan Fried Noodles

Low Mein / Chow Mein / Chow Fun


These noodle dishes are much higher in fat, sodium, and refined carbs.  Much better to get an entrée that's mostly vegetables, not mostly noddles.
Fried Bean Curd with Vegetables
Most places will gladly make this with steamed tofu instead of fried — and instantly you've turned your meal around in the right direction.
Rice – Best Choices
Steamed Brown Rice


If you're lucky enough to find a Chinese place that serves brown rice, go for it!
White Rice
There's very little nutritional benefit to white rice, so if you get it as a side, use it sparingly.  It also soaks up those salty, sugary sauces, so you end up eating a lot more of those.  Double whammy!
Rice – Worst Choice
Fried Rice



Hugely caloric and fatty. Seriously, you'd be better off getting some nutritionally-devoid white rice instead.
Dessert – Best Choice
Fortune Cookie
Go ahead, they're really small — and just enough to give your meal a satisfying finish.
Dessert – Worst Choice
Almond Cookie
I don't remember the last time I actually saw an almond cookie offered — it seems places give out only fortune cookies these days (and they're usually "proverb cookies," not even fortune cookies!  But I digress…). Go for the fortune cookie instead — they're less indulgent yet still satisfying.  If you do indulge in an almond cookie and are offered a fortune cookie too, consider reading your fortune and then tossing the rest of the cookie.
—
Menu Mondays are my recommendations for the most healthful options at restaurants. Although it may be tough to find "perfect" options when eating out, it's important to choose "better" whenever possible, and I hope these guides will help make that easier for you.

indicates the "best-of-the-best," and

indicates the "worst-of-the-worst," more or less.
Want to learn more?  Check out this 1996 report from Flavor & Fortune Magazine (who knew?), in which they took sample entrées, ran 'em through a blender, and analyzed the nutritional results. Not sure how applicable it is, nearly 15 years later, but it has some interesting conclusions and recommendations nonetheless.
Photo by mag3737.