How to Choose Healthy Vending Machine Snacks
Jul 19, 2010, Updated Aug 22, 2022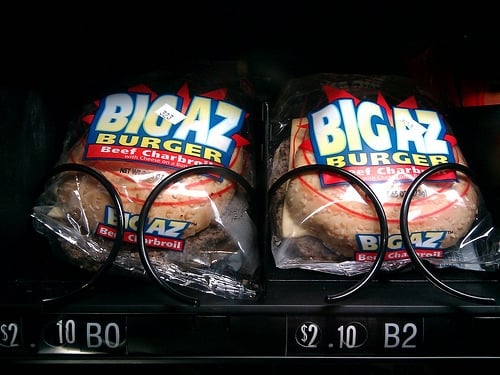 I know, I know.  You probably don't want to be eating out of a vending machine in the first place.  Well, sometimes you're absolutely famished and that's the only option.
Maybe you're on a road trip, or maybe you're in your office cubicle at 2am.  Either way, you've gotta eat, and the glass case is purring your name.
I'll admit, these options just never look as tasty when they're lined up next to below all the shiny candy bars and potato chips.  The packaging isn't as sexy, and they sometimes just look so… sad.
So here's a tip:  Commit to buying something healthy before you are standing in front of the machine.
Then, back at your desk, pop it out of the package and into a bowl and pretend it's, well, gourmet.  Presentation is important, even if it's just a bag of peanuts.
Peanuts.
They're likely to be salted, but as long as they're not "honey roasted" or "butter toffee," peanuts are a pretty good bet.
Dry Roasted & Salted Peanuts, 1 ounce


166 cal, 2g sat fat, 14g total fat, 230mg sodium, 6g carbs, 2g sugars, 2g fiber, 7g protein
Dried Fruit.
Even if they add sugar, you're still getting more nutrients than you would from a candy bar.
Seedless Raisins, 1.5 ounce box


129 cal, no sat fat, 0.2g total fat, 5mg sodium, 34g carbs, 26g sugars, 2g fiber, 1g protein
Dried Apricots, 1.4 ounces


10 cal, no fat, no sodium, 26g carbs, 22g sugars, 3g fiber, 1g protein
Sunflower Seeds.
If you're not that hungry, but feeling "snacky," these are a great choice.

Roasted & Salted Sunflower Seeds, 1 ounce


165 cal, 1.5g sat fat, 14g total fat, 116mg sodium, 7g carbs, 1g sugar, 3g fiber, 6g protein
Nutrition Bars.
These are usually the most expensive items in the machine, but with good reason. They are usually fortified with lots of vitamins and minerals, and pack a lot more protein than fat or salt — which will help you actually feel full.
Balance Bar, Yogurt Honey Peanut


200 cal, 3g sat fat, 6g total fat, 190mg sodium, 22g carbs, 18g sugars, 0.5g fiber, 15g protein
Power Bar, Performance, Chocolate


230 cal, 0.5g sat fat, 2g total fat, 95mg sodium, 45g carbs, 18g sugars, 3g fiber, 10g protein
Trail Mix.
See if you can peek inside the bag; if it's not all chocolate chips, this is a good way to go.  Hopefully you'll score some raisins and other nuts, not just salty carbs mixed in.
Typical Trail Mix, 1.5 ounces


194 cal, 2g sat fat, 13g total fat, 100mg sodium, 19g carbs, 12g sugars, 6g protein
Pretzels.
Sure, they're high in sodium, and they're inevitably made with refined flour (thus violating Rule #1), but they're certainly better for you than Funyuns.
Rold Gold Tiny Twists, 1 ounce


110 cal, no sat fat, 1g total fat, 450mg sodium, 23g carbs, 0.5g sugars, 1g fiber, 2g protein
Fat-Free Microwave Popcorn.
If you're lucky enough to have a vending machine with low-fat or fat-free microwave popcorn (and a microwave nearby!), this is a terrific choice.  Popcorn is a whole grain, and is high in fiber and protein.  Just watch the salt and fat…

Act II 94% Fat-Free Butter-Flavor Popcorn

1.4 ounce bag (unpopped)
130 cal, 0.5g sat fat, 2.5g total fat, 310mg sodium, 28g carbs, 5g fiber, 4g sugar
Fig Newtons.
They actually make these in "Fat-Free" and "100% Whole Grain" varieties now, but I doubt you'll find those trapped in the shiny spirals.  Nevertheless, they're still much better than a Three Musketeers.
Original Fig Newtons, 4 cookies


220 cal, no sat fat, 4g total fat, 240mg sodium, 44g carbs, 24g sugars, 2g fiber, 2g protein
Nature Valley Granola Bars.
These have an "aura" of health about them, even though they're pretty high in sugar and fat (and surprisingly low in fiber)…  Still, they're one of the better options behind the glass.
Nature Valley Crunchy Oats 'n Honey, 1 pouch (2 bars)


180 cal, 0.5g sat fat, 6g total fat, 160mg sodium, 29g carbs, 11g sugars, 2g fiber, 4g protein
Quaker Granola Bars
Best if you can find the low-fat or less-sugar varieties, but still, these ain't bad.
Quaker Chewy Granola Bar, Chocolate Chip


100 cal, 1.5g sat fat, 3g total fat, 75mg sodium, 18g carbs, 7g sugars, 1g fiber, 1g protein
Baked Lays.
Not a ton of nutritional value in these, but they are tasty — and have less fat than any of the regular chips.
Original Baked! Lays, 1 ounce bag


110 cal, no sat fat, 1.5g total fat, 150mg sodium, 23g carbs, 2g sugars, 2g fiber, 2g protein
Peanut Butter Sandwich Crackers.
These aren't as bad for you as you might expect, and they're better than the ones stuffed with orange cheese-like paste.
Lance's Peanut Butter on Wheat Sandwich Crackers


200 cal, 1.5g sat fat, 9g total fat, 250mg sodium, 21g carbs, 4g sugars, 1g fiber, 4g protein
—
Menu Mondays are my recommendations for the most healthful options at chain restaurants. Although it may be tough to find "perfect" options when eating out, it's important to choose "better" whenever possible, and I hope these guides will help make that easier for you.

indicates the "best-of-the-best," more or less.
Did I miss anything?  Let us know in the comments!
Photo by yeslan.