How To Make A Meal Plan
Oct 30, 2012, Updated Jun 13, 2016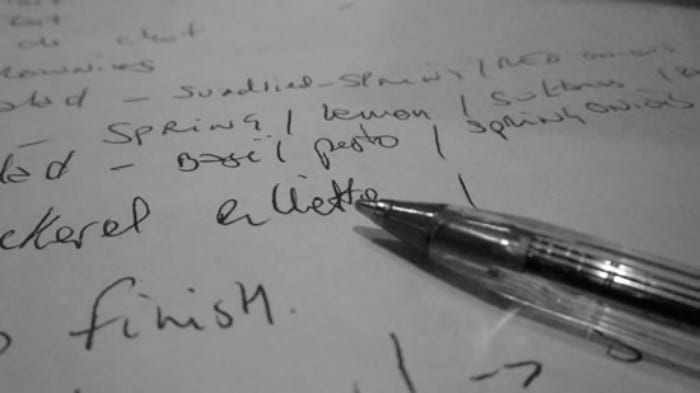 The number one key to success for health in the kitchen is planning.
Below I've outlined how The Fresh 20 meal plans are created.  You can use the same method at home to thrive using a whole foods diet that won't break the bank or make you a slave to the stove.
The first thing to consider is the ingredients
It helps to conserve by choosing the ingredients first and not plucking a group of unrelated recipes off the internet which might lead to a list of 80 items. To create a tight list of ingredients that will work together…
1. Choose three entree proteins: fish, dairy, beans, legumes, soy, lean meats.
2. Identify at least five seasonal vegetables. Make sure a few of them are quick cooking and easy to prepare.  Think about a method allowing for many vegetables to be prepared at one time like roasting (my favorite).
3. Be sure to include one salad or leafy green.
4. Include a few produce add-ons for the week: aromatic like onions, shallots or ginger, fresh herbs (parsley and thyme are most flexible)
5. Add in one or two grains or pastas: quinoa, brown rice, farro, whole wheat penne, bread, pita, tortilla
6. Any dairy? Greek yogurt, or butter?
7. Maybe a fruit or two?
8. Check the pantry. What can you use? Are you low on basics? What do you have on hand? Anything left in the fridge from last week? Use it!
Sketch out the week
Okay, you have a tight list of ingredients so now comes the menu puzzle. I like to use a blank sheet of paper to sketch out the week of recipe ideas.
1. Write down a column for each day of the week. Add a major protein to each day using one or two proteins more than once in a week.
2. Match proteins with vegetables and grains according to what sounds good to you. This can be based on your family flavor profile but feel free to experiment.
3. Now look up recipes based on a few keywords including one of your proteins and one of your vegetables. Look for recipes that for the most part, match up with your list.
4. Create a menu based on recipes found using your carefully constructed shopping list.
5. Compile a shopping list by adding the quantities from all chosen recipes. If you end up with odd amounts like 1-1/2 heads of lettuce, jot down an idea for making sure you use it up at other meals like breakfast or lunch.  Don't let anything go to waste.
6. Read through any chosen recipes to assess what can be made ahead of time.  Write out your prep list and tackle it at the beginning of the week.
7. Post the menu on the fridge to motivate you to stay on track and give your family something to look forward to during the week. Everyone likes a plan!
Helpful tips and tricks to planning
Consider using a theme. Many cuisines use a very identifiable list of ingredients. Think about a Greek food week or an Italian week.  This makes it possible to use up fresh herbs and vegetables that fit within the profile of the theme but still maintain variety without just heating up leftovers.
Cook only what you need for one particular meal. I know there is a lot of advice on make ahead meals and cooking once, eating forever.  In my experience this works for a few dishes but the majority of leftovers get wasted in a typical kitchen.  Conserve money and limit waste by cooking what you need and consuming a modest amount.  If there are only one or two mouths to feed, find recipes that will work with one organic chicken breast or 1/3 pound meat.  Bulk in planning is not always the answer.
There is a helpful online service called Eat Your Books that indexes your cookbooks so you can search them by ingredient without having to open up each individual cookbook and page through to find recipes. It is a major time saver when planning meals. (20% discount with code: Fresh20)
Look at your weekly schedule and mark down any activities or events that will interfere with meals. Choose portable recipes that you can use on the go. Plan snacks and pack a few at the beginning of the week to eliminate last-minute junk food grabs.
Be flexible, don't buy more than you can eat, and have fun!
—
"Finish" © 2010 by Nicola Jones, used under Creative Commons license.