How To Make Seitan from Whole Wheat Flour
Oct 31, 2011, Updated Jul 03, 2017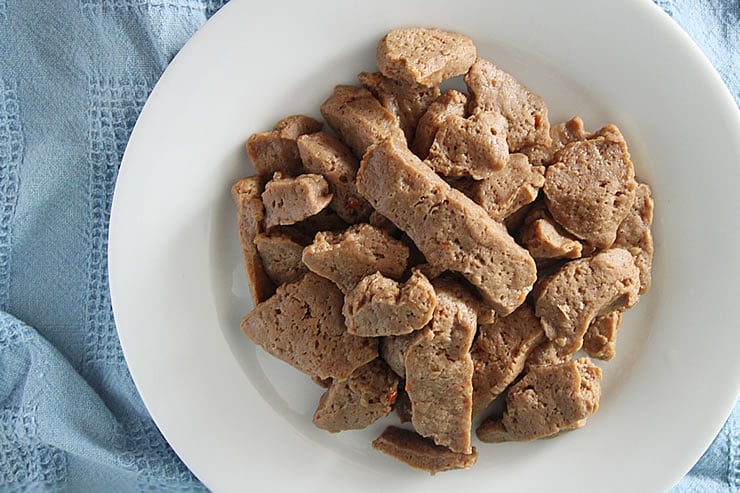 When I stopped eating meat about fifteen years ago I relied, like many new vegetarians, on processed meat substitutes: frozen soy burgers, fake "riblets," and "chik" nuggets in brightly colored packages. For many people these products ease the transition to a new way of eating, but using them can also become an additive-laden crutch. Over the years I've transformed my own diet and, I have abandoned the freezer section for the kitchen with delicious, simple, unprocessed results.
The meat substitute I make most often is a batch of spicy black bean burgers, so tasty my omnivorous husband requests them regularly. But he also enjoys (and has even made) seitan.
Seitan. Mock duck. Wheat meat. Whatever you call it, seitan originated in Asia where vegetarian Buddhists used it in place of meat for centuries. Its spread in popularity is credited to the macrobiotic food movement which began in Japan. The word is not actually Japanese, but based in it, which is why I pronounce it "say-TAHN," not "Satan."
What is seitan?
Seitan is simply wheat gluten, spiced and simmered. My previous method used store-bought vital wheat gluten as a shortcut, but Andrew learned that the process to make vital wheat gluten is not replicable at home. Undeterred and not without a little spite, I set out to make it from scratch: Flour and water, here I come! After reading mopey stories about how time-consuming the process was, I was pleasantly surprised that the actual hands-on time was little more than the "shortcut" method, and I enjoyed the end product more than previous batches.
Gluten is the protein found in wheat which, when mixed with water, forms into long stretchy strings that give bread its structure. When you develop those strands, rinse off the starch, and cook the gluten bits, you get seitan. The chewy texture is quite similar to meat — I've definitely had seitan-based dishes that I've had to double-check that they were actually meat-free.
How to make seitan at home from whole wheat flour
The process is simple, but does take some time. Make a large batch and freeze the extra.
Mix whole wheat flour and water into a stiff dough to develop the gluten. I used my stand mixer.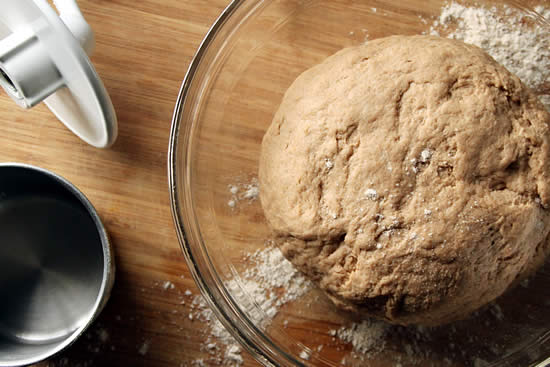 Cover with cold water and let soak for a few hours or overnight. This both allows the gluten to develop and the starch to "loosen up."
Knead the dough and rinse with cold water until the water runs clear. It takes about 10 minutes. I used a mesh sieve to help.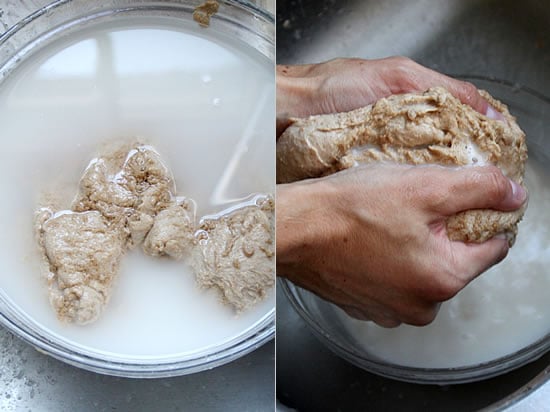 You'll be left with only the gluten, which is considerably smaller in volume than your starting mass of flour. This was a smaller batch than the recipe lists, and 12 ounces of flour yielded just over 5 ounces of seitan.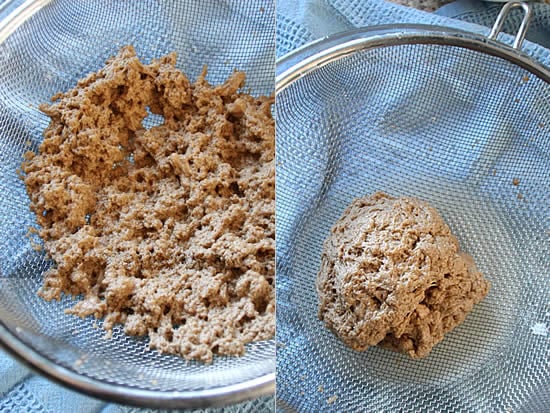 Those stringy strands are exactly what we want.
Form the gluten into a ball; squeeze out as much water and air as possible. The smaller you can shape the piece of gluten, the firmer texture your finished seitan will have. Cut the gluten into pieces using a bench scraper or sharp knife.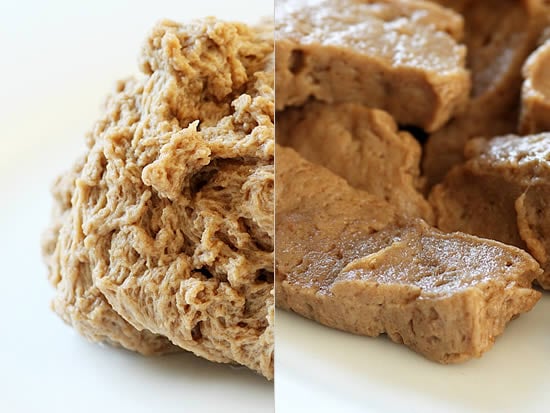 Bring a pot of broth to a boil and drop in the pieces of gluten. Simmer the gluten for about half an hour until the broth is almost gone.
I like to sauté my seitan before using it, or you can store it refrigerated, covered in the broth (add more water if needed) for about a week.
This is a very basic recipe, but you can add spices to the dough when mixing, or play with your broth ingredients to add flavor components at any stage.
My favorite ways to eat seitan are on BBQ mock duck pizza, curried mock duck banh mi, in stir fries and fajitas. Leave the packaged "strips" on the shelf and with just a little effort, make your own unprocessed seitan.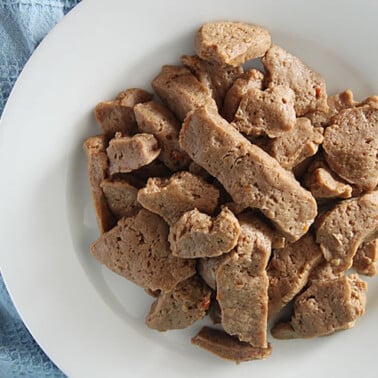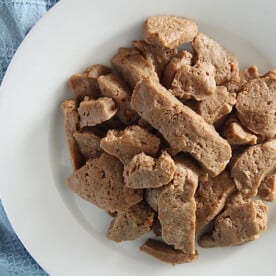 Homemade Seitan from Whole Wheat Flour
Vegan, the opposite of gluten-free. Yields approximately 10 ounces seitan, drained (4-6 servings).

This is a very basic recipe. Add spices to the flour before mixing, or change-up the broth for different flavors. You can use homemade or store-bought vegetable stock, or mix up the quick broth outlined below.
Ingredients
Dough
6

cups

whole wheat flour

,

24 ounces / 900 grams

2

cups

cold water
Broth
4

cups

water

1/4

cup

soy sauce

,

or Braggs liquid aminos

1/2

onion

,

chopped

1

tablespoon

miso paste

1

medium

tomato

,

cut in quarters

2

cloves

garlic
Instructions
Combine flour and water. Mix until a stiff-but-cohesive dough is formed. Use a dough hook and a stand mixer if possible.

Form dough into a ball, place in a bowl, and cover with cold water. Cover and let stand 4-8 hours.

Knead the dough and rinse until water runs clear, about 10 minutes. Squeeze dough and press out as much liquid and air as possible. Use a sharp knife or a bench scraper to cut the gluten into bite-sized pieces.

Combine ingredients for broth (or use your preferred vegetable stock) and bring to a boil. Drop gluten pieces into boiling broth and return to a boil. Reduce heat to a simmer. Cook, turning gluten pieces occasionally, until the broth is mostly absorbed and reduced, about 30 minutes. Discard onion and tomato pieces.

To use seitan right away, drain and sauté in a little oil. To store, cover with broth and keep refrigerated up to a week, or frozen. Thicken and reduce broth as a gravy if desired.
Nutrition
Calories:
250
kcal
,
Sodium:
985
mg
,
Potassium:
731
mg
,
Fiber:
19
g
,
Sugar:
2
g
,
Vitamin A:
80
IU
,
Vitamin C:
2.6
mg
,
Calcium:
77
mg
,
Iron:
6.9
mg
Like this recipe? Rate and comment below!