About once a month, the Food Bloggers Los Angeles group gets together for a potluck meal and some chit-chat about the business of blogging.  It's a pretty close-knit group (though we're always happy to have new members!), and one that I appreciate tremendously. Even if not all the bloggers in the room are health-focused, everyone is excited about cooking real food from scratch, which I think is the most important thing. Also, they really are damn good cooks.
Last weekend, our monthly meeting was affectionately titled Kale-a-palooza. We were asked to bring a kale-based dish for the potluck, and were then treated to a kale demonstration from the folks at San Miguel Produce. They farm 1,200 acres of land near Oxnard, CA – growing mostly dark leafy greens, like kale. They got us liquored up with Kale Margaritas, made us a massaged-kale salad, and then gave us bags of fresh kale to take home. As you can imagine, I was a happy boy.
Fun Kale Facts Sidebar #1: We learned that all of the potassium in kale is found in the stem – so don't toss those ribs!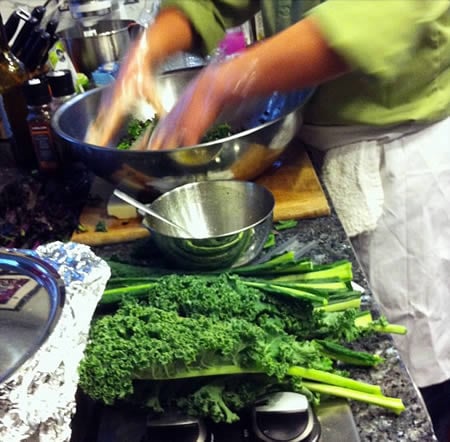 Fun Kale Facts Sidebar #2: Because of the recent spike in popularity of Kale (yay!), San Miguel has started growing much more of it, and much less of other crops.  I asked Jan Berk, their Vice President, how they deal with soil health and crop rotation. Her answer pleasantly surprised me: They swap land with other farmers. Gotta love such a simple, cooperative solution!
For my part in the potluck, I brought a bowl of  kale and garlic hummus. Nothing too fancy, but hey, that's my style.  I made it the same morning, though ideally I wish I had made it the night before; it's better once it has a chance to sit overnight in the fridge.  The flavors become better friends with a little bit of time… perfect on our "mini" whole wheat bagels the next morning for breakfast.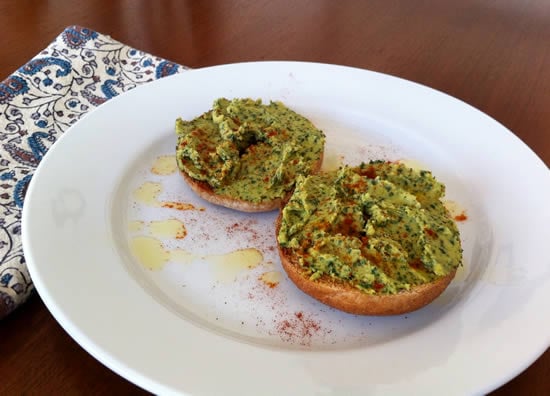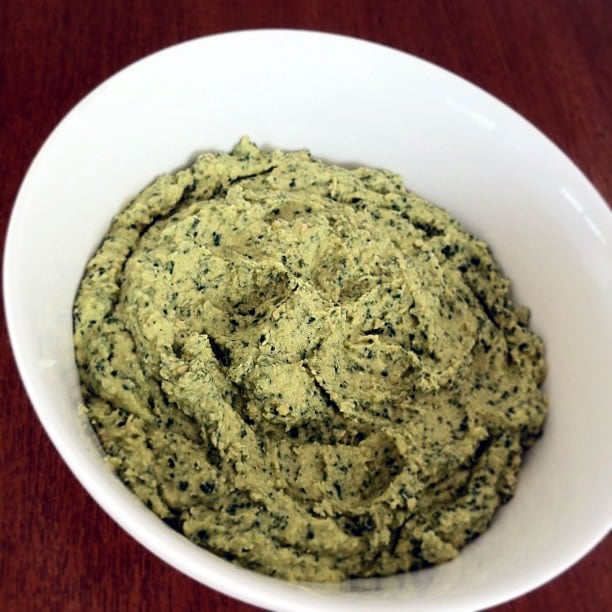 Kale and Garlic Hummus
I'm pretty loose with the ingredient quantities below, because I like making my hummus "to taste" depending on my mood, the weather, and whatever music happens to be playing at the moment. Since it's easy to add more of the secondary ingredients (like lemon juice or olive oil), start with a smaller amount of those and add more until you like how it tastes. Remember, it's easy to add, but really, really hard to subtract!
Ingredients
2-3

cups

fresh kale

1

can garbanzo beans

chickpeas, drained and rinsed or 1 1/2 cups cooked beans

1/4

cup

tahini

sesame seed paste

1/4

cup

extra virgin olive oil

plus a little for drizzling

2-4

cloves

fresh garlic

coarsely chopped (or use roasted garlic for a deeper, but less spicy, flavor)

2-3

tablespoons

lemon juice

1-2

tablespoons

water

optional

salt & pepper to taste

plain or smoked ground paprika

for sprinkling (optional)
Instructions
Chop the kale into large pieces, and steam them in a double-boiler or steam basket until soft, about 2-3 minutes. Remove from heat and allow to cool.

In a food processor with a multipurpose "S" blade, add the beans and kale first, then the remaining ingredients except the optional water (add that later if you want the hummus to be a bit creamier). For the tahini, olive oil, garlic, and lemon juice, be sure to start with the lower amount and add more later.

Process the ingredients for about 20-30 seconds, until the mixture starts becoming smooth. Scrape any beans stuck to the side, so it will mix evenly.

Taste and add more of any of the ingredients to your liking. Process until you reach the desired consistency.

Before serving, drizzle a little olive oil on top, then sprinkle with some paprika. Enjoy your kale and garlic hummus with whole wheat pita, on your crackers or bagel, or with veggie sticks!
Recipe Notes
1. I made this in our food processor, but it'll also work with a regular blender or an immersion blender - it just won't come out quite as smooth.
2. Because I was in a hurry, I used canned beans, drained and well-rinsed – of course you could use dried beans and prepare them the night before. In a pinch, you could also adapt this to use garbanzo bean flour.