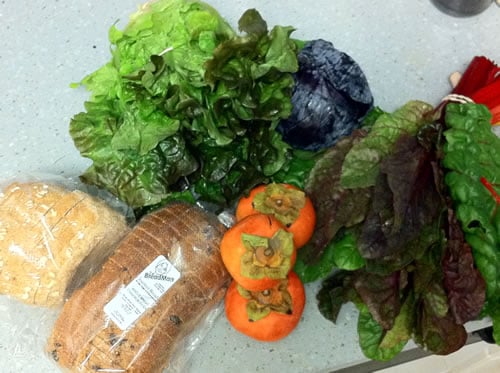 I have something embarrassing to admit. Although I'm a huge fan of farmers' markets — and have promoted them quite a bit on this here blog — until today I had never actually been to my local farmers' market.
There, I said it.
Sure, I've been to farmers' markets before.  But after living in the same spot for eight years, I only just recently found out about the nearby Westchester Farmers' Market — and it wasn't until today that I actually went.
For the past year and a half, I have been using an organic delivery service, which brings a customizable box of organic fruits and veggies to my door every other week. With that kind of convenience, and with us barely able to get through all that food before it went bad in our fridge, I couldn't really justify buying more produce at the market.
The delivery service isn't horribly expensive — $28.50 for a fairly sizable box — but I always had a gut feeling I could do better at the farmers' market.
Recently I put the delivery service on hold for our vacation, and I kept it on hold this week.  The timing finally worked out: "Today, I will go to the market!" (said the voice inside my head…)
In a total rookie move, though, I forgot to get some extra cash (and I had even stopped at the bank just before! Doh!).  As I got out of my car, realizing I only had $11 in my wallet, I figured I was only going to get a small sampling at best.
It's a fairly small market, as these things go — maybe about 20 vendors or so.  About half were selling fruits and vegetables; the rest were offering items such as hot foods, flowers, potted plants, crafts, and jewelry. From three different vendors, I purchased:
One head of Red Leaf Lettuce: $1
One small Dark Red Cabbage: $1.50
One bunch of Rainbow Chard: $1
Three Fuyu Persimmons: $1.50
One loaf of Whole Wheat Cinnamon Raisin Bread and a Half Loaf of Whole Wheat Bread: $7
You might have noticed that this totals $12, not $11. I had purchased the produce first, and then walked over to "The Breadman."  Although the loaf and a half totaled $7, the jovial baker saw that I only had six bucks left in my wallet, and he said that was fine — I could bring him an extra buck next time I came to the market.
Could you imagine something like that happening at Vons, Ralphs, or Whole Foods? Me neither.
The produce is fresh and crisp, and the bread is divine.  The ingredients in the Cinnamon Raisin Bread are simply: Whole Wheat Flour, Raisins, Honey, Cinnamon, Yeast, Sea Salt. (I'm guessing he also uses some water).  But that's it!  It's moist, dense, chewy and I'm having trouble not eating the whole loaf. You can't get that at a large chain grocery store, that's for sure!
There was also something incredibly satisfying about picking up some produce from the table and then simply handing over a couple of dollars in cash. It was a personal transaction. No cash registers, no barcode scanners, no credit cards. Reminiscent of a bygone era, it felt incredibly… satisfying.
I'm hooked. It's time to cancel the delivery service and head out to my farmers' market every Wednesday instead. I'll be sure to bring an extra dollar with me next time, too.
—
Want to find your local farmers' market?  Check out the USDA's search tool or Local Harvest.
Don't miss your chance to win Perfect Portions Nutrition Scale in this week's giveaway!