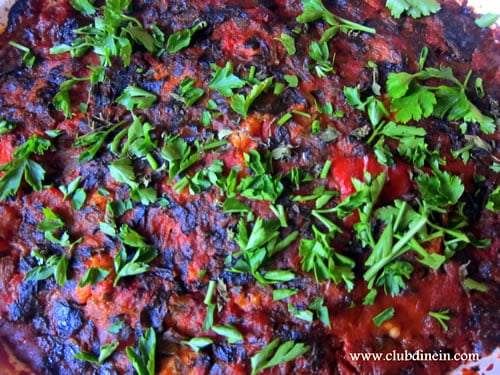 January Rules has made me reconsider a lot of my food choices pertaining to Rule #1: When you eat grains, eat only 100% whole grains.

I realized that I depend heavily on refined flours to keep me "satiated," especially on Mondays and Tuesdays when I follow a vegetarian diet. My day used to start with processed food: Cold cereal, five days a week! Even though I always knew that refined flours were bad for my health, I just didn't realize how much I consumed them and how much they were robbing me of real nutrients.

Refined flours are filler foods that have taken the place of foods that actually nourish and satisfy you completely. For instance, sugary desserts like Twinkies have taken the place of whole fruits like peaches. Coincidentally, most foods that are made with refined flours also contain high amounts of fats and sugar or salt. (High amounts of fats, salt, and sugar are unnatural in most whole foods). Thus, refined flours have a strong negative effect in our overall well-being, causing a series of preventable ailments.  Naturally, when you cut out processed food and replace them with whole foods, you start feeling the benefits of a more nutritious diet.  Increased energy, endurance, and weight loss are just some of the positive changes you will experience.

Though, old habits can creep back in and people/situations may tempt you to stray from your new eating ways. I quickly realized that the only way not to "relapse" and go back to my old eating habits, was to create new ones that actually satisfied me. So here is my rule to support Rule #1 of Andrew's three basic rules: When cutting out processed, refined flours, you need to replace those foods with real, whole foods. If you have avoided potatoes, thinking they are bad carbs, reintroduce them back into your meal plan. Potatoes and other natural starches are actually really good for you. Instead of having unwhole grain toast try roasted potatoes. Or instead of pasta, try quinoa or soba noodles.

I love experimenting with traditional recipes and finding wholesome substitutes for the regular pasta or bread.  I am also super-busy and prefer to make meals that will stretch out for several days. Pasta dishes are my favorite but I have replaced the refined stuff for beans, starches, and other whole grains. It really works; you just have to be open-minded. I really like making lasagna, because you can make a large amount at once so we will have food for several nights. I choose to substitute the lasagna sheets (which are made from refined flour) for slices of potatoes. Potatoes have fiber, vitamin C, vitamin B6, potassium and manganese. Also, a recent study found that potatoes have a particular starch that aids in satiation and possibly weight-loss. (Andrew's Note: The study was funded by the United States Potato Board, which of course doesn't invalidate the study, but it does mean that some skepticism may be in order).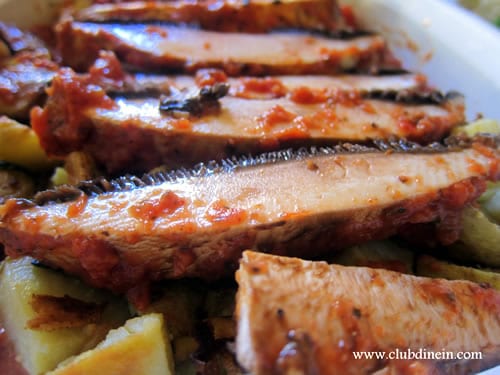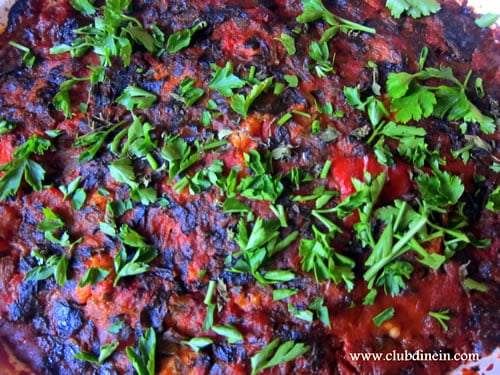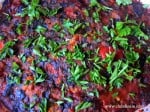 No Pasta Winter Lasagna
The order of the layering the vegetables does not really matter, as long as the potato slices are on the bottom. (So the layer doesn't fall apart before you can plate it). The vegetables in the dish are based on what I found at the farmer's market. You can switch out the cauliflower for broccoli and spinach for chard. The chard will require a slightly longer cooking time on the pan. Also, feel free to use whatever herbs you can find. You can use button or crimini mushrooms instead of the portobello. It's really a free-for-all kind of dish. Instead of having a slice of garlic bread with the lasagna, serve it with a side of quinoa. Quinoa is a super whole grain, containing complex carbohydrates and protein.
Ingredients
2

cups

plain marinara or pasta sauce

butter

for greasing

1

tablespoon

olive oil

4

cloves

garlic

finely sliced

1

teaspoon

red chili flakes

2

bunches spinach with stems

washed well and still damp

1

large

russet potato

scrubbed and cut into thick slices

1

portobello mushroom

cut into ¼ inch thick slices

1/4

cup

dried basil and/or oregano

1/2

teaspoon

freshly ground black pepper

¼ - ½

cup

Cauliflower

cut into small pieces

1

cup

fresh Ricotta

optional

1/4

cup

grated Parmesan or Pecorino cheese

optional

2

Tbs.

Olive Oil

for drizzling
Instructions
Preheat the oven to 375 degrees F. Butter a 9" x 9" glass baking dish.

Warm 1 tablespoon olive oil in a medium pan, over medium heat. Add garlic and hot pepper flakes, and sauté until the garlic turns golden brown. Turn up the heat to medium-high and add spinach. Sauté the spinach until all of the water has evaporated, about 5 minutes.

Meanwhile, spoon ½ cup of the marinara sauce over the bottom of the prepared baking dish. Arrange the potato slices on top of the marinara. Next, arrange the portobello slices over the potatoes. Spoon more marinara and sprinkle 1 tablespoon of herbs over the mushroom. Spread out the sautéed spinach and cauliflower over the marinara and herbs. Next, spread the ricotta with the remaining marinara over the layers of vegetables. Sprinkle with parmesan, black pepper, and remaining herbs. Drizzle two tablespoons of olive oil.

Bake for 40 minutes. Serve warm over a bed of cooked quinoa.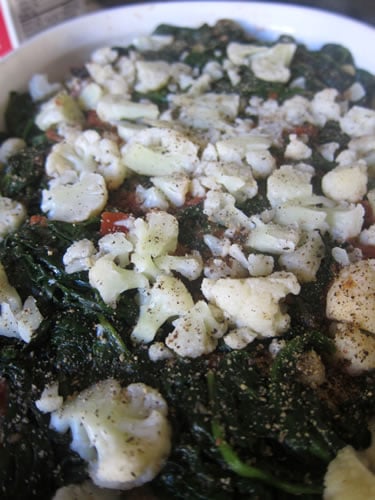 About the Author
Nimisha Ambati is the founder of Club Dine In, a website that brings people and healthy food together.  She is a Nutrition Consultant, a certified Ayurvedic practitioner, and an entrepreneur.  You can find Nimisha on Facebook, Instagram, and Twitter.