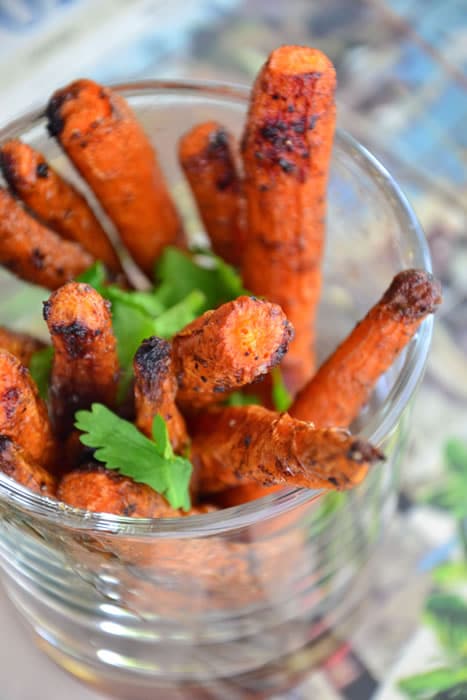 Hi! I'm so excited to be a part of Andrew's October Unprocessed because eating unprocessed food and learning how to eat clean has led me down the road to heal myself from a decade of chronic illness. Andrew's mission is amazing and he's inspired so many people to jump on the clean eating bandwagon. Today I'm sharing a delicious (and super-easy) recipe that you'll want to make again and again — even after this October challenge is over!
To me, clean eating is about enjoying whole, fresh, anti-inflammatory foods that are sold without a list of unpronounceable ingredients. What's in a carrot? A carrot. Exactly my point. One-ingredient foods don't come in a box with preservatives.
When I had to cut out gluten, dairy, soy, refined sugar and many other foods that were causing inflammation in my body, I had to train my taste buds to enjoy whole foods and learn to savor the natural sweetness in fresh fruits and veggies. Roasting root veggies, like carrots, at a high temperature is a wonderful way to bring out their sweetness — and can be a perfect addition to both meals and snacks.
This tasty recipe takes less than five minutes of active time to prepare, and can be made anytime of the year. However I love making these carrots in Autumn because they are festive and perfect for when the weather starts to get a little bit cooler. Simply toss carrots with melted coconut oil, cumin, sea salt, and freshly ground pepper and roast in the oven. Then, before serving, add fresh cilantro for a boost of vibrant color and flavor.
Serve as a fun party appetizer or afternoon snack with your favorite hummus, salsa, or guacamole. You can also use these roasted carrots as a topping for your afternoon kale salad, or chop them up and add them to your evening tacos. I also keep leftovers in my fridge for anytime I need a quick snack instead of reaching for something processed.
I know you'll love every bite. Enjoy!

Clean Eating Roasted Cumin Carrot Sticks
Roasting root veggies, like carrots, at a high temperature is a wonderful way to bring out their sweetness — and can be a perfect addition to both meals and snacks.
Ingredients
14

large

carrots

halved lengthwise and ends removed

2

tablespoons

organic coconut oil

melted

ground cumin

large pinch

Sea salt and freshly ground pepper

to taste

2

tablespoons

finely chopped fresh cilantro

for garnish
Instructions
Preheat oven to 400 degrees F. Prepare a rimmed baking sheet with parchment paper.

In a large bowl, toss carrots with coconut oil, ground cumin, sea salt and pepper. Coat carrots with mixture then transfer to a single layer on the prepared baking sheet.

Bake for 25-30 minutes, or until golden-brown and crispy.

Remove from the oven; set aside on the counter to cool for 5 minutes before serving.

Garnish with fresh cilantro and serve warm.
About the Author
Amie Valpone, HHC, AADP healed herself from a decade of chronic pain, including Lyme Disease, Hypothyroidism, and more. Amie now cooks for a variety of clients including celebrities, using organic, anti-inflammatory foods to create recipes and meal plans. She shares her story of how Clean Eating and Detox saved her life, and inspires you to clean up your food too, on her site, The Healthy Apple.
Amie is the author of The 3-Month Anti-Inflammatory Meal Plan, and the best-selling cookbook, Eating Clean: Detox, Fight Inflammation, Reset Your Body & Get to the Root Cause of Illness. You can also find her on Facebook, Twitter, Instagram, and Pinterest.