Three Bean Sweet Potato Chili & Meal Planning on a Budget
Oct 02, 2013, Updated Sep 07, 2017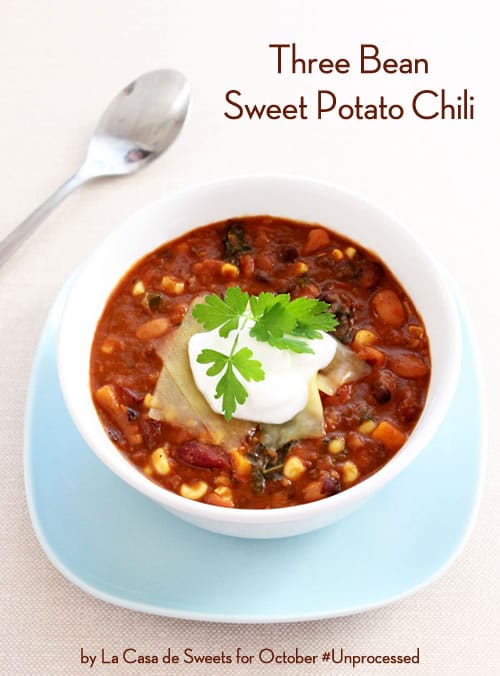 Eating healthy, organic unprocessed foods is the very best way of eating, and in our family, it's the way we've lived for the past few years.  But, let's face it: an unprocessed lifestyle isn't cheap.  Sometimes heading to the farmers market puts a pretty big dent in your weekly food budget, and you start to wonder whether you're making the right decision when it comes to the foods you're eating.  Trust me, I know from experience.
Living in a single-income household with our two little girls doesn't leave much financial wiggle room, especially when it comes to our food budget.  Add on medical bills and life's little emergencies, and sometimes my husband and I don't even know how we're going to buy food at all.  But we decided years ago, no matter the budget, we're going to eat as healthy and unprocessed as we can.
Being responsible for planning all of the family's healthy meals within our budget is a pretty daunting task.  But, I've discovered a great way to plan ahead and save money, while eating as many healthy, unprocessed foods as possible.  The secret?  Menu planning!
Menu planning not only saves you time and money, it helps reduce the stress of coming home from work and not having a clue what you're going to make for dinner in under 30 minutes.  Here are a few tips for menu planning on a budget:
1.  Use the same ingredients throughout the week.  Try to plan recipes for the week that will use the same ingredients.  For example, one week I may make 3-Bean Sweet Potato Chili (see recipe below), Lentils with Sweet Potato, and serve Sweet Potato Biscuits with soup.  Three meals, all using sweet potato.  They'll all taste different, look different, but you've based a few meals of the week on one simple ingredient.
2.  Buy staple products in bulk.  If you buy grains, beans and pasta in bulk ahead of time, you'll always have a recipe starter in your pantry.  Buying in bulk is oftentimes less expensive, saves constant trips to the store, and allows you more time and money to spend on choosing the best produce possible.
3.  Use cookbooks and blogs to find healthy recipes.  Don't try to plan out every single meal by yourself.  Get inspiration from cookbooks, blogs and magazines.  Can't afford cookbooks?  I borrow them from the library to save money.  Whichever your source of inspiration, adapt the recipe to make it as unprocessed as possible, and give it a try.
4.  Plant a garden.  Yes, this is a long-term version of menu planning, but believe me it helps a lot!  Keep a record of the foods your family eats the most, and then grow them on your own!  Not only will you save money, you'll have fun growing your own fruits and vegetables.
5.  Have fun in the kitchen!  Menu planning and cooking healthy, unprocessed foods should be fun, relaxed and involve the whole family.  A lot of times, we focus so much on what we can't eat, we miss out on all the healthy natural foods we can eat.  Ask your family what they'd like to eat, head over to the store or farmers market to pick up some fresh (hopefully local) produce, and make a meal together.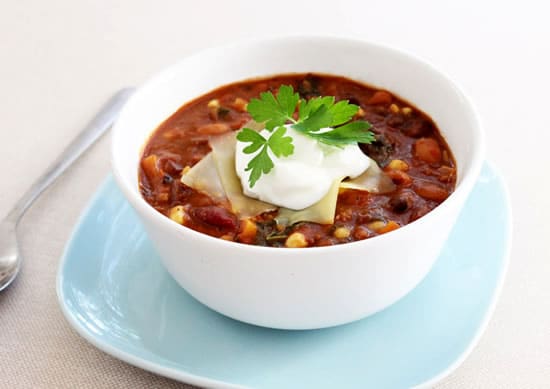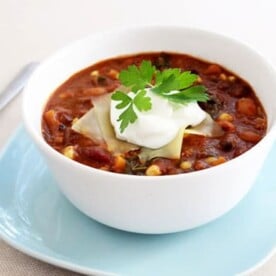 Three Bean Sweet Potato Chili
Here's one of our family's favorite unprocessed recipes. I like to make it at the end of the week, when we have corn, kale, tomatoes and beans leftover from other meals we've enjoyed during the week!
Ingredients
1

tablespoon

olive oil

1

tablespoon

crushed garlic

1

small

green pepper

,

diced

1

large

sweet potato

,

diced

1

cup

chopped kale

4

cups

cooked black beans

4

cups

cooked pinto beans

1

cup

cooked kidney beans

2

cups

corn kernels

1

tablespoon

salt

1

tablespoon

black pepper

½

teaspoon

ground cumin

,

optional

½

teaspoon

smoked paprika

,

optional

2

tablespoons

tomato paste

,

or homemade ketchup

3

cups

crushed tomatoes
Instructions
In a large pot over medium heat, combine the olive oil, garlic, green pepper, sweet potato, kale, beans, and corn. Cook, stirring occasionally, for 10 minutes.

Add the seasonings, tomato paste and crushed tomatoes, and stir to combine.

Cover, and simmer over medium-low heat, stirring occasionally, until the vegetables are tender, about 35-40 minutes. (Add water if necessary during the cooking process to avoid burning the chili.)

Once the vegetables are tender, remove from the heat, and serve warm. Garnish with Greek yogurt, parsley and cheese, and enjoy!
Notes
Not sure how to cook beans? Try this tutorial. You can also used canned beans, as long as all the ingredients pass the kitchen test (so double-check the label!).
Nutrition
Calories:
472
kcal
,
Carbohydrates:
86
g
,
Protein:
27
g
,
Fat:
5
g
,
Sodium:
1474
mg
,
Potassium:
1596
mg
,
Fiber:
26
g
,
Sugar:
8
g
,
Vitamin A:
1635
IU
,
Vitamin C:
38.2
mg
,
Calcium:
161
mg
,
Iron:
8.1
mg
Like this recipe? Rate and comment below!
Want more tips on eating #Unprocessed on a budget? Check out these guest posts from previous challenges: