When I changed my diet to organic, unprocessed food years ago, I discovered it's more economical to buy ingredients from many different sources. Today I'm sharing with you the most helpful tips I know of to ensure a successful month of unprocessed eating without breaking the bank.
First Things First
Stop buying so many packaged foods and start buying whole unprocessed foods instead. Packaging costs money. Why pay for cardboard and plastic when you could use that money to buy food? Most American pantries and refrigerators overflow with pre-made packaged foods. Even if the packaged food is organic, you're still paying more than if you made it yourself. Take salad dressing for an example. Honestly, we don't need to buy bottles and bottles of salad dressing. Most bottled dressing at the store contains preservatives, stabilizers, emulsifiers, and oils that don't nourish. Homemade salad dressing takes minutes to prepare and will keep in the fridge for a week or two. It costs less, and you get the added bonus of knowing all the ingredients.
Grocery Items and Buying in Bulk
One of my favorite resources is Azure Standard. Their site is a virtual "Whole Foods" at incredible prices. You can find anything from grain to meat to sunscreen. I buy a lot of my bulk grain, sweeteners, butter, spices, oils, and other items there. Azure has drop-off locations throughout the US. You place your order online (they also have a catalog) and once a month meet at a specific spot. A large truck pulls up and the driver hands you your goods. If you don't have a drop-off point near you, try finding a few friends who also want to order and split the shipping.Thirty dollars for shipping isn't much when you split it among five friends. If you want to save even more, buy some of their food in bulk and divide the order with others. Recently, a friend and I ordered 25 pounds of organic brown rice ($32) and split it. That's enough brown rice for at least six months in our family. I also enjoy buying their organic spices, pouring what I need in glass jars, and freezing the rest. $11 for a pound of cumin versus $4 for a small jar at the grocery store means more money in my pocket.
Dry Ingredients
I also save a significant amount of money by ordering ingredients through Amazon.com. They have a program called "Subscribe and Save" that enables me to buy products at a discount and get free shipping. I buy my maple syrup, whole grain flours, Celtic sea salt, and other foods this way. Mike, our UPS guy, regularly delivers good ingredients to my door, at a budget-friendly price.
Meats
Organic, pastured meats generally cost more. Having said that, we don't have to pay the incredible prices at the major grocery stores. I like to buy my meat in bulk straight from the farm because then I know exactly where my meat is coming from and I save a lot of money. You may think you won't be able to find the right kind of farm near you, but it's easier than you think. We are a military family so we move every couple of years and each time our family has moved, I've wondered where I'll get my meat and I've always found a reputable farm to purchase from. It might be a few hours away, but I find a friend or two who wants to order, we ride together, and make a day of it. I store my large order of meat in an extra freezer. I use the site Eat Wild to find local organic farms. For a few more of my favorite tips you can read one of my recent posts, 15 Tips for Going Organic on a Budget. Today's recipe uses only six ingredients and provides a quick way to get a meal on the table. Brown rice pasta, swiss chard, red onion, bacon, cream and salt. It utilizes several of my pantry staples so I only needed to buy a few ingredients to make a quick, delicious, and nourishing meal for my family.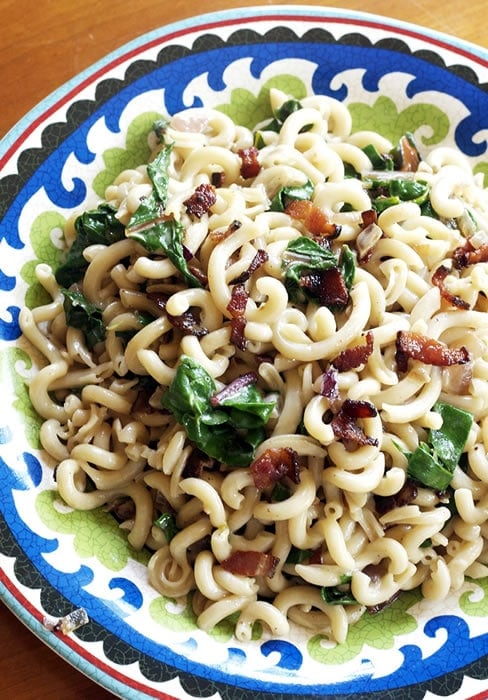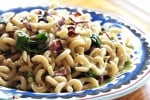 Fusilli with Chard, Bacon and Red Onions
You can use other types of pasta in this dish such as spaghetti, macaroni, farfalle, etc. Estimated total is $8.49 -- just $1.42 a serving.
Ingredients
16

ounces

Fusilli Pasta

brown rice or whole wheat

8

pieces

Bacon

cut into small pieces (nitrate-free, pastured preferred)

1

large

Purple Onion

diced

1

bunch

Swiss Chard

washed, chopped

1/2

cup

Heavy Cream

1

tsp.

Sea Salt
Instructions
Bring a large pot of water to boil. Cook pasta according to package directions. Drain. Set aside.

Meanwhile, cook bacon in a large skillet over medium heat until crispy. Using a slotted spoon, remove bacon from skillet and place it in a bowl.

Add the onion to the skillet and cook until caramelized, about 8 minutes.

Add chard and stir until limp.

Add pasta, cream, salt, and cooked bacon. Toss and adjust salt to taste. Serve immediately.
About the Author