Making Unprocessed Accessible & Locally Grown Through Urban Farming
Oct 22, 2012, Updated Sep 20, 2018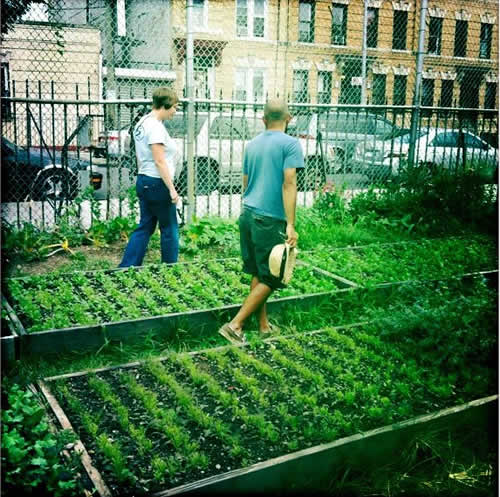 This October marks the first time I'll be participating in the October Unprocessed Challenge. I'm excited about cooking more, and with that to explore new flavors, and upping my skills in the kitchen.
I'm also really looking forward to expanding the way I use the fresh produce I get each week from my CSA and local farmers market.
But I know that not everyone in my city has convenient access to fresh food like this, or cannot afford to eat this way on a regular basis. Neighborhoods across the country are considered food deserts, places with inequitable access to fresh food.
In fact, according to The Food Empowerment Project, in New York City, where I live, "an estimated 750,000 New York City residents live in food deserts, while about three million people live in places where stores that sell fresh produce are few or far away."
And that does not even take into account local food access at all.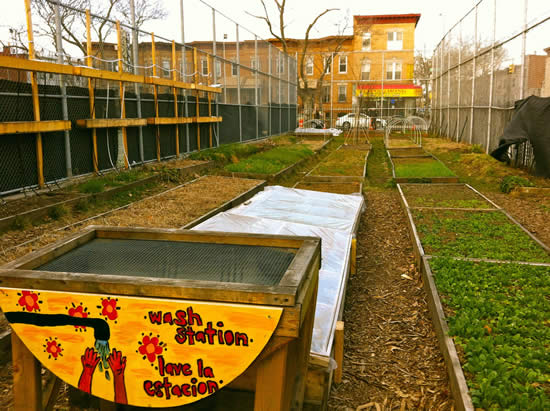 These facts are just some of the things that drew me to the urban farming movement. I first became fascinated by the idea of green roofs, because of the philosophy of replacing the ground on which we've built upon in the city. Combining that notion with being able to produce food for the residents below, and I was hooked. Also, it just never made sense to me that in the city "that never sleeps," that we didn't have the ability to feed our residents with food grown in our local region.
So, two years ago, after attending various workshops, lectures, and meetups, I was accepted into the pilot year of FarmSchool NYC – a program of Just Food, whose mission is to train NYC residents in urban agriculture, in order to build self-reliant communities and inspire positive local action around food access and social, economic, and racial justice issues. In short, we learn to grow across the five boroughs, teach and inspire others to demand fresh food for all New Yorkers.
In our program, we study across community gardens, on rooftops, and within school grounds across the city, and are taught by grassroots leaders (urban farmers, gardeners, and food justice advocates) who know NYC's unique communities and food issues best.
In our classes, we focus about half of our time learning farming and gardening skills, and the other half on community organizing, food justice, and community food arts.
FarmSchool students currently work in all five boroughs of New York City on projects that range from using hydroponics to grow locally inside or on rooftops, to working with incarcerated communities to grow food for the institution and teach meaningful skills. Other students work with faith-based immigrant groups to increase food sovereignty for those communities.
The thing I love about farming in the city is the connection to the communities we work in, and being able to feed our neighbors the freshest and healthiest of foods.
Right now, as an apprentice at Bushwick Campus Farm (part of EcoStation:NY) in Brooklyn, we grow fresh produce in a street-facing lot on school grounds and in our greenhouse, plus hold farmers markets across Bushwick for local residents, as an alternative/supplement to grocery stores in the area.  People also really connect with being able to see the crops in the field behind our farm stand and speaking with us about what is growing.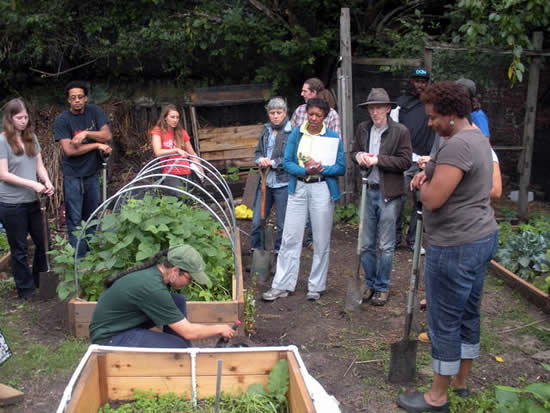 Below are some resources if you'd like to learn more about urban agriculture and local food production:
To explore urban farming efforts across the country, check out the latest news at City Farmer
To find CSA programs and farmers markets in your area, Local Harvest lets you search by zip code
I would encourage you, as you go through October Unprocessed, to take a little time to go beyond thinking about fresh foods, and learn about what's growing locally in your area, and who's growing it for you.
Have you made any local connections around food in your community? Tell us about it and where you live so others might be able to find new resources where they are.