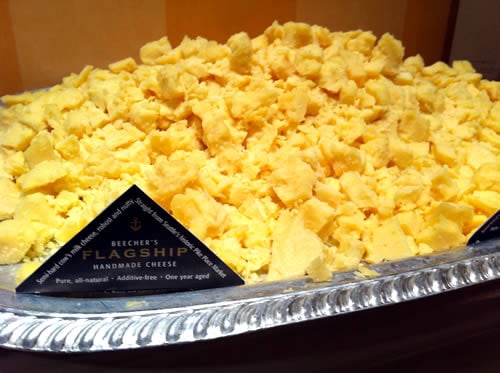 The first evening at the International Food Blogger Conference was a blast.  I'm making so many cool new friends, Morgan Spurlock was brilliant, the food (and swag! oh, the swag!) are fantastic, and the energy is, well, electric.  I could barely sleep.
Towards the end of last night's UrbanSpoon party, I met Lael Hazan of The Educated Palate (@educatedpalate) and contributing editor at Saveur.com. She asked what I write about, and I said "I'm a healthy foodie."  (Everyone here is a foodie, of course, so I'm trying on a new epithet.)
She replied with an interesting question: "What is healthy food?"
I said something completely uninteresting like, "lower fat, lower sodium" blah blah.  Bad answer.  She looked really disappointed.
Next time she asks, I'm going to say: "Eating in a way that's right for you; that's right for your physical, mental, and emotional well-being."
For the moment, at least, that's my best answer.
—
Pictured above: A huge pile of Beecher's Flagship Cheddar, made just down the road at Pike Place Market.  Critical for emotional well-being.
Pictured below: I chatted with Morgan Spurlock for awhile about a project I'm working on (re: healthy food & Boy Scouts — more on this soon!).  His coolness rating goes to eleven.
Follow my IFBC fun on Twitter:  @eatingrules