Whole Wheat Stuffed Mushrooms
May 10, 2013, Updated Jun 21, 2017
Still looking for a good recipe for Mother's Day brunch?  I have just the thing for you!
These whole wheat stuffed mushrooms are super-easy with a high "bang for your buck" quotient, which as you probably already know is my favorite kind of recipe. Even better, you can prepare them the night before, so you can sleep a bit later and then take them straight from the fridge to the oven about 30 minutes before your guests arrive.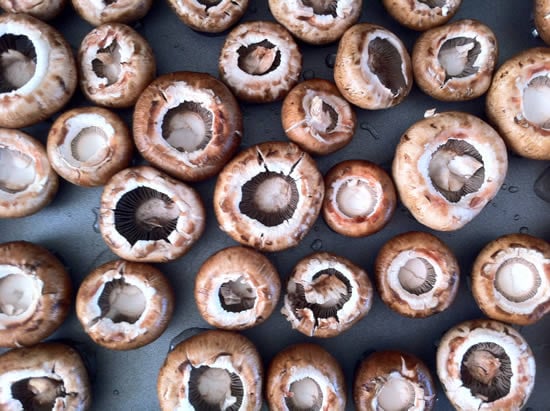 They're also quite adaptable – you can easily adjust them for the ingredients you have on hand, or to accommodate any food allergies you or your guests may have. The key is to make sure the filling is a bit moist – if it starts out dry, it'll end up dry.  That doesn't mean goopy, mind you, just moist enough for the filling to stick together when adding the stuffing to the caps.
Want them gluten-free? Simply use two slices of your favorite gluten-free sandwich bread instead. Need it dairy-free? Omit the cheeses and egg, and try a flax replacement: Mix one tablespoon of flax meal with three tablespoons of water and wait for it to become gelatinous. Add to the rest of the stuffing. (Okay, so I haven't actually tried this, but I expect it would work. If you try it, please let us know how it goes!)
Want to get some more veggies in there? Try adding 1/4 cup of finely chopped, cooked spinach and/or artichoke hearts and/or shredded carrots and/or shaved asparagus (you get the idea…). Mixing in some chopped walnuts or pine nuts would be a nice touch, too.
So happy Mother's day everyone. Have a wonderful brunch!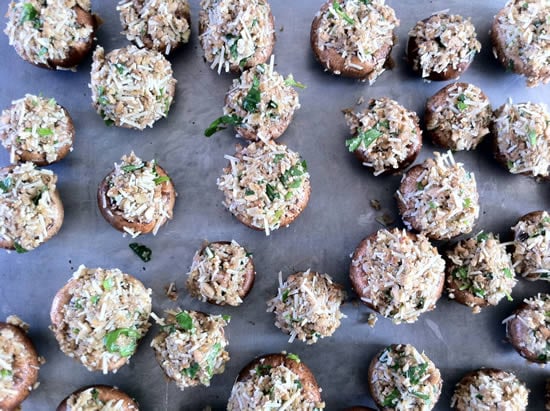 Whole Wheat Stuffed Mushrooms
To create the filling, most of the steps can be done one-at-a-time in a food processor. I find it works best to chop each ingredient on its own (no need to wash the processor in between), and then combine everything into a large bowl and mix by hand. A blender will work too, or in a pinch you can always use a knife and lots of chopping. I prefer to use the
mini-chopper attachment that came with our immersion blender
(affiliate link), which is much easier to clean than our big food processor.
Ingredients
1

pound

white or crimini mushrooms

4-10

cloves of garlic, peeled

,

more or less depending on your garlic proclivities

2

slices

whole wheat sandwich bread

,

stale or ends are fine

1/2

cup

shredded parmesan, romano, or similar cheese

1-2

ounces

gorgonzola, blue cheese, or similar

,

optional

1

egg

1/4

teaspoon

salt

1/2

teaspoon

ground pepper

1/2

cup

coarsely chopped fresh parsley

Olive oil or butter for greasing the baking sheet
Instructions
Wash and dry the mushrooms. Carefully remove the stems using a pinch-and-twist motion. Collect the stems and set the mushroom caps aside.


In a food processor, finely chop the mushroom stems and add to a large bowl. Next add the garlic to the processor and chop fine. Scrape the garlic into the bowl. Then add the bread slices to the processor, and chop until you have soft breadcrumbs. Add to the large bowl.


Add the cheese, egg, salt, pepper, and parsley to the bowl and stir until everything is combined. The mixture should be moist and just a little sticky. If not, you may want to add a tablespoon or two of water, just to help keep it together as you stuff the mushrooms.

Next, stuff each mushroom cap with the filling; you'll want to pack it fairly tight so that it will stick.


At this point you can place the mushrooms in an airtight container overnight, or just take them right to the oven.


Bake on a lightly greased baking sheet at 350F for 25-30 minutes, until the mushrooms have softened and the filling is nicely browned. Cool for just a couple of minutes and serve warm.

Nutrition
Calories:
80
kcal
,
Carbohydrates:
4
g
,
Protein:
5
g
,
Fat:
3
g
,
Saturated Fat:
1
g
,
Cholesterol:
22
mg
,
Sodium:
206
mg
,
Potassium:
199
mg
,
Sugar:
1
g
,
Vitamin A:
340
IU
,
Vitamin C:
5.3
mg
,
Calcium:
87
mg
,
Iron:
0.7
mg
Like this recipe? Rate and comment below!