So often in comments on my blog or in conversation with friends, people say they are in a rut with their cooking, especially for everyday dinners. Today I offer you a helping hand to pull you out of that rut: spices that have existed for thousands of years yet you may never have tried. Each has a unique flavor to excite your palate and entice your family to come to the dinner table.
Za'atar. Sumac. Nigella seeds. Never heard of them? Stick with me for just a few short paragraphs and you'll be cooking extra flavorful unprocessed meals with these ingredients popular in Middle Eastern cuisine in no time.
Za'atar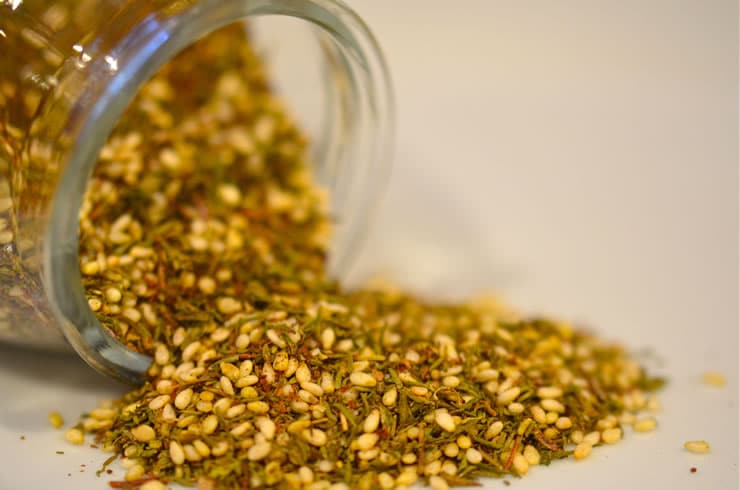 I had a chance encounter with this unique spice blend in a Lebanese restaurant a few years back. Transfixed by the earthy unrecognizable flavor of the olive oil spice blend sitting tabletop, I asked the waiter what it was and incorrectly wrote it down as "zater" in my phone. Turns out it was za'atar – a tangy-nutty spice blend that is ubiquitous in the Middle East but not commonly known (or eaten) in the U.S.
In Syria, Lebanon, and Jordan, za'atar is a staple. The basic ingredients of this spice blend always include sumac, sesame seeds, and dried thyme, and then vary by region. If visiting the Middle East, the actual za'atar plant called hyssop might stand in for the thyme. Some blends include salt, oregano, marjoram, or sage. This herby mixture marries beautifully with olive oil and flatbread, tomatoes, yogurt, and takes a simple roasted cauliflower from satisfying to sublime.
Mourad Lahlou, chef and owner of the restaurant Aziza in San Francisco offers some creative ways to incorporate za'atar into dishes:
Sprinkle on flatbread (or pizza) dough before cooking. Add tomatoes as well.
Drizzle goat cheese or feta with olive oil and sprinkle with za'atar
Marinate chicken in plain yogurt and za'atar. (Scrape off most of the marinade before grilling or roasting.
Add to aioli.
Sprinkle on tomatoes and cucumbers and garnish with lemon basil.
Add to yogurt dips.
Sprinkle on fried or deviled eggs.
But my favorite use for za'atar is found in the comments section of a blog post referring to the use of za'atar in Lebanon: Children are often given za'atar sandwiches before a test because it is thought to awaken the mind. I know it will at least awaken their taste buds!
Za'atar Recipes to Try
Roasted Butternut Squash and Red Onion with Tahini and Za'atar – Get in the fall spirit with this butternut squash recipe from the "Jerusalem" cookbook. It's easy to make and is a wonderful dish for any fall buffet or dinner party you host or attend.
Make your own za'atar blend – start with Heidi Swanson's recipe from her blog 101 Cookbooks. Be sure to read the comments section of this post – it's full of interesting ideas of how to use, make, or buy za'atar.
The blog The Kitchn has many more recipes using za'atar.
And be sure to check out this Tasting Jerusalem post all about this unique spice blend.
Where to buy Za'atar
You can find this spice blend online from Oaktown Spice Shop, Amazon, The Spice House, or at your local Middle Eastern market.
—
Sumac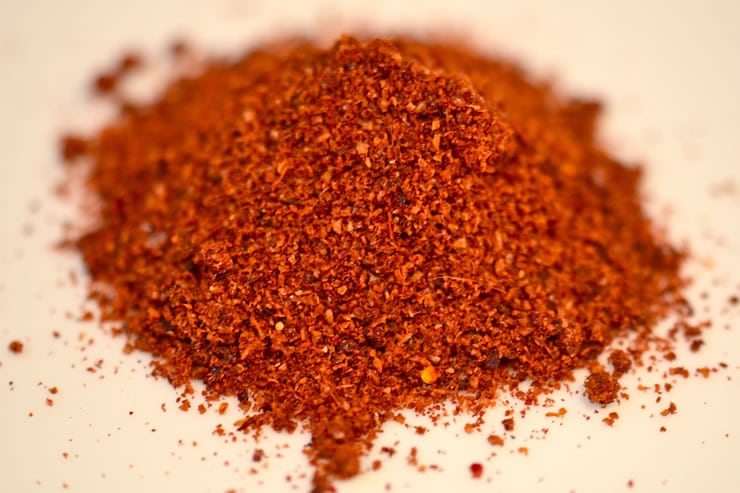 An integral ingredient to the za'atar spice blend, ground sumac's dark red granules pack a mighty punch all on their own. Of no relation to the poisonous sumac we were warned about as children, this dried red berry has a surprising lemony zing and is a visually attractive and palate pleasing addition to salads, dips, rice and so much more. It's like adding citrus acidity to a dish without adding any liquid. It pairs well with so many things but a few suggestions include beets, avocado, feta cheese, fish, chicken, lamb, salads & salad dressings, yogurt – I could go on for a while.
Sumac Recipes to Try
Turkey Burgers with Sour Cream Sumac Sauce – a favorite from the "Jerusalem" cookbook – these burgers are easy to make, good hot or cold, freeze well, and the sumac sauce is a wonderful tangy surprise.
Fattoush is a refreshing Middle Eastern style salad topped with sumac – this is the recipe from "Jerusalem" and is the co-author's (Sami Tamimi) mom's recipe.
Za'atar Roast Chicken with Green Tahini Sauce – a Yotam Ottolenghi creation for Bon Appetit Magazine – this dish uses za'atar and sumac – slightly more complex than some of the other recipes I've linked to but not hard and worth it for the flavor result.
Where to Buy Sumac
Sumac is available at Middle Eastern grocers and through many online retailers such as Oaktown Spice Shop, Penzeys, or Dean and DeLuca.
—
Nigella Seeds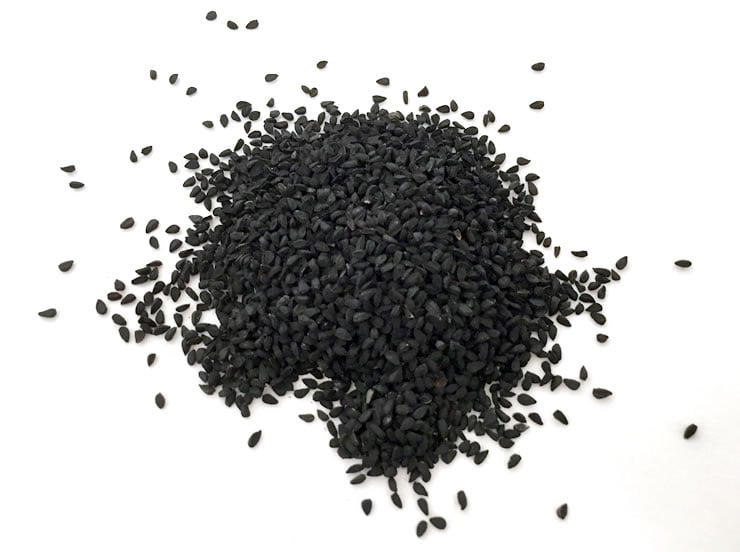 Also known as black cumin, onion seeds, or kalonji with a similar look to a black sesame seed, the Nigella seed, or Nigella sativa, actually comes from an annual flowering plant in the Ranunculacae family.
This little black speck is thought to have health benefits that far outweigh its miniscule size – ranging from aiding in the cure and prevention of cancer to diabetes to possessing anti-asthmatic effects. Whether or not you believe it to be a powerful natural medicine, its flavor will enhance baked goods like pita bread and naan, add texture to roasted vegetables, soups, egg dishes, and can even be mixed with honey for a sweet treat.
Nigella Seed Recipes to Try
Sprouting Broccoli with Sweet Tahini (sprouting broccoli is what we call broccolini) This recipe comes from Ottolenghi's all vegetable cookbook "Plenty More" and is an easy but spectacular dish.
Squash and Nigella Seed Soup – another fall standard with a nigella seed twist:
Travel halfway around the world at your own kitchen table with this Moroccan-inspired chicken dish – Chicken Tagine with Nigella Seeds.
This is a recipe to make your own naan bread with nigella seeds. If you don't have time to make your own, buy prepared naan, brush some olive oil on it, sprinkle with some nigella seeds, and just crisp it up in a pan.
Where to Buy Nigella Seeds
Nigella seeds can be ordered online through Amazon or World Spice Merchants or you can find them in your local Indian grocer where they will likely be labeled "kalonji."
—
Be realistic about your cooking and your schedule – try one new ingredient at a time and trust your taste buds – don't be afraid to try any of these ingredients on dishes beyond what's mentioned in this post. Keep your spices handy to your cooking and prep area – they are the key to turning what might be yet another dull grilled chicken breast into something new and exciting.
—
Sumac and Za'atar photos by Stewart Putney, courtesy of Edible Silicon Valley.
About the Author
Beth Lee is the kitchen-table storyteller you wish lived next door. Formally a Silicon Valley marketing professional, in 2010 Beth realized she'd rather talk about pita chips than memory chips and started her food blog OMG! Yummy.  Beth is also a freelance writer, teaches cooking classes, and co-leads a worldwide virtual cooking community called Tasting Jerusalem that explores Middle Eastern Cuisine. You can find Beth talking about food on Facebook, Instagram, Pinterest, and Twitter.