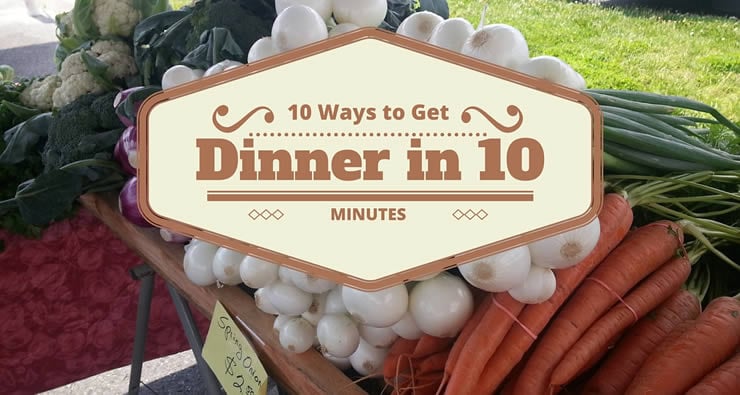 What's for dinner? That's the million dollar question, right? You forgot to thaw out something, you're working late and you come home starving with several other mouths to feed. Sound familiar? Don't hit up the drive-thru or order in a pizza, let's figure this out together! Check out my simple tricks and enjoy these four recipes to get a healthy meal on the table in 10 minutes.
1. Act like a Scout and Be Prepared!
Shop for pantry staples and always keep root veggies like carrots, potatoes, and onions on hand. They take longer to spoil. These can be quickly cooked by dicing, shredding, or slicing and steamed or baked. Stock your pantry with spices, herbs and healthy marinades to quickly add flavor without preservatives.
2. Meal Prep on the Weekends
When you get home from the grocery store or farm market, take a few minutes to wash, cut and prepare a few of your veggies. I like to chop broccoli and cauliflower florets, shred some carrots for a stir-fry and trim green beans for an upcoming side dish.
3. Cook Once, Eat Twice (or more!)
Measure out 2 cups of rice, quinoa, or wild rice and make it before your busy week starts. Store in the fridge for up to 3 days. Reheat on the stove with a splash of water or chicken stock.
4. Stretch a Meal
On Sundays, I like to roast a whole chicken with a side of vegetables and a salad. Our family of four only eats about ½ of the chicken. I pull off the rest of the meat and cube a breast for chicken salad (tomorrow's lunch) and shred the rest to make enchiladas, tacos or chicken noodle soup.
Then, I save the carcass and put it into the crock pot to make homemade chicken stock. If you don't have time, you can always freeze the bones and make it later.
5. Utilize Leftovers Smartly
I like to make more than what we'll eat in one meal. Who doesn't like leftovers? For example, I'll make two pork tenderloins, one to enjoy that night and one to turn into my pork tenderloin cashew stir-fry another night that week.
Make sure you store your leftovers properly in fridge and consume within 1-2 days.
6. Breakfast for Dinner
Breakfast for dinner is always a huge hit in our house. Eggs take under 2 minutes to cook and make for a great source of protein.
To make a quick Frittata, scramble some eggs, toss in some leftover veggies or protein from another meal and top with shredded cheese. Place the pan in the oven for 10 minutes on 350°.
7.  10-Minute Recipe: Spinach Pesto Pasta

Spinach Pesto Pasta
Kids like the sweeter taste of spinach over basil in this recipe!
Ingredients
1-2

cups

baby spinach

1/2

cup

walnuts or pine nuts

1

clove

garlic

Juice of ½ lemon

¼

cup

shredded pecorino romano

-Can also use parmesan

Sea salt & Pepper

¼

cup

extra virgin olive oil
Instructions
Blend all ingredients in a food processor, except the olive oil. With machine still running, pour the olive oil through the top until combined.

Add pesto to warm, cooked pasta. Add in leftover chicken, or other protein, if desired.
8. 10-Minute Recipe: Chicken Tacos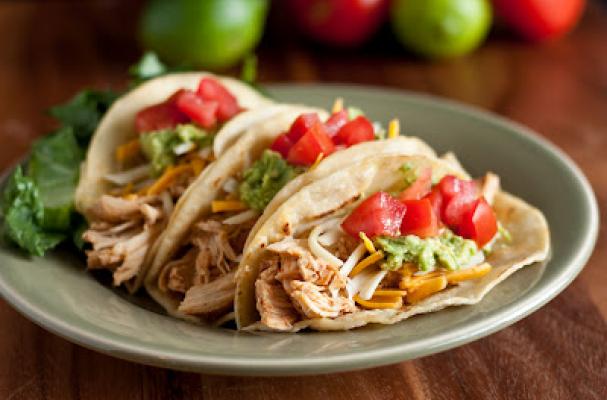 Chicken Tacos
Vegetarians can easily substitute slices of firm tofu, tempeh, or seitan.
Ingredients
2-3

chicken breasts

sliced into tenders

1

red, yellow, and orange bell pepper

sliced

1

red onion

sliced

½

teaspoon

cumin

½

teaspoon

garlic powder

½

teaspoon

sea salt & pepper

1

tablespoon

olive oil or ghee
Toppings Bar:
shredded cheese

diced avocado

fresh salsa

chopped cilantro

squeeze of lime juice
Instructions
Season chicken breasts (or other protein) with salt, pepper, cumin, and garlic powder. You can pan fry in a little olive oil or ghee and grill them.

While the chicken is cooking, sauté the sliced bell pepper and onions. Season the veggies with a little salt and pepper and any extra cumin and garlic.

Heat corn tortillas on a flat griddle untill just brown. Place chicken tenders in the tortilla and top with vegetables. Top with your favorite topping.
9. 10-Minute Recipe: Broiled Salmon

Broiled Salmon
Simple, fast, and unique ways to serve salmon for your guests.
Ingredients
1

wild salmon fillet

about 6 ounces per person
Sauce Variation #1:
2

tablespoons

honey

2

tablespoons

soy sauce

squeeze of lemon juice
Sauce Variation #2:
2

teaspoons

Dijon mustard

2

tablespoons

honey

2

tablespoons

soy sauce
Instructions
Sprinkle salt and pepper over wild salmon fillets.

Broil in oven on high for 10 minutes; 5 minutes on each side.

While salmon is cooking, mix together sauce ingredients. Spoon on top of finished salmon, and serve.
10. 10-Minute Recipe: Homemade Hamburger Helper

Homemade Hamburger Helper
Provides for a healthy substitute to an all around favorite home meal.
Ingredients
1

teaspoon

olive oil

1

yellow or white onion

diced

1

clove

garlic

minced

1

pound

100% grass-fed ground beef

see note for vegetarian ideas

2

cans

diced tomatoes

check ingredients carefully, or use your own already made

sprinkle

salt and pepper

sprinkle

Italian seasoning blend

cheddar or parmesan cheese

shredded, optional

elbow or bow-tie pasta
Instructions
In a large pan over medium heat, sauté onion and garlic in olive oil for 2-3 minutes, until onion starts to become translucent.

Add 1 pound ground beef (or tofu) and cook until browned, about 5 minutes.

Mix in 2 cans diced tomatoes, salt, pepper, and Italian seasoning blend and bring to a simmer.

Serve over leftover elbow or bow-tie pasta.
Recipe Notes
For a vegetarian version: Use 1 pound firm tofu, crumbled with a fork.
About the Author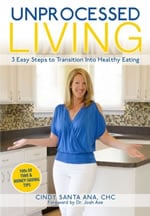 Cindy Santa Ana is an Integrative Nutrition Health Coach, speaker and author of Unprocessed Living: 3 Easy Steps to Transition Into Healthy Eating.
Having lost 50 pounds herself by cutting out processed foods, Cindy now helps her clients maintain their happy weight and get back their energy by creating a personalized "roadmap to health" that suits their unique body, lifestyle, preferences, and goals.
Learn more about Cindy at Unlock Better Health, and of course you can find her on Facebook, Instagram, and Pinterest.