Six Tips for Getting Started
Oct 02, 2010, Updated Jun 26, 2016
Hello, Unprocessed Enthusiasts!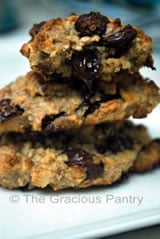 Perhaps you signed up for this month with a full understanding of exactly how you would be eating, or perhaps you signed up hoping you could learn a bit more about how to eat healthier. Either way, you've come to the right place!
Eating "clean" and eating "unprocessed" are basically the same at the core, so I will use the terms interchangeably.
Andrew's definition of unprocessed food sounds simple enough, but where do you start if you don't know much about this way of eating? Here are six tips to get you started.
1.  Find recipes you like.
I think we all know what happens when we get bored with the foods we eat. They take a quick flight out the window and straight into the dumpster. So the first thing you'll want to do is find a few staple recipes that you really love. Be sure they are simple to make and full of flavor. The idea is to have something you can look forward to. Andrew will have recipes coming this month.
2.  Stock your kitchen.
You simply cannot expect to avoid temptation if you have all the wrong foods in your cupboards. Get rid of the junk and replace it with healthy, unprocessed foods. Nuts, seeds, fresh fruits and veggies, whole grain pastas and breads, legumes and lean meats are a great way to start. Here's my beginner's list of foods to stock your pantry.
3.  Prep your basics.
It's great to buy a bunch of clean and unprocessed foods, but when you're running out the door and all you want to do is grab some food and go, you'll inevitably grab the wrong foods if you're not prepared in advance. Do you like to eat pizza three times a week? Make unprocessed pizza dough over the weekend and freeze. All you have to do is top it and put it in the oven! There's no reason to give up the things you love, you just have to prepare your foods ahead of time.  Need your oatmeal ready to go in the morning? Cook it overnight in a small crock pot so all you have to do is add some fresh and healthy toppings! Need some quick, grab-n-go snacks? Clean and chop your fruits and veggies ahead of time. You'll never be at a loss for what to munch on.  You'll find that after a while, this all becomes second nature.
4.  Stock your survival kit.
We all have days when it's all we can do to get out the door on time. Typically, those mornings are backed up to an evening the night before where you got home late and ate the rest of whatever you had in the fridge. You fall into bed without thinking about the next day's meals.
The good news is, you can still stick to your eating plan! Take an old shoebox and pack it full of nonperishable items, such as nuts, seeds, homemade protein bars and a bowl of oats that you can add hot water to for oatmeal. Keep it in your car, and you'll never be without the foods you need again.
5.  Prepare your taste buds.
I've heard it again and again. Once people have been eating unprocessed foods for a month or two, their old, processed favorites just don't taste as good any more. This is specifically noticeable with organics. Just try drinking nothing but organic milk for the entire month, and then have a glass of main stream milk. Ick!
But the truth is, you won't develop a taste for unprocessed foods overnight. You're taste buds have been programmed to love processed, chemically manufactured "foods". It will take a little time for you to adjust. So please give yourself a chance to do so. (That's where the first step becomes vital!)
6.  Get creative!
We all have food cravings. It's human. But the foods we choose to satisfy those cravings with are another thing all together. I firmly believe that for at least 80-90% of the processed foods out there that you could possibly be craving at any given moment, there is a clean and healthy substitute. My most popular recipes are the ones that are basic replacements for old-time favorites. If you enjoy your chai lattes, make them at home! If you can't live without ice cream, slice and freeze some bananas and put them through the blender with your favorite, unprocessed flavoring and a little milk (coconut milk is yummy too!) and natural sweetener. The point is, giving up processed foods doesn't have to be a painful experience. In fact, it can be one of the most enjoyable experiences of food that we as human beings can encounter!
So go out there, stock those cabinets, pantries and refrigerators and start enjoying some clean and unprocessed foods! I promise, you're going to love it!