Last year I had a lot of fun putting together my first Gift Guide for Healthy Foodies, so I wanted to offer up a few more suggestions this year. There's not too much logic behind this list — it's really just a collection of doohickeys and generally neat stuff that I like.
Although not all of these are cutting edge (pardon the pun), I'm sure that you'll be able to find something in here that your loved ones will, well, love. Even if it's just something as practical as a cheese grater (a really nice cheese grater).
I'm sorting the list more-or-less from fun-little-inexpensive-gadgets to gee-whiz-flash-bang-you–saved–Christmas!  Or something like that.
If you have an idea for something cool that I should add to the list, please share in the comments.
Most of the links below are affiliate links — if you click on them and make a purchase, I'll earn a small commission. It won't cost you any extra. Thanks for your support, and happy holidays!
1. Microplane Zester/Grater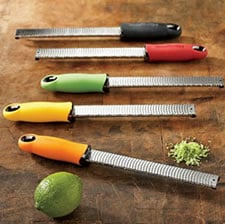 I got one of these in a swag bag from a conference last year, and it quickly became one of my go-to kitchen tools. (Full disclosure: I typically use it to grate cheese. Matty's the fancy one who zests the citrus.) It's got a comfortable handle and is easy to use. Even better, it's easy to clean. The little rubber nibs at the end so you can rest it on the counter as you're grating are a nice touch, too.
Microplane 46020 Premium Zester/Grater in various fun colors, $12-$15, at Amazon
2. Cherry & Olive Pitter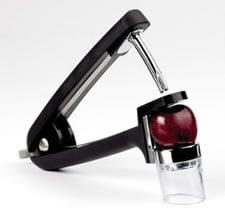 Mom had a super-simple version of one of these when I was a kid (I bet she still has it — I might have to steal it next time I visit). This is definitely one of those gadgets that sits in the bottom drawer and doesn't get used much — but when you do use it, it's a godsend.
OXO Good Grips Cherry/Olive Pitter, $13 at Amazon
3. Foodie Flashcards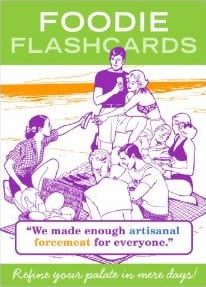 Can't remember the difference between a crudo and a crudite? These retro-chic foodie flashcards can help! Or they'll at least be good for a few laughs with your foodie friends.
Foodie Flashcards, $12
4. Snack Taxis
These resuable snack pouches put the fun in functional! I got a few for Matty recently so he could use 'em to take sandwiches and snacks to the office. Made with durable and easily washable food-safe fabrics in a ton of fun patterns and colors, what's not to love?  Ditch the wasteful ziplocs and be proud of your snack transportation. (Hat tip to my friend Sarah at Fed Up With Lunch, where I first discovered these.)
SnackTaxi Reusable pouches, $7 to $9, at Amazon and SnackTaxi
5. The Splendiferous Array of Culinary Tools
I love the Pop Chart Lab aesthetic — whimsical, infographic-like posters, well-worthy of framing. We've got a signed, 18″x24″ print of The Splendiferous Array of Culinary Tools hanging proudly in our kitchen. Every so often I find myself lost in it, intrigued by some of the more peculiar gadgets. And then I put together a gift guide with all sorts of kitchen implements. Go figure.
The Splendiferous Array of Culinary Tools, signed, $25
6. DIY Mushroom Kit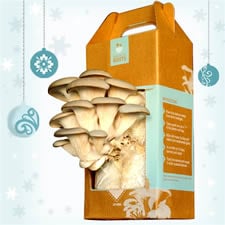 I love, Love, LOVE these Do-It-Yourself Mushroom Kits! I did a giveaway of these a few months back, and in October I was lucky enough to get a private tour of their "urban mushroom farm" in Oakland, CA. (It was very cool, and I'll share it with you soon — promise!).  For about $20 you get a recycled box that contains recycled coffee grounds that have been inoculated with non-recycled Oyster Mushroom spores. All you need to do is cut open the box, mist it briefly morning and night, and in a few days you'll have a fresh crop of delicious oyster mushrooms!  Great for kids… and adults.
DIY Mushroom Kit, $20
7. Salad Spinner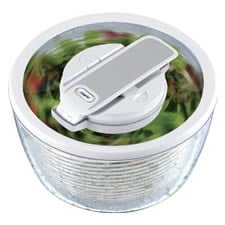 This may be the least-sexy gift in the list, but hey, it's really nice not to have to dry all that lettuce by hand, isn't it?  Glad the lawnmower-style pull-cords are a thing of the past, too.
Zyliss Smart Touch Salad Spinner, $25 to $30, Amazon
8. Glass Storage Containers
I take it back.  This is the least sexy gift on the list. Then again, nothing says "I love you" more than BPA- and chemical-free glass storage containers, right?
I'm recommending this particular Pyrex set because it has only three different sizes — which means only three different-sized lids.  Some other sets out there come with five or six different size bowls, which means you'll be spending more time rifling through the draw to find exactly the right lid. (The price on these is good, too.) There are other styles out there, like Glasslock, but I find those lids to be a bit clunky. I've also heard they can get mold/mildew around the rubber gasket.
Pyrex 14-Piece Round Storage Containers Set, $20
9. Pizza Stone and Pizza Peel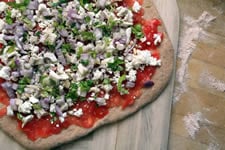 We originally bought our pizza stone for making bread, following the directions in Healthy Bread in Five Minutes a Day. Since then we've perfected (more or less) our homemade whole-wheat pizza, and we're not looking back.
I'd recommend the larger 16-inch stone if it'll fit in your oven, but the 14-inch is plenty big, too. Keep it on the bottom rack when baking other foods and it'll help keep your oven a more consistent temperature.
Having a pizza peel isn't necessary, but it sure does make you feel like a pro. I'm not enamored with the one I picked up on a whim at a certain retailer (I had a 20% off coupon), since the bevel is too steep and it can be tricky to lift the bread or pizza off the stone. One of these days I'll replace it with a thin metal one, or maybe the uber-fancy, Cooks-Illustrated-Recommended "Super Peel."
Round Pizza Stone, $25 to $35
(Tight on space? Check out this cute 9″ diameter Toaster Oven Pizza Stone, $20)
EXO "Super Peel" Pizza Peel, about $37
Aluminum Pizza Peel, $21 to $24
10. TofuXpress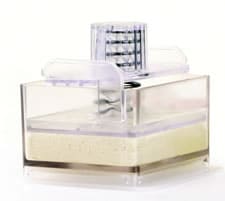 I just discovered this gadget a few days ago, via my friend Stephanie, The Recipe Renovator. We make baked tofu fairly regularly in our house, and I'm pretty excited to find a way to squeeze out the water that doesn't involve several layers of cutting boards, kitchen towels, and a sack of flour on top.  (If you want to use it to press soft tofu and cheeses, be sure to get the "Light Tension Spring" for just a few bucks more).
TofuXpress Gourmet Food Press, $40, at Amazon or TofuXpress
11. SodaStream Home Carbonator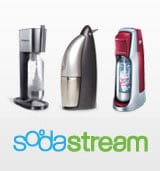 We love our SodaStream! In about ten seconds you can take tap water and turn it into delightful, sparking seltzer.
It's more than just a cool idea: It does its job really well. It's convenient and environmentally-friendly (no more single-use bottles of seltzer), and it truly is economical. One $15 CO2 tank will carbonate about 60 liters of water, so it costs around only 25 cents per liter of seltzer.
They come in a variety of sizes and colors, but the question of "Which Model?" really comes down to one big decision: Glass or plastic. The glass bottles are elegant, but they only hold about 20 ounces (600ml) — not all that much. The BPA-free plastic bottles hold a full liter of water (about 34 ounces). Beyond that, it's really just about finding the one that looks the best to you.
One caveat: All of their syrups and flavors contain sugar and/or artificial sweeteners and/or "natural flavors." Here are some other ideas instead.
SodaStream Home Carbonator Kit, $80, at Amazon or SodaStream
12. Kitchen Aid Glass Bowl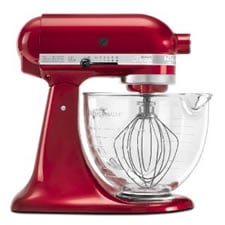 I'm assuming your healthy foodie already has a Kitchen Aid Stand Mixer. What? They don't? Then you can stop reading the rest of this post and just get one for them. Trust me on this, that's a homerun gift if ever there was one. Also, I recommend the "Artisan" 5-quart mixer with the tilting top, not the "Bowl-Lift" models. That lever doohicky is just a hassle.
Okay, so they've already got a stand mixer. But do they have the mega-cool, über-hipster GLASS BOWL for it?
KitchenAid 5-Quart Glass Bowl with lid, $58 at Amazon
13. Le Creuset French Oven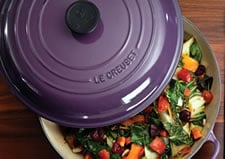 This is the kind of gift that is handed down through the generations.
The 3.5-quart Wide Oval French Oven is a great way to get a Le Creuset Oven at a significantly lower price than the others (Careful, the non-wide, "regular" oval in that size is inexplicably $70 more). Though if you really want to go all out, the 6.75-quart Wide Oval is the way to go. Or you can go with the Classic Round. Really, you can't go wrong here — just make sure you pick a good color!
As a little bonus (or perhaps a stocking stuffer teaser!), you also might want to get a Stainless Steel Knob. Those can handle (get it?) temperatures in the oven up to 500°F (the "phenolic" knob that comes with it is rated only to 375°).
If the budet is tight, you can still get your Le Creuset fix with a set of adorable, 8-ounce "Petite Casserole" dishes.
3.5-quart Wide Oval French Oven, $130 at Amazon
6.75-quart Oval French Oven, $275 at Amazon
Stainless-Steel Replacement Knob, $12 at Amazon
Petite Casserole Dishes, $20 each at Amazon
14. Good Knives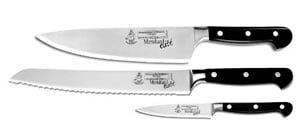 If your healthy cook doesn't have a good set of knives, then this might even be better than the Le Creuset idea.
There are three knives everyone really ought to have: A Chef's Knife or Santoku Knife, a paring knife, and a serrated bread knife. Sure, there are hundreds of other shapes, sizes, and styles, but those are the three you really need. The rest are the ones you want.
For most folks, an 8″ Chef's Knife or 8″ Santoku knife will be their workhorse. Those with small hands may prefer a 6″ version, while bigger guys may want a 10″ or even a 12″ (please, no jokes). The idea is to have a well-crafted blade that balances well in your hand and is therefore comfortable (and safe) to use.
When shopping for a knife, avoid any gimmicks, and simply choose one with high-quality stainless steel and a full tang — that means the blade goes all the way down the length of the handle as one single piece. Here are a few 3-piece sets to consider — you won't go wrong with any of these, and they'll last forever if they're pampered just a little bit.
Wusthof Classic 3-Piece Knife Set, $200
Wusthof Grand Prix II 3-Piece Knife Set, $170
Messermeister San Moritz Elite 3-Piece Knife Set, $204
Messermeister Meridian Elite 3-Piece Knife Set, $204
Sur La Table also has some great options, including some stunning knives from Shun, Bob Kramer, and Kuhn Rikon. (Okay, I've drifted into "want" territory, huh. Let's move on.)
15. Pasta Machine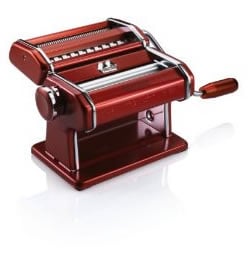 Making pasta together is fun!  Oh yeah, and it tastes amazing, too.
Atlas Pasta Maker, $75 to $85, at Amazon
(You might also want to include a pasta drying rack.)
16. Hand-Crank Home Oil Press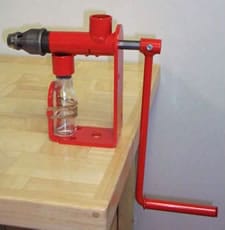 I came across this oil press while researching "expeller-pressed" oils during October Unprocessed, trying to figure out if they pass the kitchen test. Most expellers that I found were far too large for the home kitchen — except for this little gem!
I'm really hoping someone will give one of these as a gift.  If you do, please report back!
Hand-Crank Home Oil Press, $190
17. The Scanpan CTX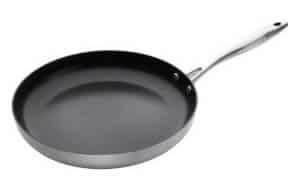 We needed a new 12″ nonstick skillet earlier this year, and the guy at the store talked me into the top-of-the-line Scanpan. I'm glad he did. After about nine months, the titanium nonstick surface still looks and acts like it's brand new. It heats quickly and evenly and is a joy to use. It's PFOA- free and they say you can even use metal utensils on it (though I'm too old-school, I'll never let metal near my nonstick cookware!)  When the time comes to replace our other pans, we'll be buying more of these.
Scanpan CTX Fry Pan, $110 to $170
18. Home Coffee Roasting Starter Kit

Although I usually stick to green tea, it sure seems to me that you're not a Real Foodie unless you roast your own coffee beans. Sweet Maria's is the best place on the 'net for information on home coffee roasting, starter kits, and a steady supply of grean beans.
Coffee Roasting Starter Kit, $42 to $307
19. SousVide Supreme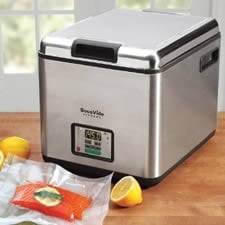 The latest French craze to land stateside (after fries and toast, of course) involves vacuum-sealing your food and slow-cooking it in a hot water bath. Cooking then becomes a function of temperature rather than time. There's not enough space here to discuss the pros and cons of Sous Vide cooking, but suffice it to say that if your recipient is a hardcore foodie, they've been chomping at the bit to get their hands on one of these for awhile now. See also: #20, below.
SousVide Supreme Water Oven, $300 to $400
20. Modernist Cuisine
I suppose this is kind of the grown-up version of the Foodie Flashcards (see #3, above). Weighing in at 40 pounds and 2,400+ pages, this 6-volume set covers all aspects of molecular gastronomy, from sous vide (see #19, above) and centrifuges to foams and emulsions.  I saw Dr. Nathan Myhrvold speak last year about the book, and among other awesomeness, he wowed us with jaw-dropping slow-motion video of popcorn popping and bouncing jello. In case you hadn't guessed, the broccoli picture at the top of this post came from these guys.
My descriptions can't possibly do justice to his magnum culina opus, so just click on through and check it out.
Modernist Cuisine: The Art and Science of Cooking, $452
Want to go truly all out and show you realllly care? Get them Modernist Cuisine bundled with a SousVide Supreme and Vacuum Sealer, $925.
—
Okay, I think that about covers it!  If you have an idea for something cool that I should add to the list, please share in the comments.